Bolle goggles
Protect your eyes with our Bolle ski goggles
Bolle is an iconic brand in the eyewear industry, it is renowned for making high-end snow gogglesat an incredible value for money. If you want high performance, superior comfort and style from your ski goggles, pick one of the goggles below and make sure you don't ever hit an obstacle on the slopes ever again because you didn't see it! Discover our range of Bolle men's, women's, and kids goggles.
Show less
Buyer's guide for Bollé goggles
If you're looking for some of the best technologically advanced eyewear, you're in the right place. Bolle is a renowned manufacturer in the industry and has over a century of experience in its bag. Constantly in motion, the brand keeps innovating on performance, comfort and style to offer the best of everything to your eyes. Their snow goggles like the Schuss and Tsar include the very latest technologies developed by the brand to offer a better visual acuity, a higher definition and more comfort. In this guide, we'll have a brief overview of Bolle goggles technologies to help you find out which Bolle goggles suit you best.
---
The Modulator 2.0, the best photochromic lens of all time?

This lens is built with NXT material which is ultra-light, impact-proof, and offers high definition and colours. It's almost as if you were looking through glass, but better. The Modulator 2.0 is made with NXT and delivers instant lens tint change meaning when the light conditions change, your goggles adapt and change with them. These fast changes are due to the use of the LTS technology (Low Temperature Sensitivity) making the lens less affected by low temperatures.


The Modulator 2.0 comes in a variety of tints, each suited for specific needs or preferences. What you need to know is that whatever the tint you're going for, you'll always benefit from the best protection ever. The lens will adapt to the current conditions to offer enhanced clarity and vision. The difference comes from the contrasts and brightness. The Modulator 2.0 Vermillon Blue for instance offers enhanced contrasts, just like the Modulator 2.0 Citrus Gun, while the Modulator 2.0 Green Emerald delivers added brightness. Whichever model you pick, all Modulator 2.0 lenses cover categories 1 to 3 in terms of light conditions (from bright to cloudy).

---
Modulator Light Control, see the unexpected
Another new technology released by Bollé is called the Light Control. This feature enhances contrasts to help you see ice and relief better. Polarized Photochromic lenses reduce glare and help you see better on shiny surfaces. Horizontal light is filtered which dramatically improves clarity and visual acuity.

---
Which lens for what conditions?
Bolle has a variety of lenses available, each of which offering various degree of protection (categories), various features, various tints and different finish. Here is Bolle's buyer's guide for their lenses: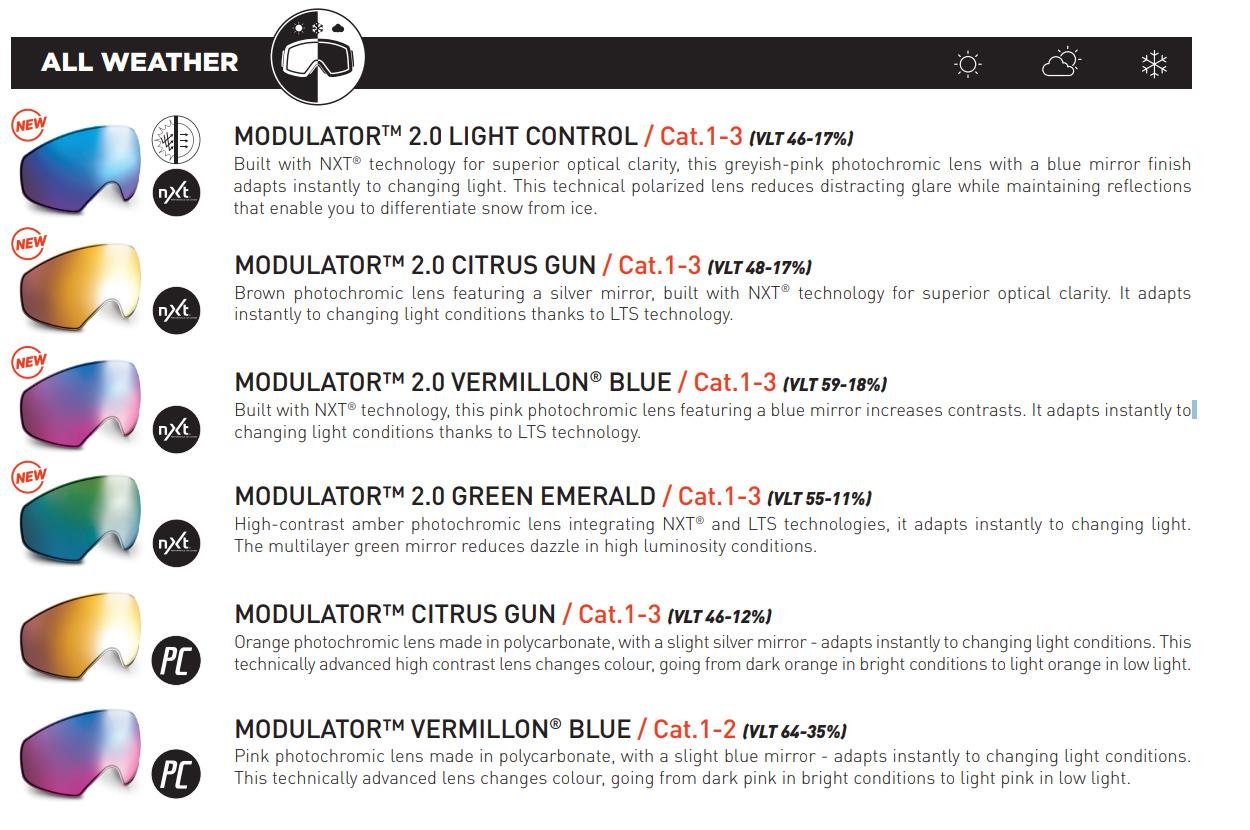 ---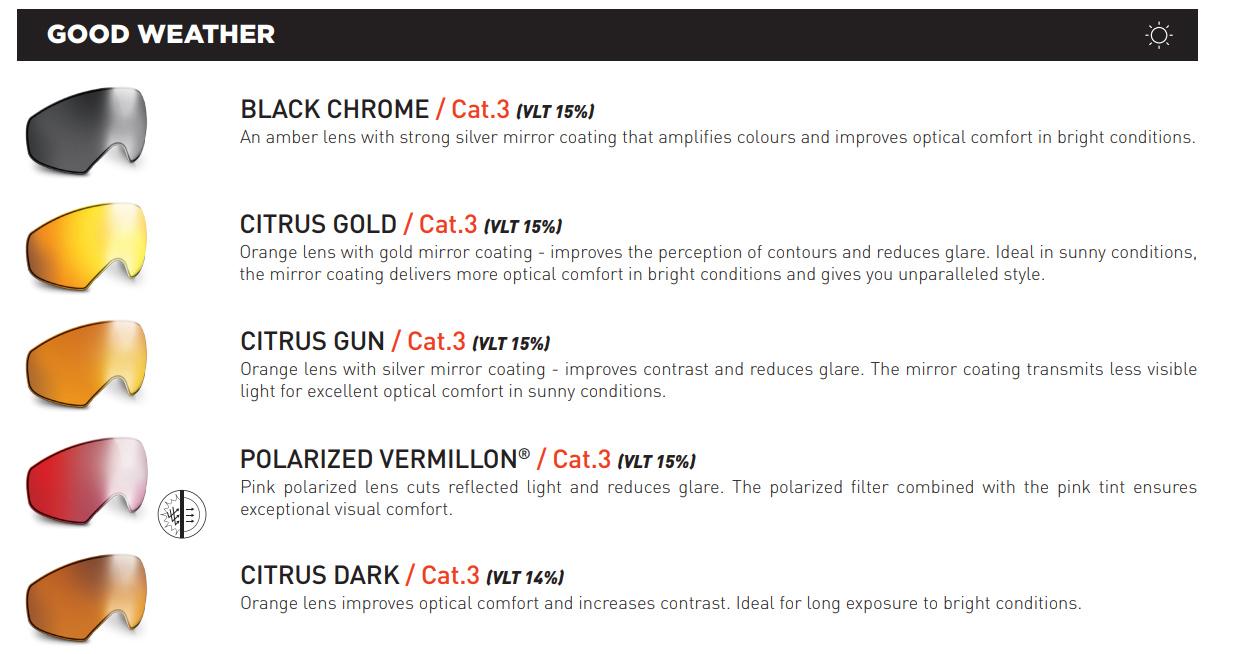 ---
---

---