Sunglasses
How to choose the right sunglasses and keep your eyes protected?
Whether you're looking for new sunglasses to improve your style when cruising the streets or for something more tech for your ski season, we have what you need in store. Our ski sunglasses ensure optimal sun protection by filtering all harmful UV rays while letting enough light go through. Combine this with a light and comfortable frame and you can wear them all day. Class 1, 2, 3 or 4, photochromic or polarized lens, visit glisshop.co.uk and have a look at the trendiest models from the best manufacturers around. We have shades for everybody make sure you don't miss out and browse our men's, women's and kids. selections. Last but not least, we've even got a few shades specifically designed for water sports enthusiasts!
Read more
Show less
Buyer's guide for a pair of sunglasses?
Sunglasses are both something that helps protect you from the sun during your ski or snowboard sessions and something that's trendy and fashionable. The many models available in our store allow everyone to find the perfect match and benefit from the latest optics innovations. All of our sunglasses ensure optimal protection from harmful UV rays and filter visible light. They feature light and comfortable frames letting kids wear them all day without complaining. Class 0, 1, 2, 3 or 4, photochromic or polarized lenses, check out our selection of women's shades and our line of men's sunnies. Selected from the very best manufacturers, our selection includes various shapes and designs, from vintage to sports models, have a browse today and compliment your eyes!
Why should you protect yourself from the sun?
Inuits understood it over 800 years ago. If you want to avoid irreversible eye damage and be able to view properly for as long as possible, you need to protect your eyes from the sun which can be harmful. If the arctic people used to use achaic goggles made of wood or bones with two thin see-through slots designed to reduce the amount of light and reverberation their eyes received, industry has progressed and all modern normed sunglasses can filter all UVA, UVB and UVC as well as visible light. Protection is ranked in 4 classes ranging from 1 to 4. It helps you know how much light the lens filters depending on what use you're going to have of it.
What class of protection do you need?
Let's have a look at what each class can do. Class 1 is the 'lightest' one with lenses filtering from 20 to 47% of light. Suited for days when light is low or when the sky is cloudy. Class 2 lenses filter from 47% to 82%, they are recommended for moderate light. The class 3 may be the most important as it is the one that should be used when the sky is blue and the sun is bright. And on top stands class 4, the most filtering one, not allowed for driving by the way. These models are suited for extreme sports such as high alpine skiing or hiking on glaciers.
Which sunglasses for which use?
You got the point, you need to pick your sunglasses according to your activity. Of course, the best option is to have a couple of models from each class so you can adapt to varying light conditions. But this is not always possible and not super convenient to carry 2 or 3 sunglasses on you. Another option is to go for photochromic glasses. These high end products adapt to the amount of light automatically. Lenses darken or lighten by themselves. This means you can wear them from dawn to dusk and always get the best protection with the best visibility. The only flaw is that the change is not instant but takes a few seconds. If you ride through a tunnel for instance, you may be out of it before your glasses adapt. You may also be interested into polarized lenses. These are designed to reduce glare on snow or water for optimal comfort. Maui Jim's polarized lenses are worth having a look at. Finally, some models like the Montebianco by Julbo carry lateral protection and others feature anti-fog treatment.
In order to feel at best every moment, manufacturers designed sunglasses for every type of activity. Glacier sunglasses for instance were designed for mountaineering. They offer a global eye protection and feature side shields for the best protection ever when you need it most. Slightly less "powerful", mountain sunglasses are way more versatile and best suited for random tours and hikes. Skiers will appreciate skiing sunglasses designed to shield the wind. We also have golf-specific sunglasses, profiled cycling sunglasses, mountain bike or trail sunglasses ensuring a strong grip on your skin while you sweat and go under a lot of stress. We have driving sunglasses offering a better visual acuity and even watersports-specific sunglasses. These are often polarized to eliminate glare off water surface. And if you're more into the air, if you like paragliding for instance, check out our wrapping models. See, our selection is huge but there is definitely the shades you need on our shelves.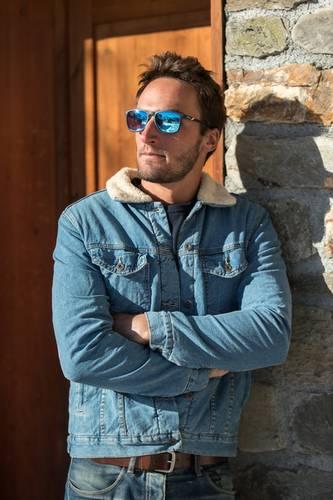 How to choose kids sunglasses?
Whether you're at the snow resort, on the beach or out in the mountain, kids sunnies are super important because young eyes are more fragile. This is why brands are making extra efforts to build ultra protective sunglasses that filter all harmful UVs and avoid glare. Lately, sunglasses also filter blue light created by screens. But on top of being efficient and protective, kids sunglasses have to be strong. We've all seen a kid throwing his shades onto the ground "to see what it does". Well, frames are ultra flexible and super strong and it actually becomes quite a challenge to break them!
How to choose sunglasses for a 2 year-old or less?
Our team has selected a few baby sunglasses that'll keep babies eyes protected at all times. These shades all stick to the latest european CE standards and are all 100% UV Stop which means they filter all UV rays (UVA and UVB). They also protect from infrareds and feature designs that help babies keep their glasses on their nose. Some come with a string, some are fully symmetrical and can be worn upside down and let kids play with them as they like. Add to this a great value for money and you have literally no reason for not buying a pair for your kid. As you can see, there are many options but with Glisshop.co.uk, you know you will find the model that matches your jacket AND protects your eyes. Have a look at our selection of sunglasses!
Have a look at our selection of sunglasses and make your choice amongst our impressive line of world-class brands including Cairn, Julbo, Bliz, Aphex, Bolle, Cebe, Dragon, Electric, Komono, Maui Jim, Milf, Oakley, Poc, Quiksilver, Redbull, Retro Super Future, Roxy, Serengeti, Smith, Solar, Vuarnet, Izipizi, Rudy Project and more!
What shape for your shades?
Shades do rhyme with style and their shape truly matters. On Glisshop, you'll find a broad range of designs, from butterfly-shaped to round or aviator sunglasses, check out our wrapping, oval, square, wayfarer or clubmaster sunnies and build your own style!