Hybrid bindings
What is a hybrid touring ski binding
Hybrid ski touring bindings, also known as Low Tech Hybrid bindings, are a combination of an alpine binding and an insert binding. Their main advantage is to increase safety on the downhill run, by allowing side release that meets the TÜV (German product certification bodies) certifications for side release of touring ski bindings. In return for this increased safety which limits the risk of injury, they are slightly heavier than Low Tech bindings, but remain lighter than plate bindings.
Read more
Show less
Why choose a hybrid ski touring binding?
Hybrid bindings, also called low tech hybrids or classic touring bindings, are more versatile than other types of touring bindings and optimize the ratio between minimum weight and maximum safety. They have a standardized release value on the heel strap, which can be adjusted to the front and side, depending on the model. This not only increases safety and reduces the risk of injury, but also allows you to use wider skis without the risk of tearing them off. The choice of this type of equipment can therefore be interesting for skiers looking for more safety on the downhill or wishing to use wider skis to improve skiability, especially in deep snow.
What are the different types of hybrid bindings?
There are three main categories of hybrid ski touring bindings: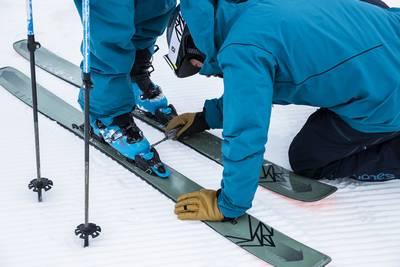 - The ski binding with DIN adjustment at the front stop. Currently, only one fastener has an adjustment on the front part, the Diamir Fitschi Vipec. A spring allows you to adjust the binding, according to your weight and level, to remove your shoes from the front in case of a fall.
- the binding with rotating front stop. Developed by Dynafit with models such as the Dynafit TLT Radical, these bindings have a front stop mounted on a pin for optimised lateral release.
- The Kingpin type binding. Developed by Marker, this is a true hybrid with an insert front stop and an alpine ski heel piece. Attention, this model is not compatible with all hiking boots because of its alpine heel piece.
Apart from their respective specificities, all these bindings offer different adjustments, several heights of ascent wedges and can be equipped with knives. Some of them are equipped with ski stops, others are not.
With or without a ski stop?
Some of these bindings are available with or without a ski stop. There are three schools on this subject: stop ski enthusiasts, leash enthusiasts and those who use neither. In addition to adding a small constraint since it has to be put on and taken off, the leash, also known as a strap, is a controversial accessory. Indeed, some critics criticize the risk of accidents it creates, which can increase the probability of injury in case of a fall (ski back, knee injury, etc.) or even drag the skier to the bottom of the snow in case of an avalanche. Faced with these drawbacks, some people prefer to use stop skis. This solution increases the weight of your bindings by 200 to 300 grams, whereas lightness is a major criterion to be effective in ascent. It is for these reasons that some people decide to use neither.