AT bindings
What is a frame ski touring binding?
A frame ski touring binding is the closest type of touring binding to an alpine binding. They consist of a front stop and an alpine ski heel retainer mounted on a plate, which locks during the downhill phase and unlocks during the touring phase, to follow the natural movement of the foot and allow the ascent. This type of binding is both the most practical and the safest. It can be used with classic alpine ski boots and benefits from the release reliability of an alpine binding in the event of a fall. Its disadvantage? A much higher weight than other types of touring bindings, since they generally weigh more than 1.6 kg per pair.
Read more
Show less
What are the advantages of frame ski touring bindings?
Frame bindings are heavier than Low Tech, Low Tech Competition and Low Tech Hybrid bindings, but they are the easiest to use and the safest. The presence of an alpine ski stop and heel piece results in a weight of up to 1.6 kg per pair, but allows for optimal safety. Thus, during descents, you benefit from the reliability of the release system of the alpine bindings, which reduces the risk of injury in case of a fall. The DIN release value is fully adjustable, as is the distance between the bindings and the waistband.
In addition to their weight, some skiers also complain that these bindings tend to stiffen the ski slightly underfoot, but also raise the skier by some 3 to 4 small centimeters because of the frame. The defenders of this type of bindings, on the other hand, have a weighty argument to weigh the balance on their side: these boots can be used with traditional ski boots, which avoids having to invest in a pair of boots specific to hiking. Frame bindings have no inserts and can be used with traditional ski boots that comply with the ISO 5355 standard (but also with some ski touring boots, if you like!).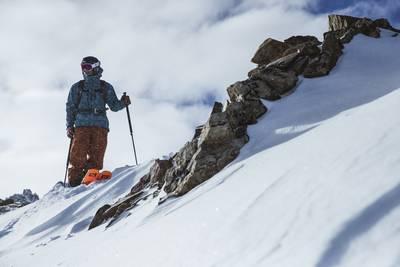 Who are the frame touring bindings for?
Because of their practical and safe advantages, plate touring bindings are mainly appealing to two types of skiers: freerando enthusiasts and versatile hikers looking for simplicity.
In freerando, you climb to get the most out of your descent. The equipment, although lighter for the needs of the hike, is designed to offer the best possible skiability. The skis are wide, the boots are rigid and the frame touring binding supports the size of the freeride skis while offering maximum safety in terms of the release system. Injuries are therefore reduced and the pleasure is increased tenfold.
For multi-purpose skiers or skiers who are initiated to touring without being specialists, the frame touring binding has, beyond the safety aspect, attractions for its simplicity and practicality. It will allow them to use classic ski boots and will facilitate their use.