Splitboard Accessories
How can I complete my equipment with useful or even essential splitboard accessories?
To splitboard, it is necessary to provide a little more equipment than just a board and specific bindings. The first accessory that we think of is of course the poles, which must be telescopic or in several parts to take up as little space as possible when descending. On the other hand, we also find in the list of the essential accessories the knives and sealskins, which are almost indispensable to be able to carry out ascents correctly. You will therefore find in this section all the splitboard accessories you will need, with equipment developed specifically for this discipline.
Read more
Show less
What are the indispensable accessories for splitboarding?
If you've never done a splitboard ride before, know that you won't get very far simply equipped with your splitboard, bindings and boots. You are still missing equipment, both in terms of safety equipment and splitboard equipment. And don't forget that the mountain is a risky playground where even the most experienced riders can be surprised. If the trail is professionally secured territory, the rules of the game change completely as soon as you stray a little off the beaten path. Before you set off, you must therefore not only have the right equipment, but also know the mountain and the behaviour and other safety rules to adopt.
As far as the equipment is concerned, here is a small checklist of the accessories that are essential for splitboarding.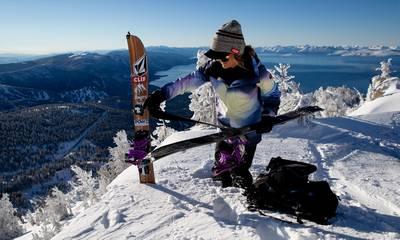 Sticks
Do I need specific sticks to splitboard? Yes, because split poles, unlike the poles used in ski touring, are only used during the ascent phase. During the descent, they must therefore be discreet and not take up too much space. To do this, get foldable and adjustable split poles. You can confidently go for models like those developed by Jeremy Jones Snowboards, the brand of Jeremy Jones. The Jones Talon and Jones Talon Pro poles are sturdy, lightweight and ergonomic with a three-piece adjustable design and eco-friendly recycled aluminum construction.
Climbing skins
Many brands offer sealskins for splitboard. They are manufactured in the same way as those for touring skis, often with a mixture of synthetic and natural materials such as mohair wool. Make sure you choose the right skins for the length and width of your splitboard. With a bit of luck, you will be able to find skins that have already been cut to the dimensions of your splitboard. If not, you will have to cut them yourself. Don't worry, it's a fairly simple operation to do.
Crampons
If having a penknife on either is essential to cut a piece of Beaufort or Tomme de Savoie in case of small hunger in the middle of a hike, we also advise you to get another kind of knife. Metal accessories to install between your split and your bindings, splitboard knives quickly become indispensable as soon as the climb is a bit steep. Indeed, between the width of the split, the relative flexibility of the boots and the snow quality/gradient equation, a lack of grip can quickly be felt. That's where the knives come into play and help secure the support and make climbing easier.
When making your choice, remember to check the compatibility of the knives with the width of your splitboard.
Mountain safety accessories
Of course, the accessories mentioned above are not the only equipment we recommend you use when you go splitboarding. In order to reduce the risks and to be able to react in case of an accident, you should take various mountain safety equipment with you on your outings. Airbags, DVAs, probes, shovels: you will find all the equipment dedicated to mountain safety in our specialized section.