Low-Tech bindings
What is a ski touring binding with inserts?
Ski touring bindings with inserts, also known as low tech bindings, are bindings where the front stop and the heel retainer are equipped with small lugs on which the boots are fixed. There are models designed for competition and whose weight is around 300 grams per pair, and more versatile and secure models for light touring without the objective of beating a time on each ascent. All this family of ski touring bindings are optimized for ascent and focus above all on lightness.
Read more
Show less
Why choose a ski touring binding with insert?
If the principle of having the toe wedged and the heel free is common to all ski touring bindings, ski touring bindings with insert, also called Low Tech bindings, are still specific models that are not suitable for all practitioners. They are used in dry ascents, in competition or amateur, to swallow the slopes as quickly as possible.
What are the specificities of insert bindings?
Among the different types of touring bindings, insert bindings are the lightest. They can be subdivided into two groups: Low Tech competition bindings and Low Tech bindings.
Low Tech Competition bindings
Every gram counts when it comes to improving a lap time and getting up as fast as possible. The Low Tech competition/race bindings are therefore extremely minimalist and pure, with a front stop with no release adjustment and a heel strap with no adjustment, either on the DIN release value or on the length of the shoe. The only possible adjustment is at the level of the climbing wedge, which is also reduced to a minimum with only one wedge height. These bindings do not use a ski stop, as skiers prefer to save a few grams by using a leash or nothing at all, as the leash can cause accidents. All these sacrifices make it possible to have an ultra light binding, around 300 grams per pair.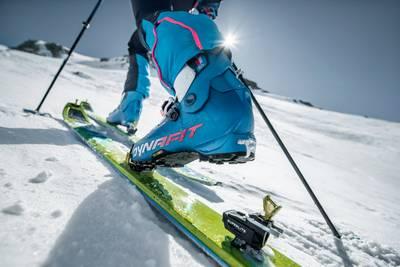 Low Tech bindings
The classic Low Tech bindings are a little more equipped in order to gain in security and adjustment possibilities, while still remaining very light. With a weight varying from 300 to 900 grams depending on the model, they differ from competition models by the presence of a real release system at the heel area that reduces the risk of accidents. From one model to another, there are 2 to 3 wedges for optimal adjustment of the wedge height according to the degree of slope. Some models are also equipped with ski stops, for more practicality of use. Be careful, using ski stops means adding 200 to 300 grams to your pair of bindings.
How to choose?
To sum up, the choice of a ski touring binding with insert is made according to your objectives when you practice light touring. Are you a competitor whose only goal is to climb as fast as possible even if it means sacrificing comfort and safety? If so, the only viable option is the minimalism of the Low Tech competition binding. If not, we advise you to go for the classic Low Tech bindings, which will offer you more safety thanks to the heel release system, and more comfort with adjustment possibilities and different heel heights. Finally, if these Low Tech bindings don't seem safe enough or are not suitable for your practice, which is the case if you want to be able to send a little downhill, go for hybrid or plate bindings.
Whatever your choice, remember to harmonize your ski touring pack. Bindings should be chosen according to the boots and skis they will be used with. For example, it is out of the question to use Low Tech bindings with freerando skis, which are too wide and too heavy for this type of binding, just as it would be silly to use Low Tech bindings with heavy ski boots that do not offer enough travel. Having a harmonious ski touring pack means having more fun and reducing the risk of injury.
Also be careful to check the compatibility of your equipment with your bindings. Some insert bindings are not compatible with some boots, and vice versa.