Climbing Ropes
How to choose your ropes and lanyards for rock climbing, mountaineering or ski touring?
A rope is an essential piece of climbing and mountaineering equipment . There are various models, lengths, diameters or materials. Each activity requires some specific characteristics to ensure the best level of safety in case of an accident. To make the right choice, Glisshop explains everything you need to know to buy a rope whether you enjoy rock climbing, alpinism or ski touring.
Read more
Show less
Buying guide for ski touring ropes and lanyards:
What are the different types of rope?
There are two main types of ropes: dynamic and static. The dynamic rope is a little elastic to cushion the fall in case of a problem. As for the static rope, it stretches very little, which makes it very effective for rescue phases when it comes to hoisting a load.
For dynamic ropes, there are three different models:
Single rope: the most basic and common rope. It is designed with a single strand that is very resistant. It can absorb multiple falls without being damaged. The single rope is usually between 9.5 and 11 mm in diameter and is intended for cliff climbing or indoor climbing. It is marked with a 1 at the end.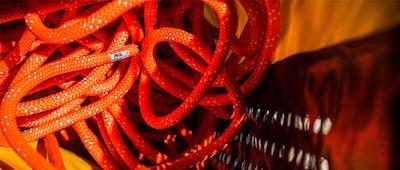 Double rope: made up of double strands, it is generally thinner and lighter than a single rope. This rope is used for abseiling, in fact thanks to its double strand it brings an additional security, in case of breakage of one, the other is always there. Another example of use, in a group, a leader ropes with both strands and the two second ones can rope with one strand each. It is marked with a ½ at its end.
Twin rope: This is a two-strand rope that works in pairs, the two strands must be used together. With a diameter between 7.7 and 8 mm and lighter than a double rope, it is very suitable for ice activities. Also ideal for abseiling, but climbing with it is not allowed.
As for the static rope, it excels in all situations where you don't want any stretching. This is the case, for example, when you want to perform a crevasse rescue to lift a load as efficiently as possible and with the minimum yo-yo effect. Be careful, this type of rope is to be avoided for climbing, it is not certified for this practice.
How to choose the right lanyard?
The lanyard is the rope that allows you to stay belayed at the belay. To use it well and to choose it well is essential for your safety. Dynamic, the lanyard absorbs part of the force of the shock in case of a fall. For some years now, the lanyard has been called adjustable to adapt to all situations. It happens to be too close or too far from the belay, with an adjustable lanyard, it is no longer a problem! Be careful to follow the instructions, for example, do not use the Petzl adjustable lanyard if the fall factor is greater than 1. This type of lanyard is available as a single or double lanyard depending on your activity. A double model is more versatile.