Ice screws
Need an ice screw for your next high altitude expedition?
The ice screw is an essential piece of safety climbing and mountaineering equipment on glaciers. Lightweight and easy to use, it can bite into the ice in order to create a belay stance or an anchor. Depending on the situation, the choice of the screw's length is critical to get into the ice without breaking it. Ice screws feature cranks with a colour coding system to quickly identify the right length and place the ice screw easily in the ice.
Read more
Show less
Ice screws Buying Guide :
How to choose the right length of ice screws?
Ice screws are available in different lengths from 10 to 22 cm. The length you need depends on the thickness of the ice, so make sure that the support of the pin is at the same level as the ice to respect the safety instructions. If you place a pin longer than the thickness of the ice encountered, you must place a strap at the contact point to avoid any leverage effect. Shorter pins between 10 and 13 cm can be placed in thin ice without hitting the rock underneath. For this reason, in mountaineering, we advise you to have a wide range of pins to adapt to all situations. For ski touring, two long enough ice pins ensure good safety. To make a good anchorage or a possible lunula, long ice screws are very good. You will also be more at ease to make a rescue in a crevasse, if one pin escapes, the second one can catch up with the notch. As for the longest pins, they are ideal for making concrete relays.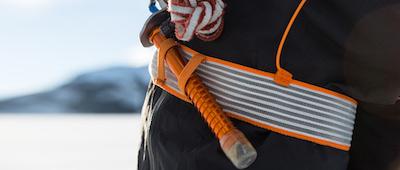 How to use your ice screws properly?
To easily handle and place your ice pick with one hand while wearing gloves, modern models are equipped with teeth and threads specially designed to bite into the ice. Some models, such as Petzl Ice screws and Black Diamond Ice screws, have a handle that folds out to screw in faster and easier once the first threads are started in the ice. Leading brands such as Petzl and Black Diamond use a color coding system to quickly differentiate pin lengths. For transport, a reinforced nylon bag is ideal to protect the rest of your equipment from the sharp teeth of the braces. Some Petzl harnesses even have reinforced loops to carry them without the risk of tearing your pants.