Bolle ski helmets
Shop your Bolle helmet through our top selection!
Bollé helmets are designed to protect your head, whatever its shape, and provide you with style and functionality. Bolle is a reliable manufacturer committed to offer to riders the best protective gear combining lightweight, comfort and durability. In our selection below, you'll find a variety of Bolle ski helmets, each of which offering various features. From Bolle men's helmets featuring the latest and most advanced techs like the Avid Progressive EPS to Bolle women's ski helmets combining the very same technologies with elegant and classy shapes, there are products for everybody. We also have a selection of colourful Bolle kids ski helmets to make sure mini rippers' heads stay protected too!
Show less
Buyer's guide for Bollé ski helmets
Wearing a helmet when you're skiing or snowboarding IS necessary as it can save your life. For a while, helmets were being rejected because they were too heavy or style-focused skiers found them inattractive. Fortunatately, with brands like Bollé, things have changed and wearing a ski helmet doesn't only keep you safe but it makes you look good! Bolle ski helmets are designed to fit everyone's personal preferences and provide the performance you demand. From the notorious Backline visor helmet to the stylish Synergy or Millenium ski helmets, Bolle has a wide offering suited for all kinds of sports and needs. In this guide, we'll guide you through Bolle helmet technologies to help you understand what you're buying here on Glisshop!
---
Construction of Bolle ski helmets

The brand Bollé uses three kinds of constructions for their ski helmets. The injected ABS, the In-Mold and the Hybrid constructions.
Injected ABS construction
Helmets with an injected-ABS construction are renowned for offering the ultimate resistance to impacts. There is a hard ABS shell on the outer with EPS foam injected inside, between the shell and the lining. These helmets are solid like a rock but they are a little heavier.
---
In-Mold construction
In-Mold constructions are becoming more and more popular, they're a good alternative to traditional ABS constructions. They are lighter and thinner which allows designers to come up with thinner helmets with a seamless design.

---
Hybrid construction
The hybrid construction delivers the best of both. You get the strength of an outer ABS shell with the lightweight and slimmer profile of an In-mold construction.
---
Okay but then...what should you pick? Well, choice is yours, it depends if you focus on style, on performance, on lightweight. All you need to remember is that all Bolle helmets ensure A-class protection and 5-star comfort. Then, if you like touring for instance, we recommend lighter helmets (In-Mold constructions) with integrated venting systems. If you're a freestyler, then weight isn't your problem so bette pick a construction with enhanced shock-absorbtion (ABS construction).
---
Avid Progressive EPS: light, strong, vented
One of Bolle's newest helmet technologies is called Avid. This liner tech combines high-density foams with low-density foams to create a helmet that's lighter with enhanced air flow and similar impact protection. That's how Bolle helmets provide superior performance and comfort while being able to withstand a full range of impacts.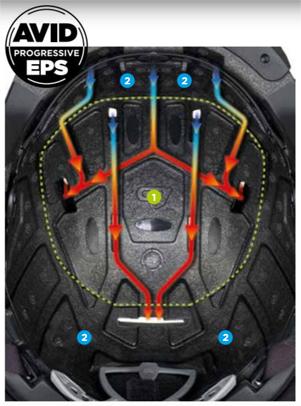 1: Low density foam for optimal absorption at medium impact energy, may compress completely in high energy impacts. 2: High density foam: Incomplete compression at low impact energy, optimal shock-absorption at high impact energy.The arrows symbolize ventilation channels.
---
MIPS technology: more protection in rotation
MIPS is a revolution in terms of head protection. Mirroring the brain's protective mechanisms, ski helmets equipped with this technology improve protection on rotational impacts by allowing the helmet to move around the head and absorb strain better. The MIPS is not a Bollé-patented technology but it's a technology that can make a difference so we thought we'd let you know about it.
---