Line ski sets
How to choose the right Ski Line?
Straight from the States, Line is one of the first brands to orient its skis for a purely freestyle practice. It naturally attracts renowned freestylers like Tom Wallisch or Will Wesson in its team who recognize the performance of Line skis. Today, Line is a brand that offers a wide choice of skis in all categories for freeride, backcountry, freestyle and even all-mountain and for all levels, from perfect beginners to expert skiers.
Read more
Show less
Line Pandora Series
The Pandora skis from Line are dedicated for women with an all-mountain/freeride program that allows great powder prowess while keeping a very good grip on hard snow. With the Pandora ski, you can seriously get into freeride thanks to its rather bulky shape. The Pandora 104 and its 104 mm skate takes you far from the groomed slopes to discover a new world, a world full of fresh snow for a unique sliding experience.
Line Vision Series
Line had a vision, a vision of a ski that performs well in a wide range of conditions, a vision of a ski that is both light and stable, a vision of a better ski, a vision of a Vision ski. An all-mountain ski with a construction unique in the world, this little gem benefits from Triple Hybrid Construction technology. An assembly between fiberglass, aramid Twaron and carbon fiber that wraps an ultra-light wood core for an excellent power-to-weight ratio. In addition to being invigorating and light, it remains extremely stable downhill with an exceptional ride. A ski range of pure wonder with a double rocker and a skate width available in 98 or 108 mm for big sessions in powder while maintaining a very good behavior on hard snow. Dare the future with Line Vision skis!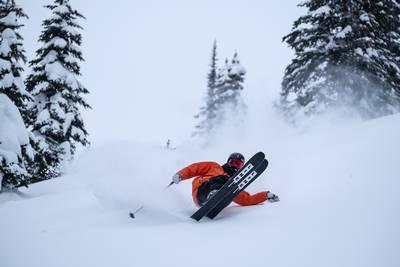 Line Chronic Series
A ski that will please the pure freestyler as much as the resort skier who wants to learn the discipline. It has a bispatulated shape to switch without difficulty with soft spatulas for maximum playability. A construction oriented very freestyle but still effective for walking on the slopes of the resort. Moreover, with its 95 mm skate, it benefits from a good flotation, so let's go to shaper a personal kicker off-piste and show your friends what you're capable of!