Rome snowboard sets
Is Rome a good snowboard brand?
Of course it is! Rome SDS (Snowboard Design Syndicate) has been around since 2001 and hasn't stopped growing since. Founded by passionate riders, Rome hasn't only been doing boards but bindings, boots and tons of equipment for snowboarding. Rome boards have become super popular over the years and reached a wide crowd of riders. From their legendary Rome Agent board to the Artifact or new Buckshot, Rome SDS has designed a huge variety of snowboards to help riders step up their own personal game, no matter what this game is about! Check out our selection of Rome snowboards below and save a good deal of money buying on Glisshop!
Do you want a Rome snowboard in a pack with bindings? Rome SDS is a truly core American snowboard brand, created in 2001 and managed by and for snowboarders. The brand offers snowboards, bindings and boots, always with an advanced technical research for maximum performance whatever the program. Whether you are a freestyle or freeride enthusiast, man, woman or child, beginner or advanced, at Rome you will find the equipment that will take you to the next level!
Show less
Why choose a Rome snowboard in pack with bindings?
Directional, Twin Directional, Twin-Tip
At Rome, boards are classified according to their shape. There are three ranges: Twin-Tip, Twin Directional and Directional. Within each of these ranges, there are a multitude of models for men, women and children, with a wide variety of cambers to meet every need. So you can find the right board for your level, riding style and playground.
Rome Snowboards technologies
Beyond the technical choices that influence their shape (shape, camber, etc.), Rome snowboards are distinguished above all by a very advanced technological research. The brand does not skimp on reinforcements and materials to create the best possible performance boards that are best suited to their respective programs.
Bamboo, carbon or fiberglass siderails:
Turborods and Hotrods are longitudinal reinforcements, existing in bamboo, carbon or fiberglass depending on the desired effect, and strategically placed in the core of Rome snowboards to modify their characteristics. Thanks to these reinforcements, the boards gain more or less ollie power and/or more or less torsional stiffness.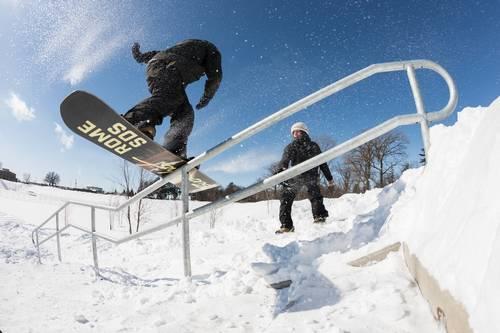 Hibeam Technology :
This is a surplus of material in the core at the tip level, aiming to increase the pop and stability of Rome snowboards by one more notch.
Sinterstrong & Rebound Sidewalls
Present on some Rome freeride boards, Sinterstrong Sidewalls have the effect of increasing grip while being more robust. The Rebound Sidewalls are designed for freestyle/park snowboards, offering a smoother glide as well as a better resistance to shocks on the modules.
Wood, fiberglass and carbon fiber
Without going too far in the technique, we would also like to point out that Rome snowboards use a wide variety of core constructions and combinations of fiberglass and carbon, for boards that are always more performing and adapted to their program. Everybody wins, whatever your level and your budget!