How to choose the right ski poles?
Ski poles are essential for the ski practice, they will allow you to direct your upper body properly in order to be well-positioned when you ride. Besides, with the famous pole plant, they will help you enhance your coordination and synchronization.
For beginners, ski poles are not mandatory. You must acquire a few other basic techniques before you start working on your upper body position. Do not hesitate to seek advice from your monitor, he will be glad to help you.
How to choose the right length for your ski pole?

If you already have a pair of poles at home, here's how to check if they are at the right size: Flip your pole upside down and place your hand under the basket. Your elbow should make a 90° angle. If your arm is opened, then your pole is too small. If on the contrary your arm goes up, it means they are too tall.
If you do not have poles yet, here's a size chart that should help you:
| | | | |
| --- | --- | --- | --- |
| User height in cm | Pole length in cm | User height in inches | Pole length in inches |
| 200 | 140 | 6'7"+ | 56 |
| 190-200 | 135 | 6'4" - 6'6" | 54 |
| 185-190 | 130 | 6'1" - 6'3" | 52 |
| 175-185 | 125 | 5'10" - 6'0" | 50 |
| 170-175 | 120 | 5'7" - 5'9" | 48 |
| 160-170 | 115 | 5'4" - 5'6" | 46 |
| 155-160 | 110 | 5'1" - 5'3" | 44 |
| 145-155 | 105 | 4'9" - 5'0" | 42 |
| 135-145 | 100 | 4'5" - 4'8" | 40 |
| 125-135 | 95 | 4'1" - 4'4" | 38 |
| 115-125 | 90 | 3'9" - 4'0" | 36 |
| 105-115 | 85 | 3'5" - 3'8" | 34 |
| 105 | 80 | < 3'4" | 32 |
What goes into your ski pole?

Your ski pole is made of different parts: the grip, the strap, the shaft and the basket. Each part should be chosen with care.
Should you go for a single shaft ski pole or a telescopic one?

Most of the ski poles are composed of only one shaft called tube. When it comes to robustness and weight, it will suit a large majority of skiers whether it is for recreational purposes or competition.
However, you can also find ski poles with more than one shaft (called telescopic shafts). Tourers love them since they can adapt to the various elevation changes. Telescopic poles are also very useful for juniors as you can adjust their size to the kid's growth.
What is the best material for your ski poles?

The shaft(s) can be composed of several materials, each one having its own physical properties. The most common poles are the ones made of aluminum alloy combined with zicral or dural in order to add some elasticity. They are light and usually rather cheap. You can also find carbon fiber or fiberglass (composite) poles that are even lighter - especially the carbon ones - and they come with another key point: comfort. Indeed, fibers tend to adsorb vibrations.
What basket should I choose for my ski pole?

Just above the tip of the pole, you will find the basket. Its purpose is to prevent the pole from sinking too deep into the snow when you plant it. Several types of baskets are available: 
- The piste baskets: narrower, more robust and with less wind surface area. They will be perfect for hard and groomed snows. 
- The powder baskets: larger, if you don't want to see your pole immediately disappear under the snow, they're a must-have when you go off-piste. However they are also more fragile. 
Be cautious, each brand proposes its own baskets and they are rarely compatible with other brands models.
What strap should I get for my alpine ski pole?

The strap goes around your wrist to prevent you from losing or dropping your poles, especially in case of a fall. It will give you a better support during the planting phase and help you push forward. There are three main strap categories. 
- The classic single strap: This is the most common one, a single strap that forms a loop around your wrist. Even if their appearance can change depending on the models and brands, in the end, all straps work the same way. The various ergonomic alternatives are here to improve the comfort and give a nice finish to your pole. 
- The security strap: Unlike the classic ones, these straps can be removed from the shaft. The security straps are high-end models that will provide you several advantages when it comes to comfort and support. They have been designed to release from the pole automatically in case of impact to prevent wrist or thumb sprains.
- The hand-guard: Without strap but with a plastic frame instead. More exotic, the hang guard offers a remarkable grip and exceptional user-friendliness. However you will have to differentiate your left and right pole. This type of grip is still pretty uncommon as it is non-adjustable.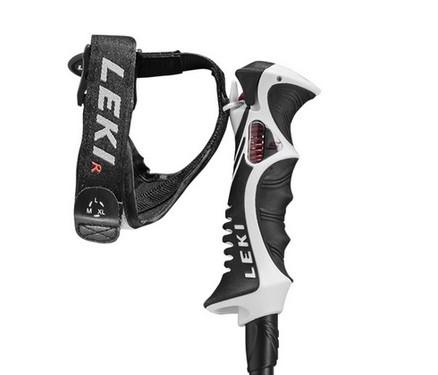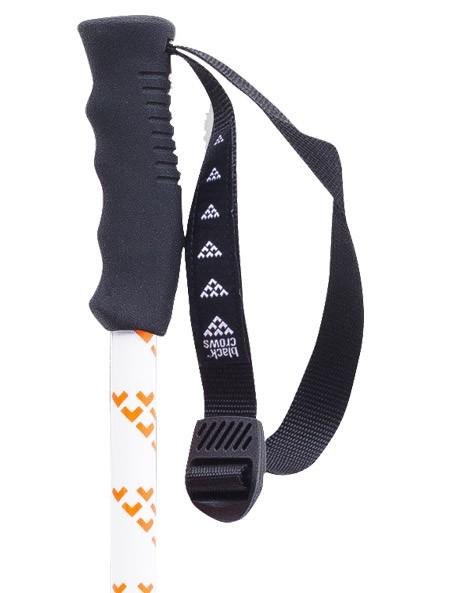 What's the best grip for my ski pole?

The grip brings a nice touch of comfort to your ski pole. Do not forget that you'll be wearing gloves and that you may not feel the difference of texture. However, the soft-foam grips will be lighter and more comfortable compared to the hard-foam ones. Finally, people with small hands will prefer "one plus three fingers" grips rather than four-finger grips.