Before anything else, as a sports and more specifically a ski specialist, the soles you will find on our website are intended to improve your comfort as well as your performances but are by no means designed to treat orthopedic conditions. 
We work with the SIDAS brand which offers a full range of high-performance products for the comfort of your foot. A brand also chosen by champions such as Martin Fourcade, Perrine Lafon, Maurice Magnifica, Ben Valentin….
The foot complexity

For skiers, the foot holds a central role acting as the link between the skier and his ski. Enclosed inside your shoe, it directs the ski in the right direction and therefore, it is primordial that it stays in the best conditions possible despite all the stress affecting it.
At the basis of the body, the feet are:
- unique by their morphology 
- complex with 28 bones, 16 joints, 107 ligaments and 27 muscles
- sensitive as they serve as a sensor
The feet differ by their shape, way of moving and pressure distribution. We classify them in three categories depending on the level of contact with the ground: low, medium and high arch foot.
Inserting your sole in your ski boot

To avoid any kind of discomfort or pain, placing your foot properly, laid out flat, is crucial in order to fit the sole perfectly and ensure a good and homogeneous support as well as a good stability. This means a pair of boots well suited to your morphology, a good sole and some good socks.
Why buying soles for your ski boots?

In your ski boots, the sock soles (also called liner sock) are basic and universal. They are flat and manufactured with foams of various quality depending on the model. They only offer weak insulation and little flexibility for the foot. They can however be used to adjust your shoe size. Poorly adjusted, they are not designed to offer a real support and might cause some pain, tiredness and even cramps.

Their 3-dimensional structure allows for a perfect support of the foot and fosters a good alignment of the body. The 3D soles are designed with an ergonomic-shaped frame, a foam coating for comfort and various isolating materials depending on the model. These characteristics provide the 3D Winter soles with many advantages compared to the flat soles of your ski boots.
1- Arch support
A good arch support will allow you to avoid the cold feet feeling and the tiredness of the foot. Acting as a venous pump, the arch is a peripheral motor for blood return and a good blood flow reduces the cold feet syndrome. And so, a good arch support will reactivate this venous pump. Being more stable and well supported, the stabilization efforts will be reduced and limit muscle fatigue as well as the risk of blisters. The foot won't move as much and cause less friction as a consequence.
2- The EVA form cushion
A foam suited to your foot allows for a better and more homogeneous support that will limit the risk of foot pain. The foam will be slightly thicker under the heel for improved comfort.
3- Aluminum-foil thermal insulation
This will stop most of the cold radiations coming from the ground and prevent your feet from ending up frozen.
Another type of soles, the 3Feet Merino offers a tailored support of the arch (low, medium or high) with aluminum insulation under the entirety of the foot as a bonus and a merino wool coating for maximum warmth and odor reduction. These soles adapt to the high of your arch and to your morphology to provide you with optimal support, in addition of all the other advantages of the 3D sole. The MID sole is the closest to an universal sole.
The Winter 3D Comfort sole
In addition of all the Winter 3D advantages, the Winter 3D Comfort offers you a better thermal insulation thanks to its fur coating and an extended aluminum insulation. Which means more warmth and even more comfort for your feet.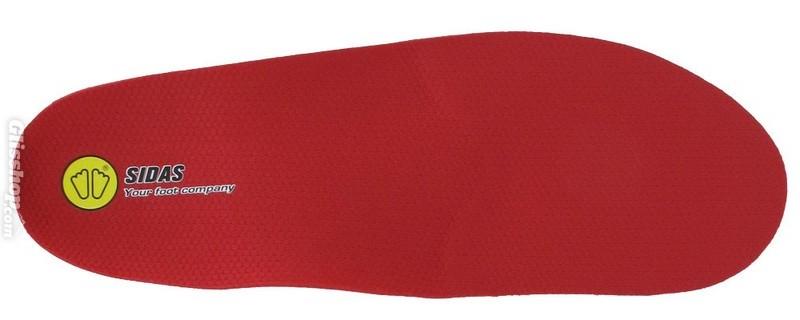 Go even further in the customization with these tailored-made soles to create directly in our shop. Modeled directly around your feet, they will help you gain in both comfort and precision.
Volcano Heat or Heat 3D heated soles
Foot-warming soles with light arch support combined with a heating resistance placed under the foot. Powered by an additional battery placed under the shoe collar, these soles will help you gain more support but mostly a lot of warmth.
3mm or 5mm volume reducer

This compensating sole will allow you to reduce your shoe size by 1 or ½ size. It has to be placed under the sock liner.
Conclusion:
Whether you are a beginner or an expert, the technical sole is indissociable from the ski shoe, it's the base of your foot. We could even say it's like a bucket seat for your foot. It will give you support and suppress plenty of drawbacks, bringing more comfort for your feet that will be more rested and less cold. It's the essential accessory for a proper skiing day. 
The 3D soles do not change your shoe size since they are used to replace the sock liner. Available in different sizes, you can also cut them in order to fit your shoe perfectly.
All our ski boot soles offer a real gain when it comes to the comfort and support of your foot.