How to choose a touring ski binding? What is the best touring binding?
Everything about touring bindings
How does a touring binding work?

You probably know the classic alpine binding right? This piece that holds your boot in place on your skis and releases when you fall. 
Well, the touring ski binding works kind of the same way when you ski downhill but it features a climbing system that frees your heel. 
This allows for a more natural walking motion when you skin up the hill. No need to lift your ski, just slide it forward. It requires less efforts. 

There are several technologies available on the market, each suited for a different style or use, but the idea remains similar between all. 
On the uphill:

The tip of the boot is attached to the binding, leaving the heel free to move. 
There are pads called heel raisers or heel lifts that can be placed under the boot on steep slopes to avoid uncomfortable positions. 
Some bindings also offer several heel lifts in order to adapt to different slope angles. 
If you want to raise or lower the pads, all you have to do is use the tip of your pole. Nice and easy!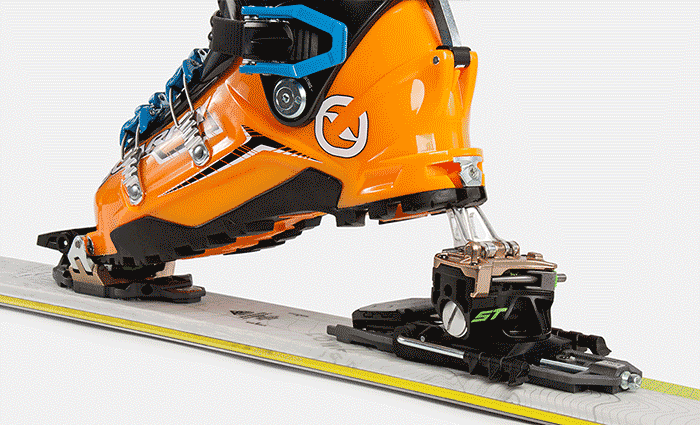 Every touring binding complies with crampons if needed. Crampons give you that extra grip you need when the snow becomes icy or rock hard. 
They work like a bread knife and bite into the terrain. It breaks through the crust and prevent from sliding backwards when the skin can't grip anymore.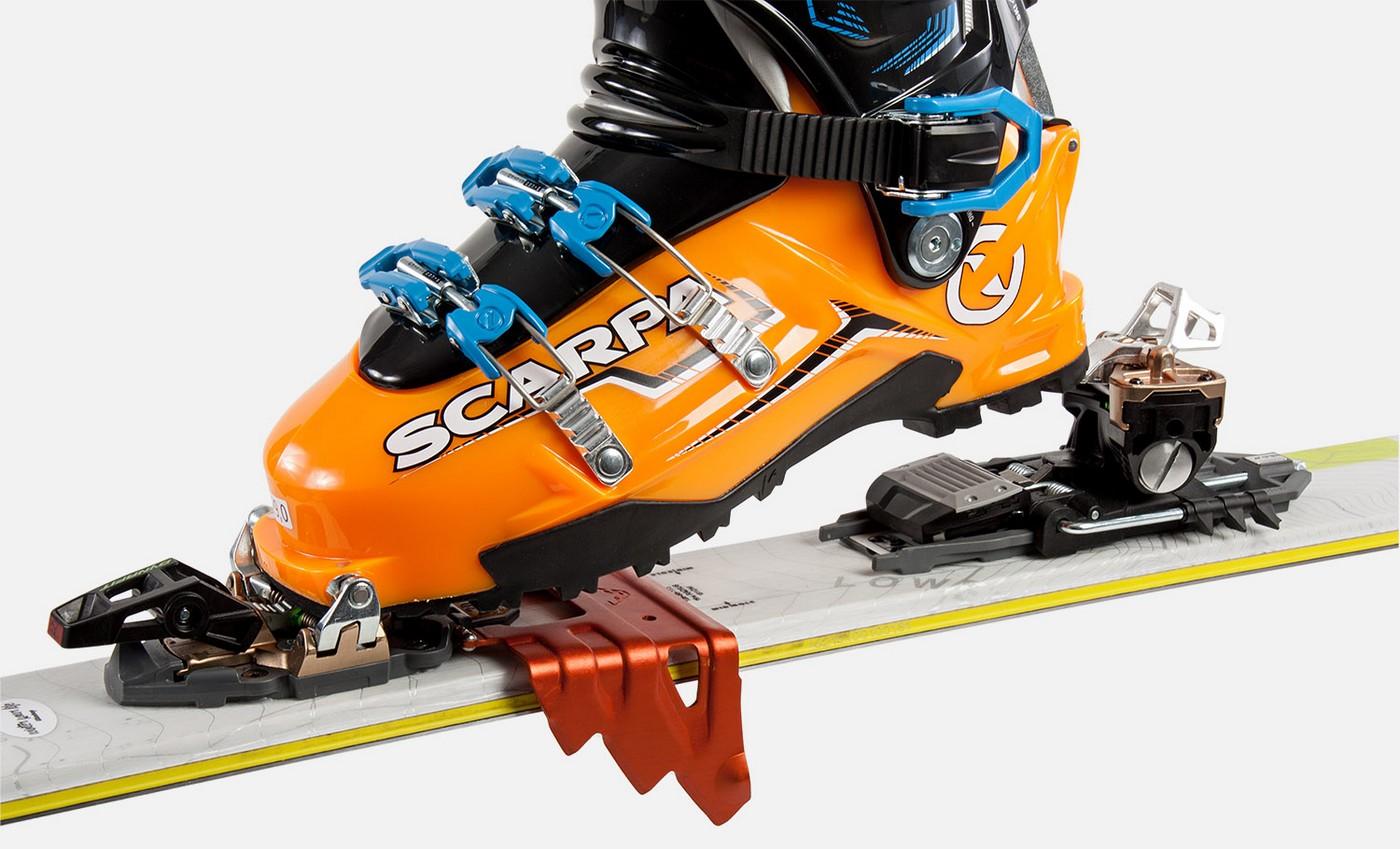 On the downhill:

Touring bindings turn back into traditional alpine bindings when it's time to run downhill. To switch into ski mode, you need to pivot the heel piece so that the inserts flip upside down. Attach the toe piece then click into the heel piece. This is for Low Tech bindings. On AT bindings, position your weight onto your heels so the plate sits flat on the ski and action the lock the tip of your pole.

The different kinds of touring bindings:

There are many ways of ski touring and there is a binding specific to each:
- You want an ultra-light construction, you're after performance and into racing.
- You want optimal hold and safety, you are a freerider with an aggressive style.
- You want the best of both worlds, the ultimate compromise, something light and something secure, perfect for regular tourers.
(In order to make things easier to read and understand, we are going to sort bindings from the lightest to the heaviest.)
These are the lightest ski bindings available on the market (less than 300g per pair). They come with a minimalist construction. They have no release system on the toe piece and rarely feature one on the heel piece. 
The leash replaces the usual ski brake which is too heavy and the heel piece is fixed and features just a heel lift. The idea is to save as much weight as possible in order to climb faster with less efforts.
The most popular Low Tech race bindings are the Dynafit Low Tech Race, ATK Revolution or Plum Race.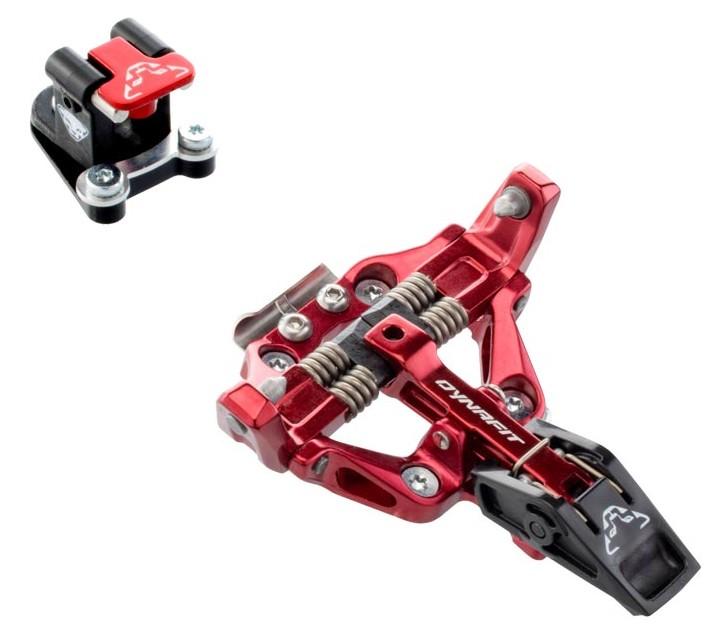 More secure than race-specific bindings, Low Tech bindings remain super light (from 300 to 900g per pair) and feature a release system on the heel piece. These bindings are suited for what we call 'Light touring'. Risks of injuries are much lower than with the previous bindings. 
You can find Low Tech bindings with a rotative heel piece with 2 or 3 heel lifts, meaning you can adjust the heel height depending on how steep the slope gets.
Certain models now come with ski brakes (add 200g per pair) for a more convenient use.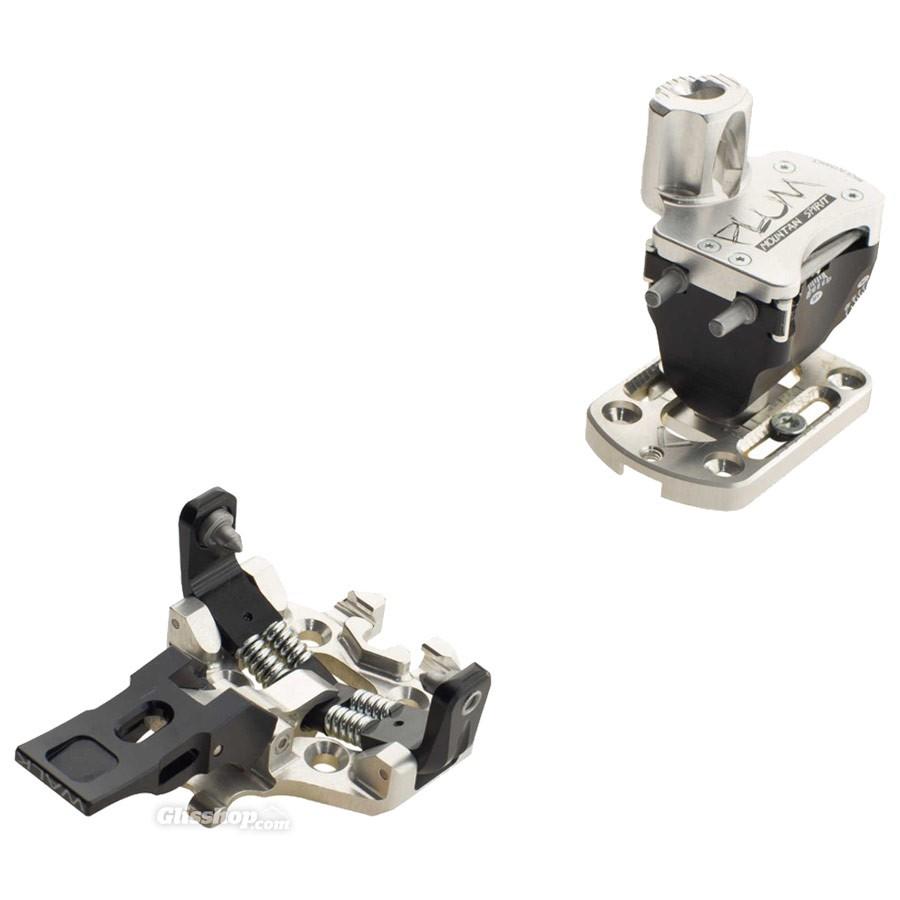 Hybrid Low Tech bindings:

Weighing from 1000g to 1700g per pair, hybrid touring bindings are a lot heavier than traditional Low Tech bindings. However, they are a lot more secure. They are the bindings of choice for skiers who focus on safety.
There are 3 main categorie of hybrid bindings:
- Hybrid bindings with rotative toe piece:
Like every Low Tech bindings, the DIN value is set on the heel piece but the toe piece is mounted on a spring system allowing it to rotate. 
This system enhances lateral release when you fall.
Example of a Dynafit TLT radical ST-FT: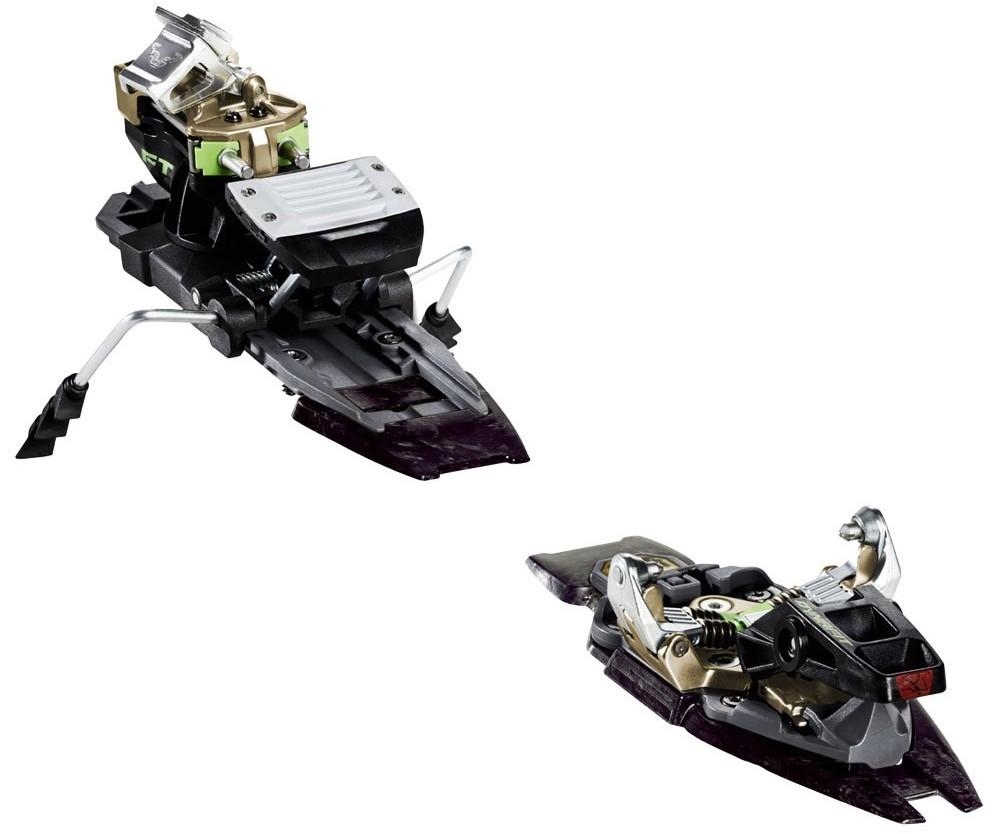 - Hybrid bindings with DIN settings on the toe piece:
These bindings feature an improved toe piece on which the release value can be set, just like the heel piece. 
This is an industry-first as it allows a Low Tech binding to offer a controlled release from the toes.
Example of a Diamir Vipec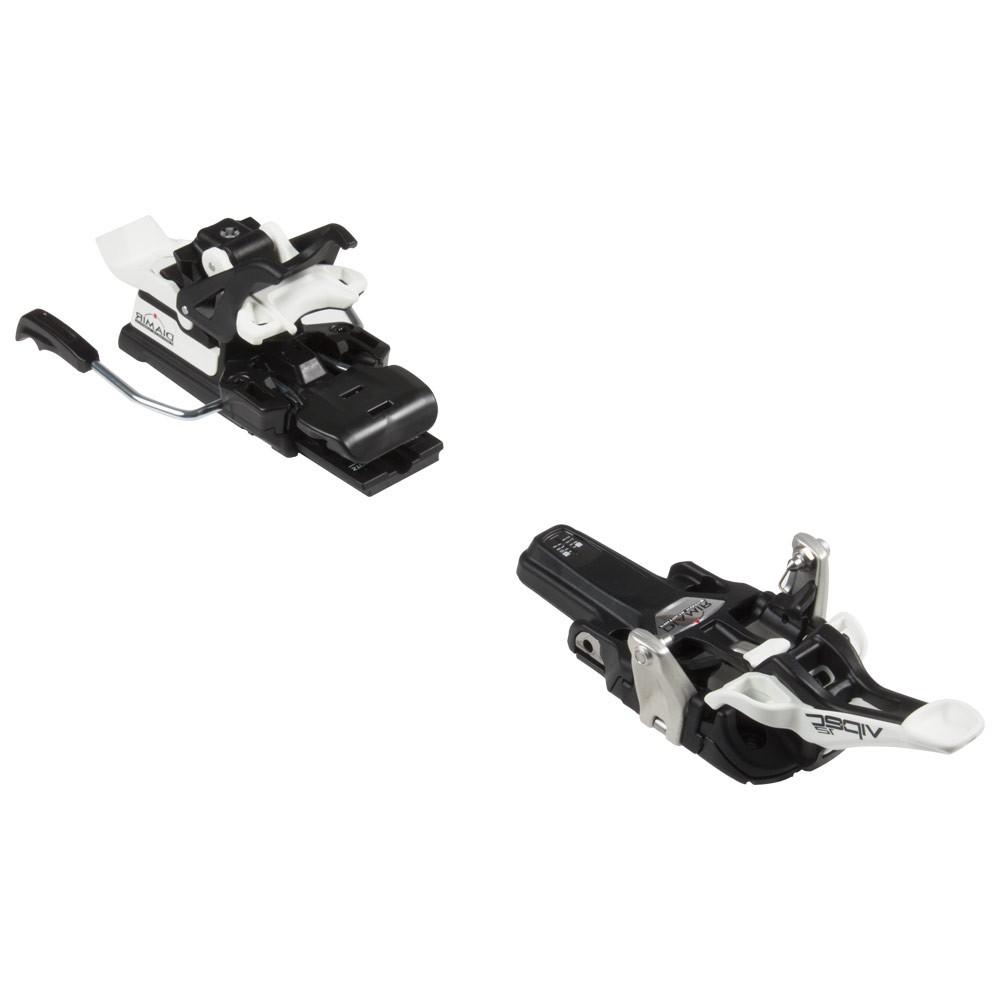 - Hybrid bindings with a traditional heel piece:
True hybrid binding, it comes with a traditional toe piece with inserts (pins) allowing an easier walking motion. The heel piece however looks like a traditional alpine binding even if it comes with heel lifts.
This system improves the binding reliability. The release works better and the binding holds the boot with more power.
Note: this binding does not work with every touring ski boot due to its specific heel piece. 
Example of a Marker Kingpin:
Frame bindings or AT bindings

This is the touring binding that's the most popular in resorts and the one you'll see often on alpine skis. It features adjustable toe and heel pieces and it is mounted on an articulated rail or frame which you can lock and switch from climbing to skiing modes easily.
Frame bindings comply with every ski boot featuring the norm ISO 5355 and with the majority of touring ski boots. They come with adjustable heel lifs and the boot size can be adjusted.
The weakness of these bindings is their weight. You'll have to carry at least 1600g for a pair and that number can increase pretty fast depending on models.
Example: Diamir Freeride binding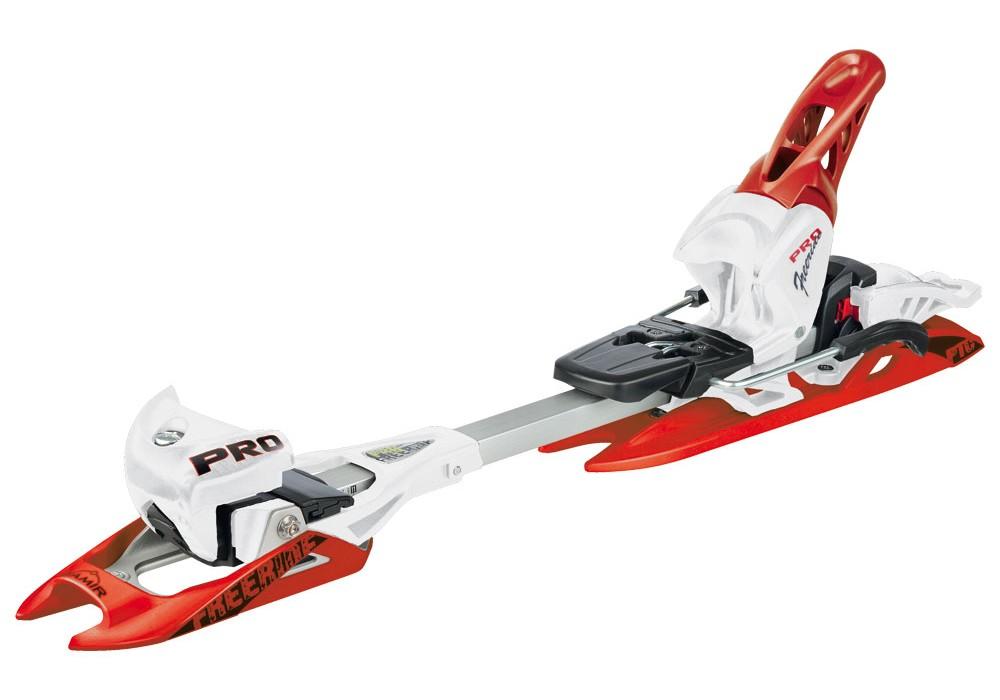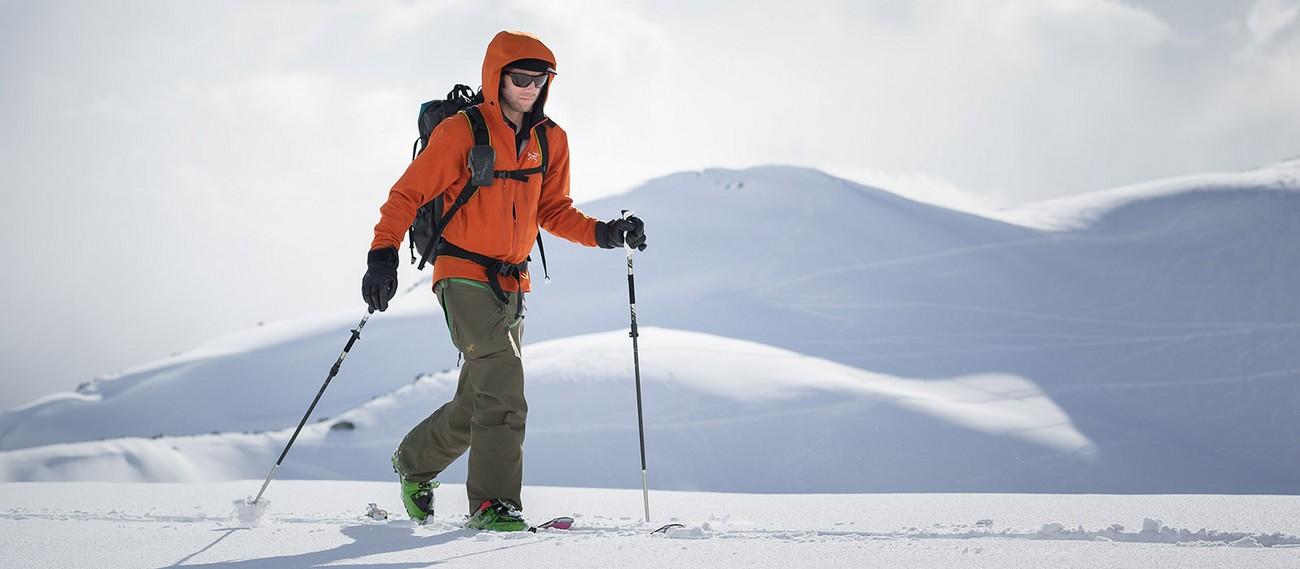 As a conclusion:

If all touring bindings are versatile, you have to understand that every type of binding has its own specifications. It is important to choose the right binding that matches your style and your needs. This will help you enjoy your tours better.

- Climbers and racers:
Weight is your ennemy. Race touring bindings or competition bindings (Low Tech competition) weighing around 200g will be your best friends on the steeps.

- Skiers who enjoy long tours
You should go for Low Tech bindings. They are light and convenient. The adjustable DIN value and the different levels of heel lifts make the difference. If you want more safety and an efficient release, then you can pick a hybrid Low Tech binding.
- Tourers who seek ultimate safety
And optimal comfort on the downhill. You can choose a hybrid binding or a frame binding (or AT binding). They're easier to use and less expensive. AT bindings are an excellent choice for freeriders.
Shopping tips:

When you're choosing your touring ski binding, make sure it is compatible with your ski and your boot. Indeed, even if your boot works in the binding, the lightest Low Tech bindings do not work on the widest skis and frame or AT bindings are not much of interest on ultra light touring skis.