You don't know what size to choose for your ski boots and you have no clue about how to choose their width either.
It is very important to get the right size when it comes to ski boots. If your sneakers are too big, you're still gonna be fine. If your ski boots are not sized properly, it will ruin your day. Get them too big and your feet will move, creating friction and discomfort. Get them too small and your toes will get crushed, your blood won't flow as it should and you're going to feel cold. Trust us, you don't want any of this. 
In this tutorial, Martin, our ski and touring ski expert, explains you how to size your ski boots precisely.
Sizing guide: the tool you need to find out your boot size
What size in centimeters for your ski boots?

In order to avoid confusion between UK, US or EU sizes, ski boots manufacturers stick to one norm called the Mondo Point size which is the length of the foot in centimeters.
To help you find this size, we've designed a size guide to measure the length and the width of your foot with precision. You can download this guide in PDF right here:
In order to use our size guide, make sure it is up to scale once you've printed it. 1 centimeter on the paper must be 1 centimeter long. Once you got this right, place the size guide against a wall and place your strongest foot on it. Draw a line on the guide at the end of your longest toe and another one to mark the width of your foot. Ask for help if you can, measures will be more precise.
In order to find out your boot size, just read the MondoPoint value (MP) on your first mark. To read the width, check where your second mark falls. You'll find out if you have a narrow, medium or wide foot. Watch our video if you're not sure how to proceed.
Now that you know your size and width, you can easily determine what boot size and last will suit you best.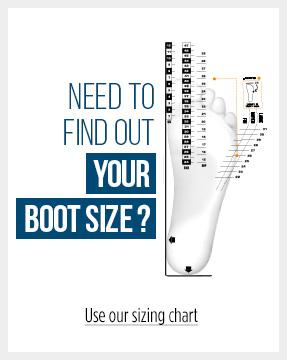 How to choose ski boot widths?

Your boot width or boot last must fit your shapes.
In general, manufacturers release series of boots featuring different lasts. Some boots will target narrow feet while other models will best suit wide feet. Every skier can find the right boot for his feet.
Boot last or fit equals the width at metatarsals (the widest point). A boot width is always given for a size 26.5 which is considered standard. This helps you compare with other boots to find the right width for you. 
For the record, if you want to go into details, a boot with a 100mm last will be 100mm wide only in 26.5. If you pick a bigger or a smaller size, you'll get a bigger or a smaller last. 
Thanks to Glishsop size guide, you know your foot width. More specifically, you know if your foot is narrow, medium or wide.
- If you have narrow feet, we recommend lasts ranging from 97mm up to 100mm. 
- If your feet have a medium width, you want a boot width between 100mm and 102mm.
- If your feet are wide, prefer boot lasts over 102mm, this will keep your feet snug and happy. 
Of course, these figures are only indicative. If you like charging hard and fast down the steepest slopes the resort can offer, you can pick a tighter fit to gain precision and performance. If you love cruising at low to moderate speed, if you want top-notch comfort more than anything else, then a wider last may be a better choice for you. Everything is a matter of feel, you need to feel good in your boots. If this means you need to pick a longer size than your feet or a wider last than the one recommended, do so. You'll be the one using them!
How to choose ski boot length?

The length of your ski boot must match your skiing level:
We can highlight two kinds of skiers:
Expert skiers tend to prefer precision to comfort. They will choose a boot size that matches exactly the length measured on the size guide.
Example: an expert skier with a 27cm-long foot will pick a size Mondo Point 27.
Recreational skiers often favour comfort to performance. They can get an extra 1/2 size. 
Example: a recreational skier with a 27cm-long foot will pick a size Mondo Point 27.5.
Fancy a new pair of boots?