Bolle sunglasses
The best Bolle sunglasses are on Glisshop!
Bollé is a brand carrying a solid reputation in the optics industry. With 125 years of experience under its belt, the sunglasses manufacturer keeps releasing innovative products offering style, protection and performance. Founder Séraphin Bollé began his adventure by selling hair combs and accessories. Then in the 30's the company started producing sunglasses and prescription glasses made of celluloid and rhodoid. Then came protection glasses to finally enter the ski industry with ski helmets and snow goggles. Bolle's first hit was the nylon-framed cat's eyes model released in 1956. From 1960, the brand works hard to offer skiers performance and comfortable sunnies. Using polycarbonate for their lenses, they offer lighter, more durable and clearer lenses than what competitors have. Nowadays, Bolle men's sunglasses stand as a symbol of quality and performance to every skier and so do their women's lineup. They offer comfort and optimal protection whether you wear them on your daily commute or up in the mountain. You'll also find Bolle kids sunglasses featuring colourful frames and innovative designs but hiding the same level of performance.
Show less
Buyer's guide for Bollé sunglasses
Bollé sunglasses feature technologies at the state of the art. Designed to offer maximal clarity, Bolle sunnies come with high-end lenses and groundbreaking coatings. In order to help you choose the right sunglasses that suit your needs, let's have a browse through what's available at Bolle and what it's designed for.
---
What are the benefits of Bolle Modulator lenses?

The Modulator is a photochromic lens that's going to change the way you look at things. A photochromic lens adjusts to the current light conditions. When it gets darker, the lens lightens up and when the sun shines high the lens becomes darker.

This is made possible by a molecular process that helps the lens react to the amount of light it receives. Light transmission is always optimal. Bolle photochromic lenses have mass-embedded dyes which makes them more durable and keeps their photochromic function working longer.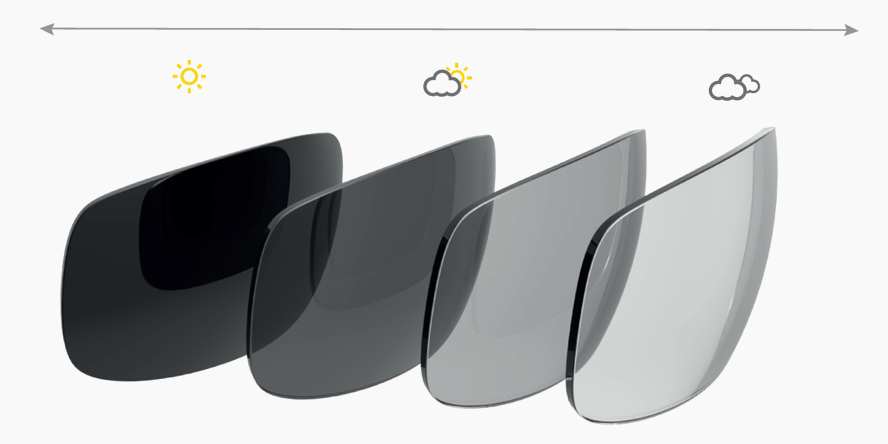 Bolle Modulator lenses are efficient in all conditions, even the most extreme ones.

Built with NXT material, the Modulator lens tint changes instantly with the light, optimising visual comfort all day long. This means you can spend the entire day with your glasses on, you'll always see with best visual acuity and comfort and will always benefit from an optimal solar protection, even in uncertain conditions.
---
What conditions for which Modulator lenses?
Derived in a variety of tints and protection classes, the Modulator lens suits a broad range of uses. In shady conditions (driving, biking, skiing in the woods for instance), you can pick the Modulator Clear Grey lens varying from class 1 to class 2 with a neutral contrast or the Modulator Brown Emerald lens offering a protection ranging from categories 2 to 4 with enhanced contrasts. For any-time-of-day conditions, Bolle recommends the Modulator Rose Gun or Modulator V3 Golf lenses. These two offer enhanced contrasts and filtered blue light for a better visual acuity.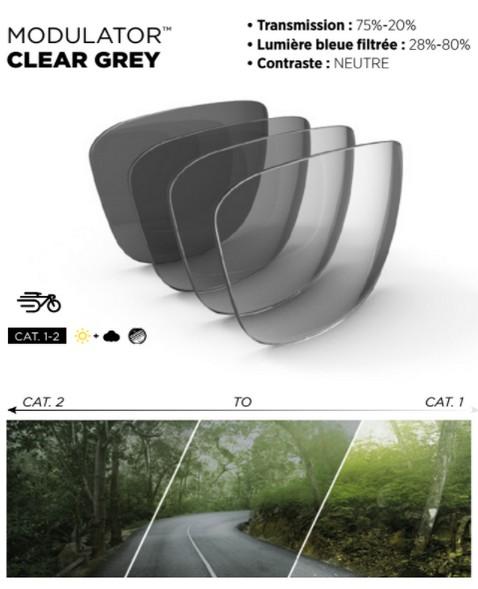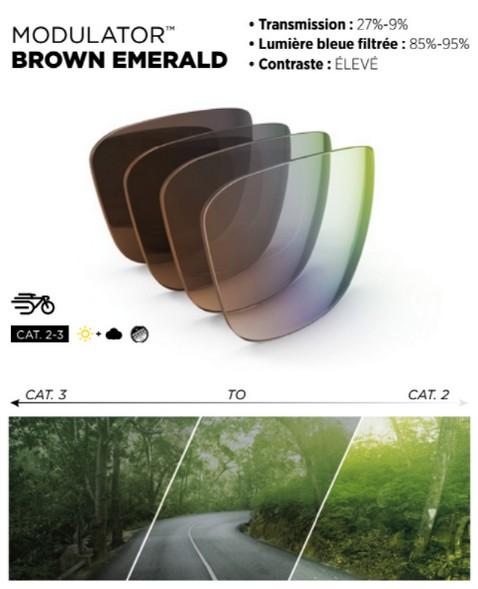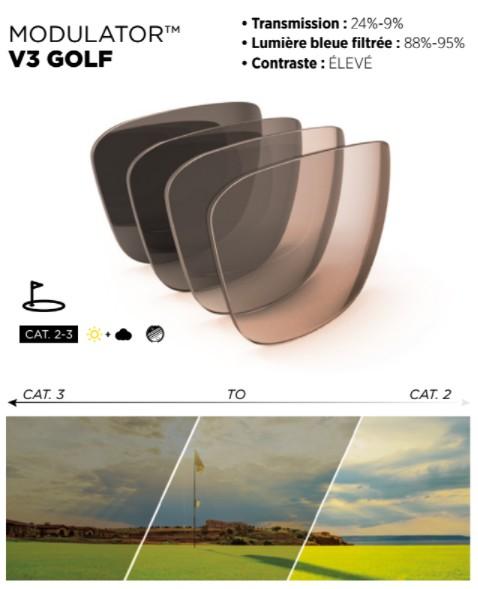 ---
How about Bollé polarized lenses?
When you're out in the nature, sunlight bounces on everything it reaches which is how you see things. But when it bounces off a horizontal surface like snow or water, light is usually reflected horizontally too which creates glare and visual discomfort or even pain. Bolle polarized lenses help reduce this glare effet by filtering horizontal light and transmitting only vertical rays.

Bollé polarized lenses manage to filter 98% of unwanted light which drastically improves visual comfort and optical clarity and reduces eye fatigue.

---
Which treatment for your Bollé sunglasses?
Beyond technologies like polarization or photochromy, Bolle sunglasses also come with different treatments for added protection and performance. You have the Oleo/Hydrophobic finish making the lenses repellent to water, grease or pretty much any foreign bodies. There is also the anti-fog coating which also resists to scratches and/or chemicals and the anti-reflective treatment for less glare.

Oleo/Hydrophobic treatment:
Oleo/Hydrophobic treated lenses prevent foreign bodies from sticking to the lens and obstruct vision. The lenses are very easy to clean with a quick wipe and they ensure optimal performance all day. This treatment is available on all polarized lenses and B-Clear NXT lenses.
Antifog coating:
Bolle antifog coating offers three protections. Fog, scratched and chemicals. And to make sure this treatment doesn't wear out after repeated washing or use, Bolle integrated it to the lens. No spray or surface coating.
Anti-reflective finish:
At Bollé, every 6-base polarized lens come with an antireflective finish reducing glare effect and enhancing comfort and acuity.