Smith sunglasses
The best Smith shades are here!
Smith is making some of the finest eyewear in the industry, from snow goggles to sunglasses, the brand has developed groundbreaking technologies that have helped raise optics standards. Their line of sunglasses incorporates variety of styles and performance so that everybody, from riders to casual fishermen, can find the shades of his dreams. Read more about Smith sunglasses technologies...
Show less
How Smith ChromaPop technology changes everything?
Smith mission is to create products "that help you get the most of your every moment" and to succeed this mission, they work hard at designing products that look cool and that work like no other. One of Smith best innovations is named ChromaPop. It is a lens technology offering sharper and crisper colours to users. The idea is to enhance details and clarity so you can see better without efforts. Your eyes don't work as hard and get less fatigue. Seeing better also gives you more confidence and allows you to react faster.
Human eyes tend to confuse certain wavelengths of light and cannot distinguish clearly colours between blue and green and between green and red. ChromaPop lenses filters these colours to allow you to see with more clarity and more definition. Colours look more natural, eyes can see more details than with its normal capabilities.
How to choose Smith Optics lenses?
Smith Optics has a pretty easy way to sort its sunglasses lenses. It depends on the environment you're in. There are 2 main categories: land and water.

On land, you have the choice between road, trail or field environments: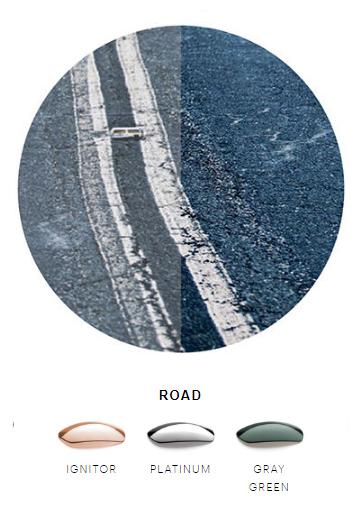 ---
On water, Smith Optics marks the difference between Fresh Water lenses, In-Shore conditions and Ocean: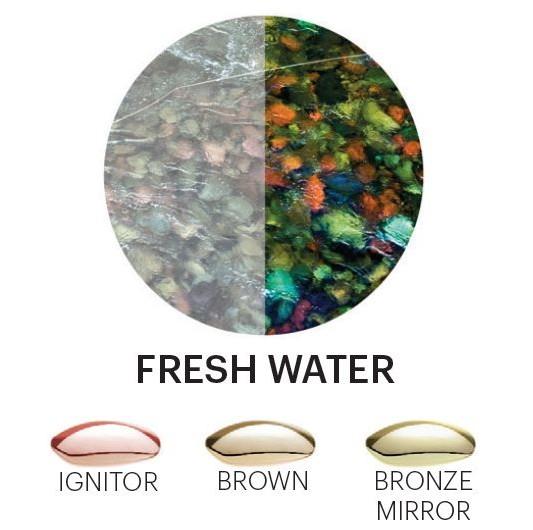 The finest construction for the highest performance
ChromaPop lenses is not the only technology from Smith. There are also the Techlite or Carbonic techs both offering high performance and a greater resistance to impacts. Polarized filters complete Smith's range of techs and so do photochromic lenses. High-end lens finish aren't forgotten either. From the multilayer mirrored lens, the antiglare coating, anti scratch or hydrophobic treatments, Smith has a variety of quality lenses to offer, all of them protecting from the harmful sunrays. Here is a quick look at Smith lenses construction: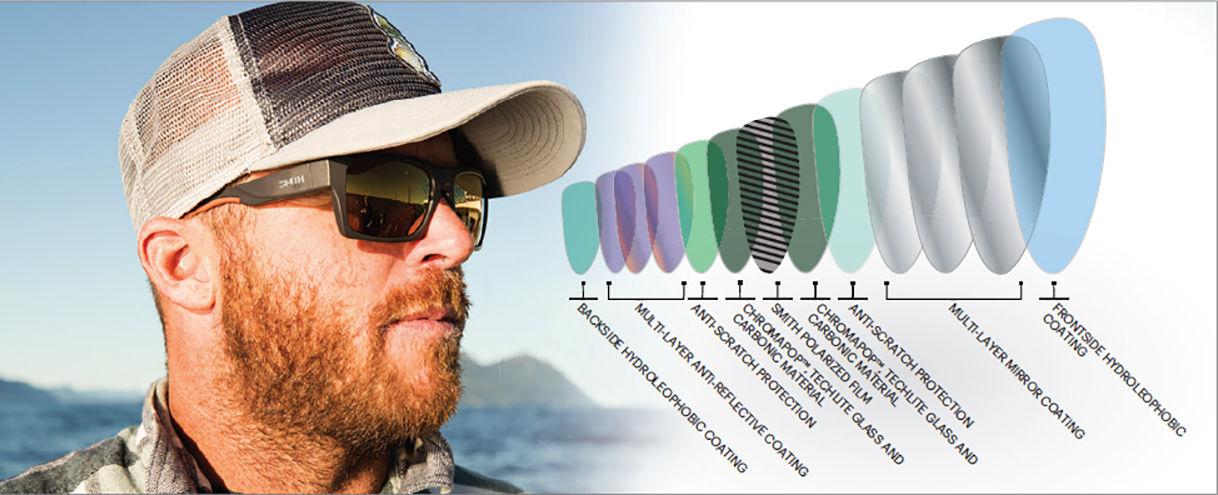 Lenses
Benefits
Specifications
Enhances details and reduces glare thanks to the impact resistant polymer based lens, the clearest and the lightest available on the market.
Polarized ChromaPop lenses are more durable offer more clarity than traditional ChromaPop lenses and they are 10% lighter. If you want comfortable and performance shades that protect from glare, water, impacts and UVs, these are the ones!
---
Make glare a thing from the past with these light and scratch-resistant lenses.
Techlite polarized lenses are up to 12 times more resistant to scratches than polymer lenses. Their antiglare coating offers higher visual quality and reduces eye fatigue.
---
More details, more natural colours, more durability with the impact-resistant Carbonic lenses.
Carbonic lenses are optically designed to offer the ultimate visual comfort and protection. They resist to impacts and reduce glare. Coated with antiglare, antiscratch and hydroleophobic treatments.
---
More natural colours, enhanced details.
ChromaPop lenses offer greater definition, unmatched clarity and more natural colours to the eye. Blocks 100% of harmful UVs.
---
Offer your eyes a shield with ballistic lenses certified with MilSpec standard.
Elite lenses offer high definition and clarity and they are ultra resistant to impacts. They comply with the MIL-PRF-31013 and ANSI Z87.1 standards which relate to industrial protection.
---