Picture Organic gloves
Picture Organic, the trendy ski gloves:
At Glisshop, we have a complete range of Picture ski gloves, made with recycled materials and produced in an eco-friendly manner. Declined in different warmth index, they adapt to all winter practices. Pick your favourite pair and say goodbye to cold fingers with these warm and waterproof gloves, and of course, all the other products of the brand are awaiting you in our Picture Organic Clothing shop.
Show less
Picture Polartec Power Stretch basic gloves
These gloves will provide you a good physical protection as well as an excellent breathability while staying light and discreet. Their thermal insulation is limited so they can be as thin as possible. In addition, they often come with the TouchScreen technology that allow you to use tactile screens without having to take them off.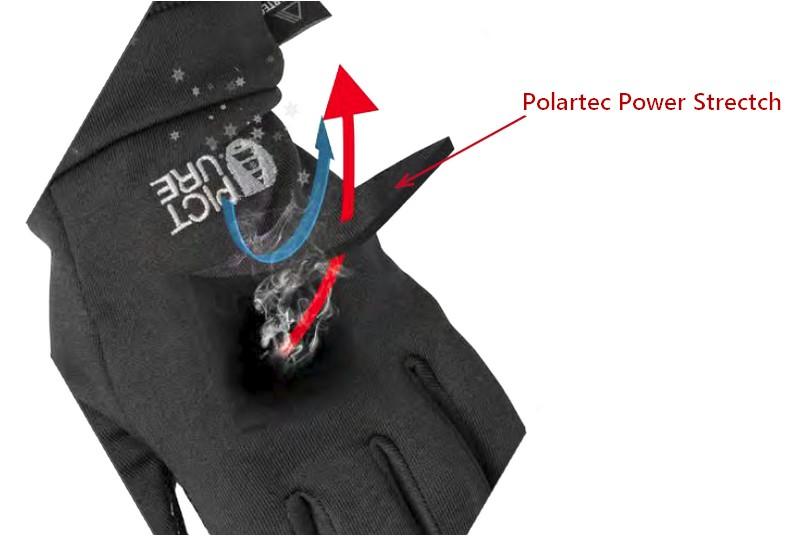 Picture Organic summer gloves
Picture Organic summer gloves are light and breathable, they were made for nice sunny days. Freestylers love them for their extra feel and ski tourers and splitboarders as well because they don't get too hot on the way up. However, they still offer a pretty good thermal insulation for when the weather gets nasty and can handle rain.
Picture Organic mountain gloves
This category is the most exhaustive of our collection. These gloves are perfect for winter sports because they are resistant and fitted with a true impermeable and breathable membrane between the external and insulating layers. Whether you are ski or snowboard, Picture Organic mountain gloves will keep you warm and dry.
Picture Organic Expedition gloves
This is the ultimate glove right here. Its multilayer conception ensures top-level impermeability and high breathability. Expedition gloves are usually generously lined to help you face bad-weather days without losing your fingers. These are the warmest gloves of the Picture collection.