Lill Sport
Customer reviews
Rating: 4.8 out of 5
7 reviews
Nordic glove Lill Sport Legend Gold Black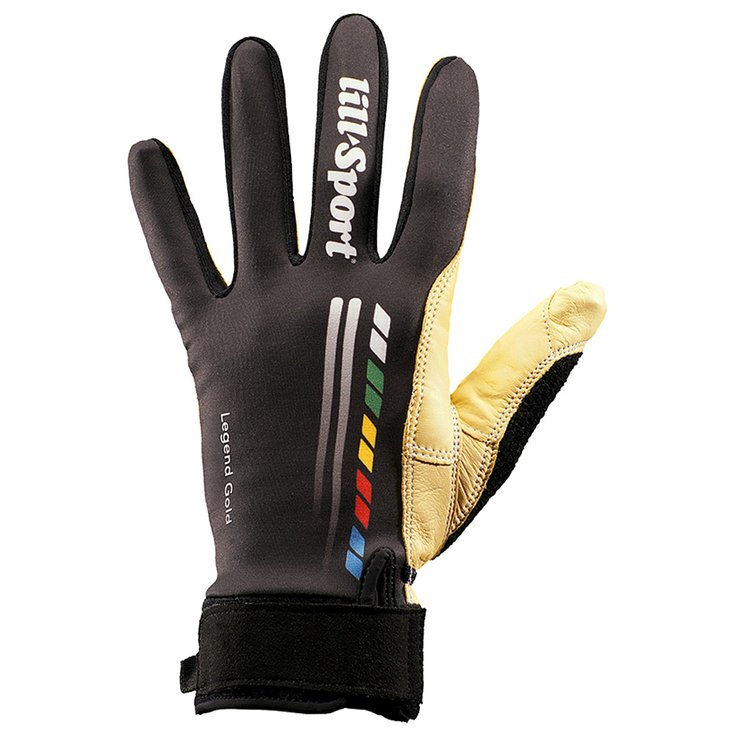 The Lill Sport Legend Gold Black cross-country ski glove shines with a beautifully designed design. Natural leather palm and windproof, this is a superb racing glove.

Please select the specs needed.
Description
Vivian
Accessory expert
"Some look for functionality, others for style or performance. Whatever it is, we'll find it together and make sure we add the safety dimension to it! Call me on 020 3129 3301."
Undoubtedly one of the most beautiful cross-country ski gloves ever made, the Legend Gold is a great classic for performance. As with the entire Legend range, it has a breathable 3-layer windproof outer surface that insulates the hand from the various weather conditions. The 100% natural leather palm provides incredible grip comfort as well as increased glove life. It should not be forgotten, however, that machine washing is not recommended with this type of palm if you want to keep all the suppleness and comfort of the leather. Moreover, it becomes even softer as it ages so as not to spoil anything. Reinforced at the level of the thumb-index palm it does not suffer premature wear with the friction of the straps and handles. The palm is not lined, because in the interest of grip efficiency, for a racing glove the essential thing is the precision of the touch. The neoprene sleeve is equipped with a Velcro strap that perfectly adjusts the glove around the wrist without creating an excess thickness. A very beautiful glove, which if you take care of it can be kept for a very long time.
Lill Sport gloves are manufactured in the European Union, more precisely in a Polish factory. The quality of finish is one of the best on the market and glove types such as Legend are offered in many variations, the "classic", Gold, Slim, Thermo. This know-how has been developed by the Swedish brand since 1984 and supplies many national cross-country ski teams, including some of the greatest champions.
Technical characteristics :
Windcheater 3 Layers back of the hand.
Natural leather palm.
Neoprene Velcro sleeve.
No Palm lining.
Thumb-index clip reinforcement.
Help in choosing the right size:
Measurement of the hand size by placing the tape measure between thumb and index finger.
Lill' Sport Gloves Size Chart
Size
Size
Hand Circumference
5
XXXS
17 cm
6
XXS
18 cm
7
XS
19 cm
8
S
20 cm
9
M
23 cm
10
L
25 cm
11
XL
28 cm
Specifications
Technical data Nordic glove Legend Gold Black
Reference nr

H19LILLACC004