Armada ski sets
Why choose an Armada ski pack?
An Armada ski pack is another way of life. Forget everything you've known before, Armada skiing redefines freestyle. The brand has become a reference in the field, and was born from the initiative of Julien Régnier, Anthony Boronowski, J.P. Auclair, J.F. Cusson, and Boyd Easley has continued to gain ground and has seen giants such as Taner Hall join his team. Today, when you say freeski, you say ski Armada.
Read more
Show less
Armada skis to enjoy the mountain to the fullest
Designed by freestyle and freeride enthusiasts, Armada skis are a real gem for all those who want to have fun on the untouched slopes of the mountain. Innovative construction, moose design and full range, you're sure to find a ski adapted to your practice. Armada counts in its collection a large technical palette ideal for both the beginner and the expert skier. Freeride or freestyle, choose your weapon, the Armada ski is above all a ski made for fresh snow, leave the pistards between them, here we talk about peuf. Your playground is beyond the ski area, discover new sliding sensations and make yourself a maximum pleasure by taking shots of N(ature) vitamins.
In the Armada freeride ski collection, the Tracer range is a name that is not unknown to the general public. Available in several models, Armada Tracer skis are designed for skiers who want to leave their own tracks on the mountain's virgin terrain. Stable and versatile in many snow conditions, the Tracer keeps a good agility with an appreciable bounce. Even the finest models can be mounted on skates on touring skis!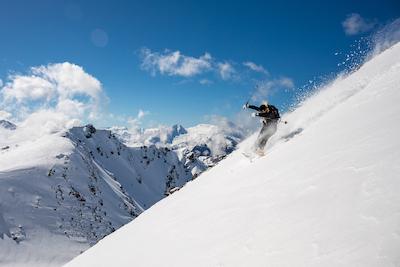 For freestyle skis, the ARV range is at the top of the list. It is available in four widths with skates to satisfy all skiers, from the perfect beginner who wants to practice in the park to the expert who wants to send big tricks in backcountry. The edges are reinforced to go all the way on the rails without the risk of damaging the skis. The 116 and 106 models are rather dedicated to backcountry practice by offering a good lift in powder while keeping a great explosiveness. While the 96 and 86 models are designed to navigate the entire ski area by providing liveliness and explosiveness.
Even children will find their happiness with models adapted to their morphology like the Kirti, a freestyle ski with lots of pep to have fun in the park and learn his first tricks.