Dynastar ski sets
Why buy your Dynastar ski pack at Glisshop?
It is no coincidence that Dynastar reputation is so big. Jean Liard created the brand in 1962. Located by the Mont Blanc, in Sallanches, Dynastar factories are making some of the best skis in the world, ridden by the best world champions. Dynastar Lange represent 12% of the market, and boast a huge catalogue of products. Dynastar make skis for freeriding, freestyling, piste and racing for men and kids. They're also offering one of the biggest women skis specific line available on the market.
Read more
Show less
Being one of the most rewarded brand in the world doesn't happen by chance. It requires work, hard work. And every year the french Dynastar comes up with new ideas, new techs making the skis better and better regardless of the terrain you hit or the conditions. Among the wide offering, we will remember the following series :
The CHAM series by Dynastar :
Freeride was born in the Chamonix valley, just like Dynastar, so it makes sense that the brand makes a specific and complete line of high-end skis dedicated to it. The Cham series, it is 10 freeride skis designed to deliver optimal floatability with their Levitation profile: the tail is narrower than on regular skis and they feature a 5-point sidecut enhancing manoeuverability, performance and precision.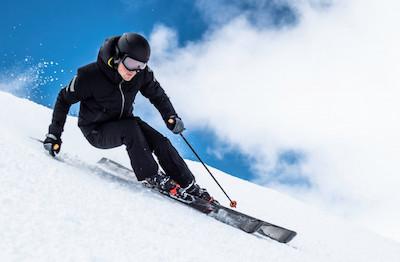 With waists at 80, 85, 87, 97, 107 or 117mm for men and 80, 85, 87, 97 and 107mm for women, the Cham series is extremely complete and covers all freeride needs, even touring needs for men with the High Mountain derivation of the Cham 87, Cham 97 and Cham 107 and for women with the Alti versions of the Cham 80 and 85.
If all of the skis feature a Paulownia woodcore improving lightweight by 25%, the Alti and High Mountain skis go even further with high technologies used in their construction. Weight reduces dramatically. For instance, a Cham High Mountain 107 is 620 gramms lighter than a Cham 107...Impressive.
From 87 to 117, the Cham series is resetting new limits in freeriding with powerful, stable, agile and surprisingly light skis. They will reveal their full potential anywhere on the mountain, but they require an advanced up to expert level to be enjoyed.
The Dynastar 4x4 ski series: the Dynastar 4x4 ski range:
With its 4x4 series, Dynastar is this time aimed at skiers, men and women, looking for versatility and all-round performance. To meet their requirements, the brand offers an explosive cocktail underfoot: hybrid wood and PU core, titanium or carbon reinforcements and a 3D profile with reinforced areas in the tip and heel. This makes it easier to enter curves, the ski keeps all its grip on the piste and is perfect in powder snow. The 4x4 collection includes the Speed 4x4 men's range and the Intense 4x4 women's range which consists of 7 models, with 78 and 82 mm skates. Dynastar is thus investing for good in the All Mountain with skates that are neither too thin nor too fat. The 4x4's go everywhere and will delight both experienced and expert skiers looking for skis capable of tackling all terrains and snow conditions. These 78 and 82 mm skis are available in Pro versions with titanium reinforcements for experienced skiers looking for a great sensation of speed.