Rossignol Snowboard sets
Why buy a Rossignol snowboard in pack with bindings at Glisshop?
No more need to get lost in hours of complex comparisons to determine which bindings to associate with your board: snow packs are made for you! By choosing a Rossignol snow pack on Glisshop, you are sure to get the best Rossignol boards associated with the latest bindings adapted to your practice, for an excellent value for money. The range of Rossignol snowboards is well stocked, with models for all levels, from top-of-the-range pro-models by Xavier de Le Rue to entry-level models for children and beginners. Don't wait any longer to discover the new Rossignol snowboard packs of the season!
Show less
Why buy a Rossignol snowboard pack at Glisshop?
Because Rossignol equips all snowboarders
Rossignol, thanks to its alpine experience, has been able to develop a range covering all the needs of snowboarders and snowboarders, whatever their age, level and riding style. The thirty or so different boards offered by the brand will allow each snowboarder to find the model that suits him or her!
Because Rossignol Snowboards sponsors Marion Haerty and Xavier de Le Rue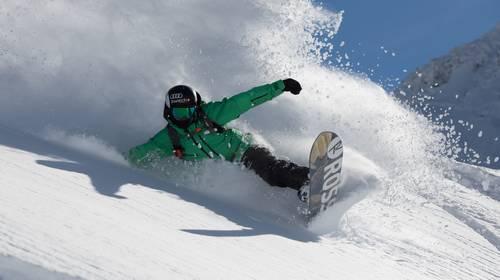 Rossignol supports two French riders who shine on the international scene: Marion Haerty and Xavier de Le Rue. Marion has been making excellent results in the Freeride World Tour for several years, while Xavier is also one of the best freeride snowboarders in the world. The collaboration between Rossignol and Xavier is very fruitful, having given birth to several pro-models: the Rossignol XV snowboards. We can find the Rossignol XV, the Rossignol XV Split, the Rossignol XV Sashimi, the Rossignol XV Sushi and the Rossignol XV Sushi Split. You can therefore benefit, like Xavier, from a wide range of boards for all terrains and all conditions, with a strong focus on curve and performance.
To discover the Rossignol range of splitboards!
The splitboard is the new breath of snowboarding, and Rossignol didn't take long to understand it. Thus, we find several references of splitboards in the Rossignol catalog, for men and women. There are of course the splitboard versions of Xavier de Le Rue's boards, but also other models like the Diva Split for women.
If Rossignol first conquered the mountain with their skis, you'd be wrong to think this is their only weapon. The brand is also a great snowboard maker, they release boards for all terrains and all levels.
Rossignol Circuit Snowboard
When beginning at snowboarding, you need two things: confidence and forgiveness. Well, this is exactly what the Circuit delivers, a board designed to boost your progression. The idea is to help you avoid catching an edge without compromising edge control or flexibility.
To achieve this, Rossignol has used the Amptek technology in its Auto Turn version. It allows intuitive turn initiations and doesn't require much of technique, neither extreme physical conditions. The traditional camber running on 80% of the board and the two rockers in the nose and tail ensure optimal stability and smooth edge-to-edge transfers.
You will also notice and thank the directional shape of the board. It enhances manoeuverability and precision while the vertical laminates bring comfort, durability and deliver a more consistent flexibility with enough pop and response to hone your your skills on groomers.
The result is a nimble and playful board that inspires confidence from the first run on. It allows beginners to link turns quickly while the intermediates will appreciate to surf their first powder with it.
Rossignol XV Snowboard
This is Xavier De Le Rue's chosen one. A board with ambitions, like the rider. Designed to help you reach your limits and go past them, the XV is loaded with performance. With a hybrid profile made of 40% of camber and 60% of rocker, we are facing a real freerider made for surfing the deep. The All-mountain AmpTek feature combinated with the Tip Roller redefines powder performance. The Rossignol XV floats and moves though the deep with the agility of a snake.
You will also find the Magne Traction featured on the edges. Small bumps along them turn the edge into a real knife and help the board cut through the snow and bring edge grip to its best. No matter the terrain or conditions, you can rely on the board to keep on shredding.
Construction-wise, Rossignol sticks on what they do best: traditional camber and directional shape built on a basalt reinforced woodcore enhancing shock absorbtion and stability. In the end, you have a powerful board that delivers tons of responsiveness so any expert rider can charge as hard as he wants and have the board under control at all times.