How to choose Alpine Ski lenght ?
How to choose the length of your piste skis or all-mountain skis?
If women's piste skis often feature lighter constructions that can be quite specific, the process for choosing the size of the skis remain identical for men and women. 
By the end of this guide you should have a range of lengths suitable for you. You can refine these according to your weight and height. This means heavier or taller skiers will go for the higher values in the suggested range while the lighter ones will stick to shorter lengths. 
This guide will help you define the recommended size for your piste skis and all-mountain skis. If you're looking for advices about freestyle skis or freeride skis you should check out one of the following guides: how to choose the length of a freestyle ski or how to choose the length of a freeride ski.  
What ski length for skiing on piste?
Piste skis are pretty narrow with a waist width varying from 70 to 80mm. They come with a a front tip and are designed to glide forward only (no switch skiing!). Some of them may come with a rocker in order to enhance turn entries and transitions. Skis with rockers are generally easier to manage and more forgiving. Nevertheless, they are the ones that provide the best traction on groomed snow. This traction, or edge hold, is maximised by the camber of the ski.
Of course, the ski length you're going to pick depends on your skiing level and on the ski construction. This is why, on Glisshop, we ranked our piste skis into 3 categories: recreational skis, performance skis and racing skis.
What length for a racing ski?

First, we think it's important for you to understand the difference between a racing ski and a real competition ski. Competition skis stick to the FIS norm (international ski federation), they come in fixed lengths required by the Federation. Racing skis are derived from competition skis but there are no obligations in terms of length. This means you are free to choose the size that best suits your skills and needs. 

Let's go through the basics for choosing the right length for your racing piste ski:
If you're looking for slalom thrills you want a ski that's 15 to 20cm (6-8 inches) shorter than you. A shorter length ensures more liveliness and the tight turning radius allows for linking short and snappy turns. 
If you'd rather skiing at high speeds and you favour long GS (Giant Slalom) turns, then you want a ski as tall as you. Longer skis ensure more stability at high speeds. Turning radius on this kind of skis often exceeds 17 meters.
What length for a performance piste ski?
These performance skis are a little softer than racing skis and easier to manage. Their turning radius is close to 15 meters which allows versatile turning. If you like varying styles and laying both short and long turns on the same slope then this is a good choice. It is often referred to as multiturning radius. For a ski like this, target a length between 5 and 15cm (2 to 6 inches) under your height. The shorter the ski, the more responsive and lively, the longer the ski, the more stable and powerful.
What length for a recretional piste ski?
Recreational skis are the most flexible and the most forgiving skis from our piste selection. They allow for quick and smooth progression. They are a good choice also for skiers who focus on fun rather than on speed and performance. They deliver a pleasant feel and they don't require much efforts to be steered. For this kind of skis we recommend a length between 5 and 15cm (2 to 6 inches) under your height.
Beginners and intermediate skiers will go for the shorter length in their range (10 to 15cm under height) to get a ski that's smooth and easy to control. Advanced skiers will prefer a longer ski for more stability. Head for the greater lengths (5 to 10cm under height) in this case.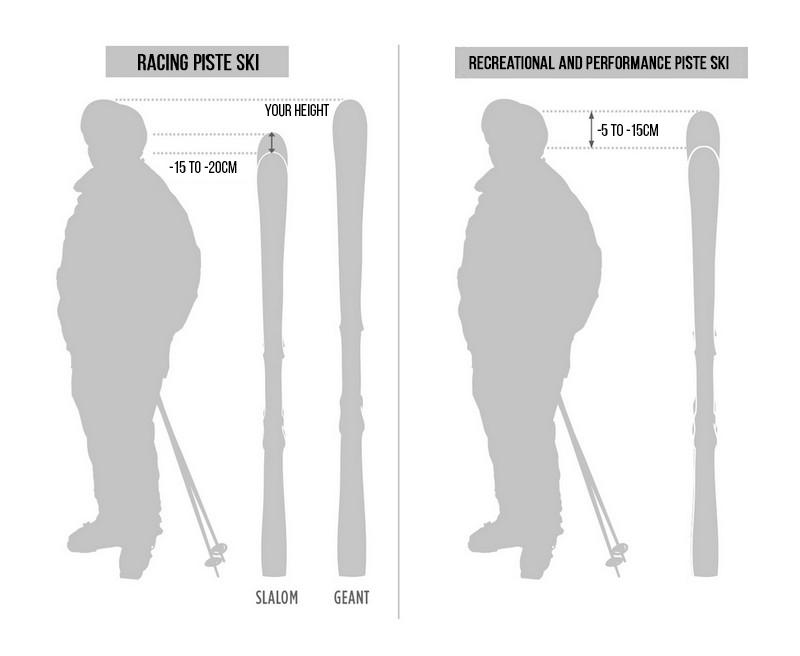 What length for an all-mountain ski?

The construction of an all-mountain ski is pretty similar to a traditional alpine ski's but the sidecuts are different. All-mountain skis are wider and come in widths ranging between 80 and 100mm. They often (if not always) feature a rocker in the tip for added float on soft snow and can sometimes come with a lighter tail rocker providing enhanced manoeuverability on powder and crud snow.
These skis can rank in two categories:
All-mountain skis 70% piste:
These skis are waisted between 80 and 90mm and they're primarily intended for skiing on piste or groomed snow while allowing for occasional powder forays.
All-mountain skis 50% piste:
These ones are wider and feature waists generally sizing between 90 and 100mm. They offer balanced performance with a solid grip on hard snow and a loose floaty feel on soft snow. They are truly versatile and feel comfortable on all terrains.
The length of your all-mountain ski depends on your technical abilities:
If you are a beginner or intermediate skier, a ski between 5 and 10cm (2 to 4 inches) under your height sounds about right. It may not be as floaty as longer skis but the idea is to maximise agility and to favour progression.
However, if you are an advanced skier, you can grab something longer. A ski that's your height or 5cm shorter (2 inches less) is good, it will feel more stable and more floaty.
If you are an expert skier, feel free to add even more length. A few extra centimeters (1 or 2 inches) will boost floatation even more and will provide a rock-solid stability at high speed.
Recap on how to choose the length of your alpine ski:
| Skiing style | Level | Ski length |
| --- | --- | --- |
| Slalom Racing Ski | Advanced-Expert | -15 to -20 cm (-6 to -8 inches) |
| Giant Slalom Racing Ski | Advanced-Expert | = your height |
| Short turns performance ski | Intermediate-Advanced | -10 to -15cm (-4 to -6 inches) |
| Long turns performance ski | Intermediate-Advanced | -5 to -10cm (-2 to -4 inches) |
| Recreational piste ski | Beginner-Intermediate | -10 to -15cm |
| Recreational piste ski | Intermediate-Advanced | -5 to -10cm (-2 to -4 inches) |
| All-mountain ski | Beginner-Intermediate | -5 to -10cm (-2 to -4 inches) |
| All-mountain ski | Intermediate-Advanced | = your height or 5cm (2") under |
| All-mountain ski | Advanced-Expert | = your height or a few cm (1-2inches) over |
Buy the skis you need now: