Ski pants
Looking for warm and comfortable ski pants
Then welcome to our ski pant corner shop. You'll find here the best ski clothing available in the industry. 686, Black Crows, Burton, Colmar, DC, Degré 7, Duvillard, Dynafit, Eider, Helly Hansen, Icepeak, Millet, Norrona, Oakley, Patagonia, Picture, Protest, Quiksilver, Rossignol, Roxy, Salomon, Scott, Scott, Spyder, Sun Valley, Superdry, The North Face or Volcom ski pants, from the cheapest pants to the most technically advanced ones, Glisshop has a super wide range of winter clothing to match everybody's tastes. Whether you're looking for Gore Tex men's ski pants or womens ski pants with a slim fit. If you're after ski pants for your kid to keep him dry when he's playing around in the snow, then you should definitely give us 5 minutes of your time and browse our ski pants selection reight below!
Read more
Show less
How to choose the right ski pants?
If there is one element in your ski outfit that is necessary, it's your ski pants. If you're lucky enough and the sun is out shining, you may get rid of your jacket, but you can't take off your pants. Not only they keep warm or help regulate your body temperature, but they also work as a shield from the elements. Wearing ski pants keeps snow out of your boots and protect you from wind or rain. Brands have made incredible progress in the past few years, releasing revolutionary waterproof and breathable membranes allowing to ski comfortably in all conditions, from the warm spring days to the cold winter nights.
In order to stand out, wintersports brands design super innovative products to seduce the mass market. Ski pants are derived in all possible forms and colours, with various fits and technical features making the price variable too! So, before you choose your ski pants, make sure you know what you're going to use them for, this will help you define a budget. The more technical, the higher the performance and the higher the price.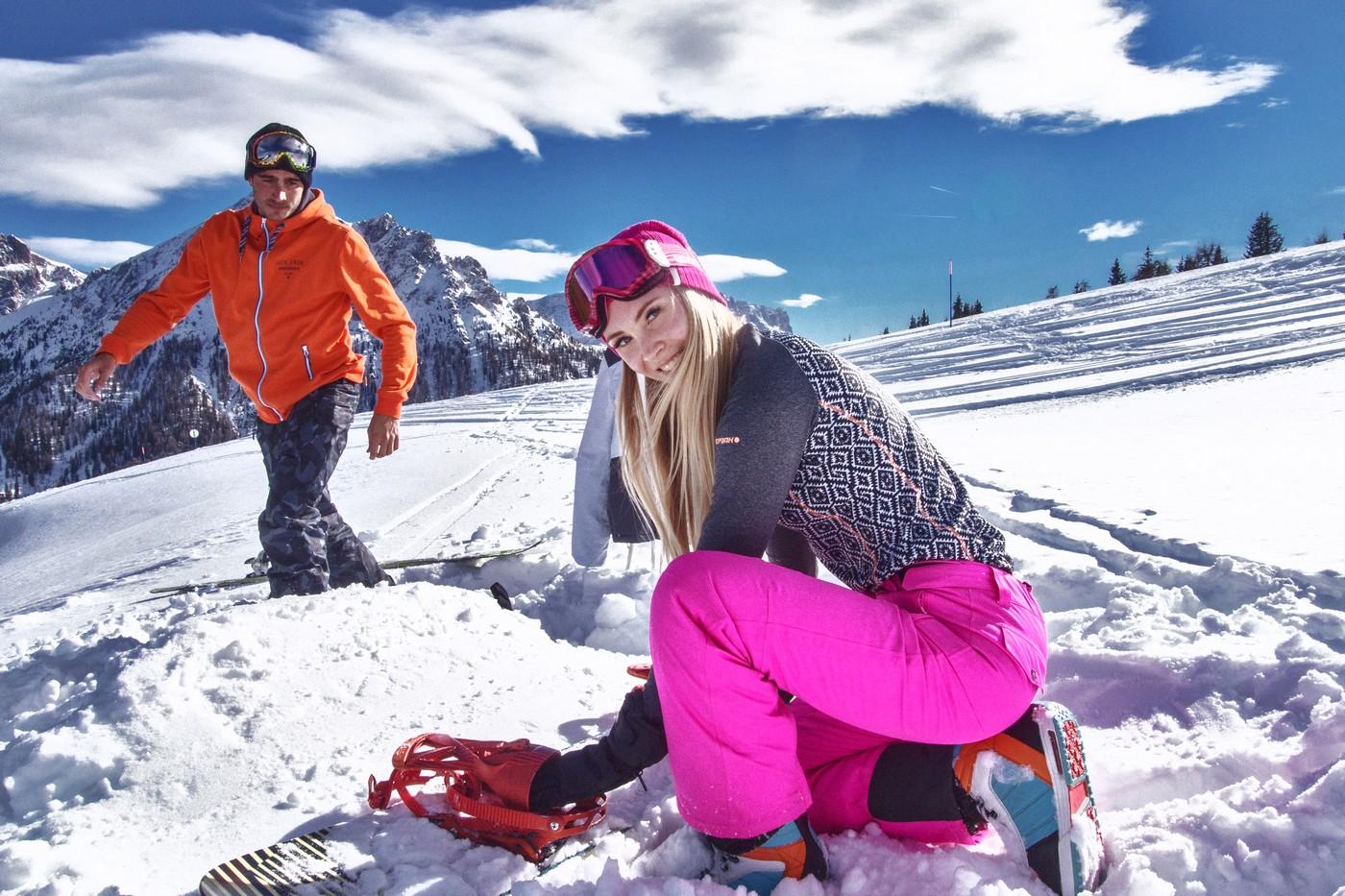 Why should ski pants be waterproof?
It may seem obvious to experienced skiers, but we've all seen beginners hitting the slopes with jeans on. Snow is nothing else than frozen water and no matter your skills, you will at some point get in contact with it. Whether you fall or just sit to rest, your pants will get wet. If they're not waterproof, they'll soak up water, they'll get heavy and you'll get cold and trust, this is not what you want. Good ski pants are waterproof ski pants. Stay dry on the slopes and you'll enjoy the day much more than with inappropriate clothes on!
How waterproof should ski pants be?
Pretty much every single ski pants you'll find on the market are waterproof. But if tech membranes are more and more popular, their quality and performance vary. If you wondered why there was so much of a price difference between two models, this may be the reason. All membranes are generally waterproof from 2,000 up to 5,000mm. This means they block water for as long as the water pressure does not exceed a column of water that would be 2,000 up to 5,000mm high. If you'd fill up a column with water, placed it on the said fabric, and poured more than 5,000mm, the water would start to penetrate and lick from the fabric. The higher the number, the more waterproof. But what's 5,000mm? Good question, when it rains, you're not wandering aroung with your pressure tester are you? A jacket or a ski pants that would offer a waterproof rating below 5k is good for light rain or dry snow. They're not super waterproof but they're fine if it's just raining a bit for a few hours. Note that if you carry a backpack, shoulder straps apply more pressure than that so you'll probably start getting wet on the shoulders. If you want greater waterproofness, you'll need to step up in the range. You'll find ratings at 10k, 15k, 20k or even 25k. From 10k, you can carry a backpack a stay dry underneath, 10k+ conditions is like moderate rain or snow. 15k, 20k membranes and over offer higher waterproofness. Heavy rain, snow storm and high pressure won't make your pants bend the knee. But these membranes are way more expensive, so if you know you're never skiing when it's raining, no need to invest too much money!
Breathability ratings and meaning
---
5k and less
Light rain or snow, low pressure conditions.
10k
Light rain or moderate snow, low pressure conditions
15k
Moderate rain or snow, medium pressure conditions
20k and more
Heavy rain or wet snow, high pressure conditions
---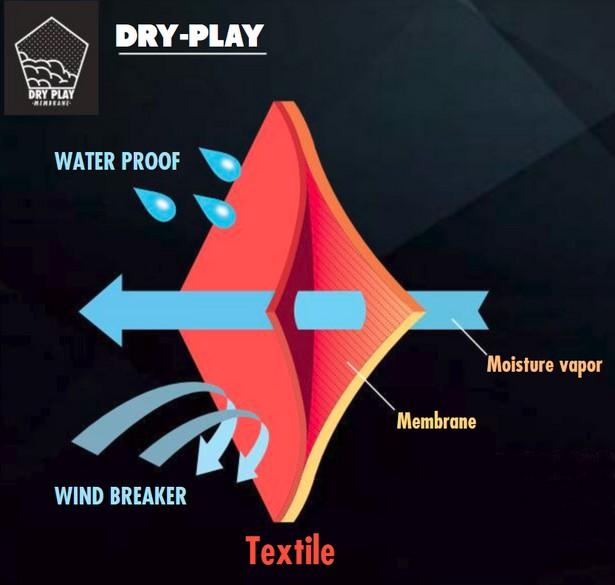 The Dry-Play membrane is a waterproof and breathable laminate fabric built from polyurethan.
This specific membrane offers comfort and keeps you dry whatever the conditions. It is a multi-layer material, it is waterproof, breathable and durable. Lab tested, it was also tested in real conditions in order to reach the highest possible performance.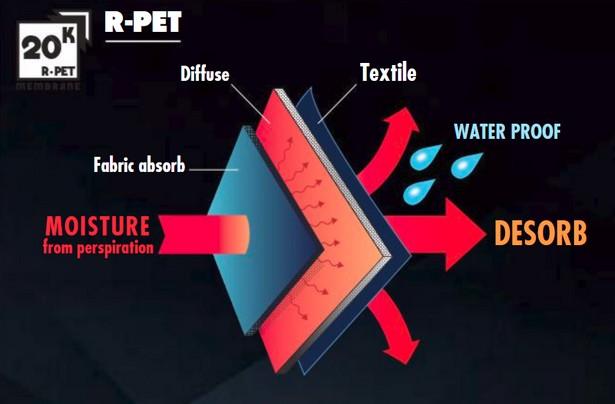 This is the top-end membrane from Picture.

Benefits:
- Protection from snow and rain
- Moisture wicking properties
- Keeps you dry and warm in all conditions
- Suited for skiing, snowboarding and any outdoor activity.
What breathability for your ski pants?
The Breathability of a ski pants means its capability at evacuating moisture or sweat from the skin to the outside. You've probably noticed, when buying ski clothing, that fabrics specifications come in two numbers. 15k, 10k for instance. The first figure is the waterproof rating explained previously, the second is the breathability. Breathability is measured in g/m²/24h. This measures the amount (in gramms) of steamed water that goes through 1 square meter of fabric in 24 hours. What you need to remember is that below 10k, the fabric is not very breathable. Over 10k you get good moisture management. If you practice ski touring, it is strongly advised to wear highly breathable pants. You'll produce more effort and will sweat more. More breathability means more comfort. If you're an alpine skier, your body won't heat as much, a 10k breathability is satisfying.
What features are useful on ski pants?
Wearing breathable, waterproof and windstopper ski pants is a good start, but most brands know how to do that. In order to stand out they have to offer more than than which is good for us, customers. Fit, colours and style are to take into account, technical features as well.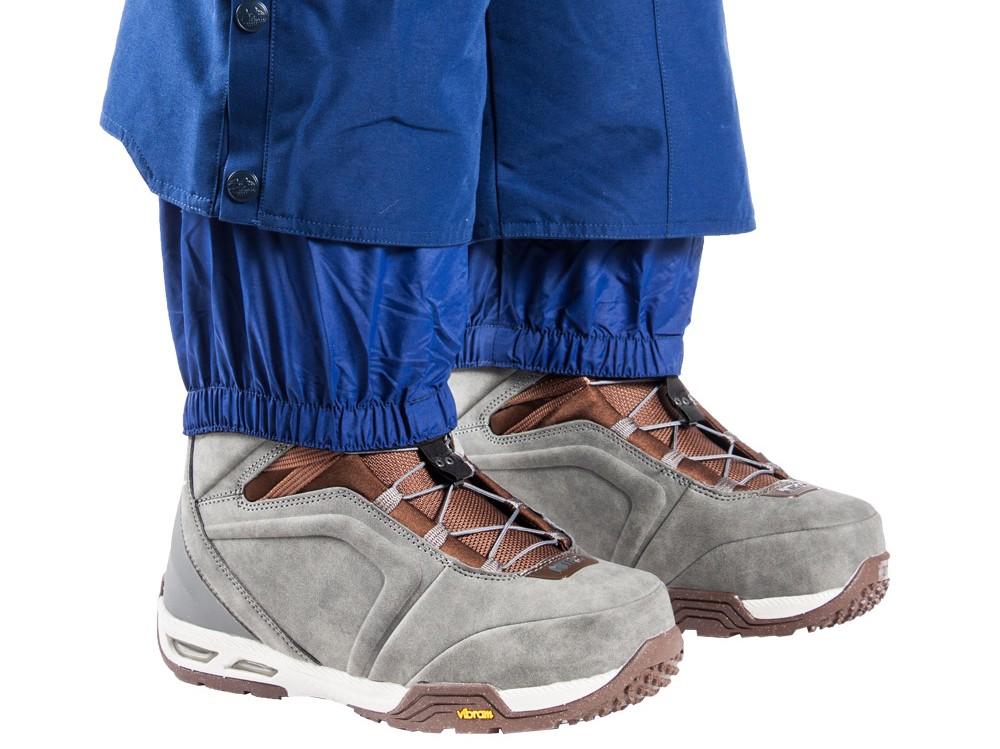 - Integrated snow gaiters:
These gaiters, located inside the pants, wrap your leg's lower end and come over the ski boot. They block thin powder snow or rain and help you keep your legs and feet dry.
---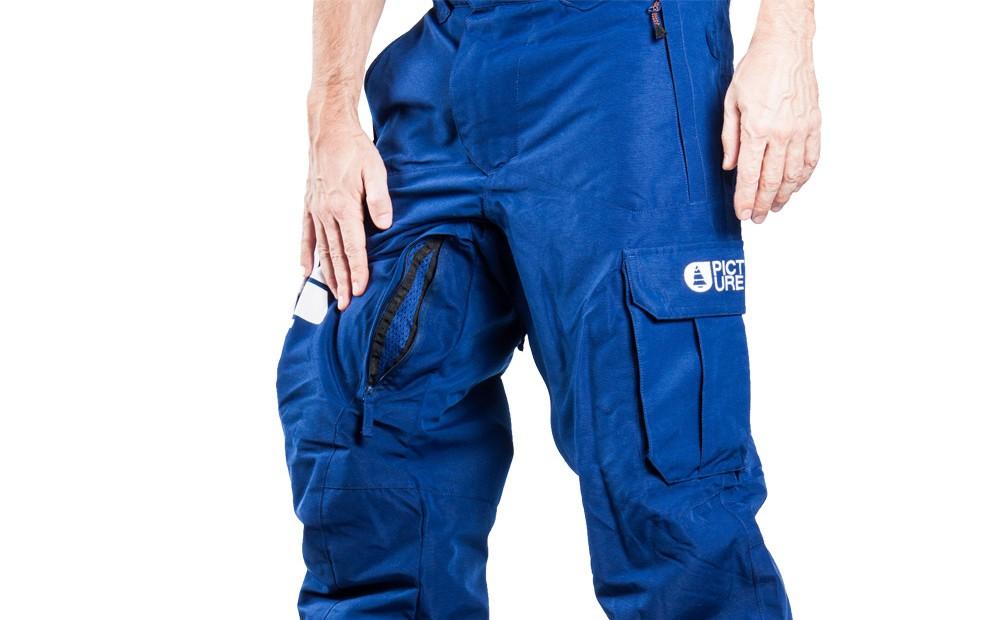 - Leg venting:
If ski pants are mainly designed to keep you warm, they should also help cooling you down when the sun is out or when you're touring. That's why you'll see, on some pants, zippered openings. They can be located on the inner part of your legs or on the outer part. These ventings help regulate your body temperature, allowing sweat to evaporate faster than through the pants membrane. Just make sure you use sun screen on your thighs if you're not wearing any thermal underwear!
---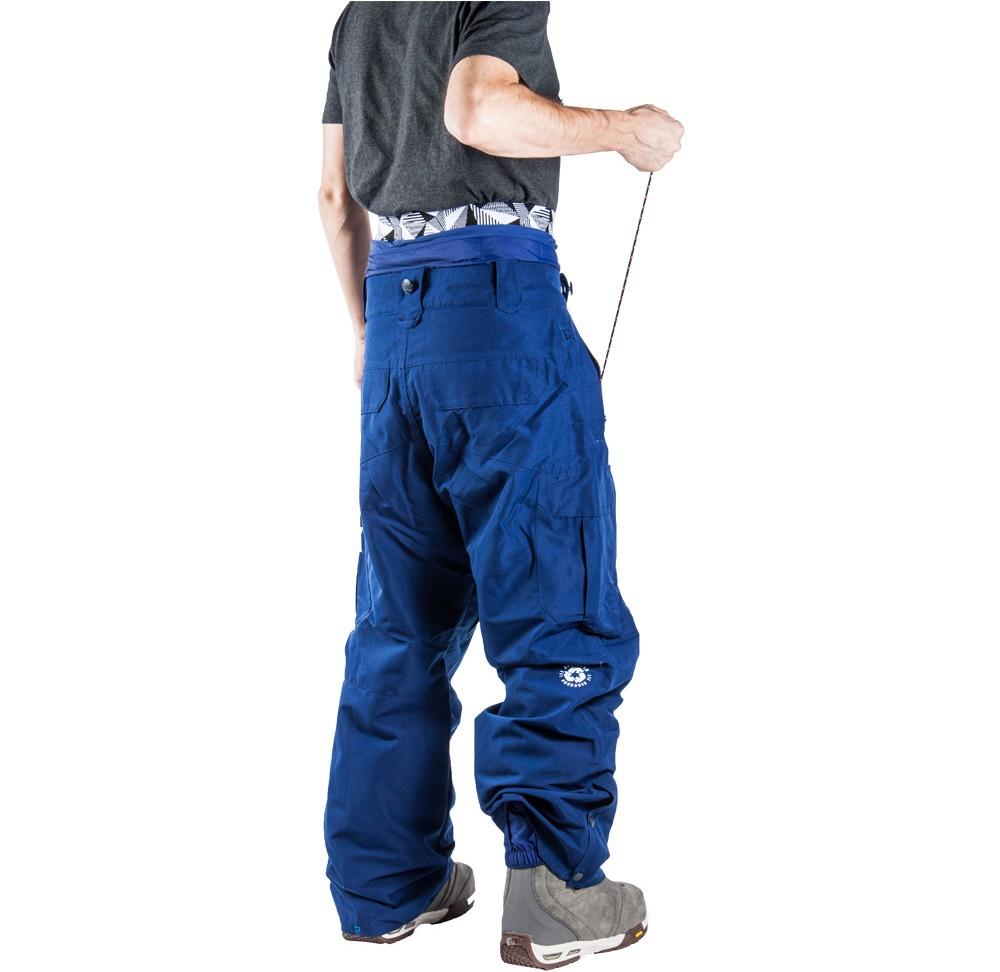 - Leg lifts:
Certain pants have a leg lift system. This may look like a 'fancy' feature but it's actually super useful. You just need to pull the cord that's hidden in your pockets to get the lower pants to lift. It makes taking off boots easier and it avoids getting your pants all dirty when you walk in the mud and dirt with your regular shoes.
---
- Snow skirt:
This is an important feature as it avoids snow to get in when you fall. It is more or less an extension of your pants, a bit like a salopette chest.
---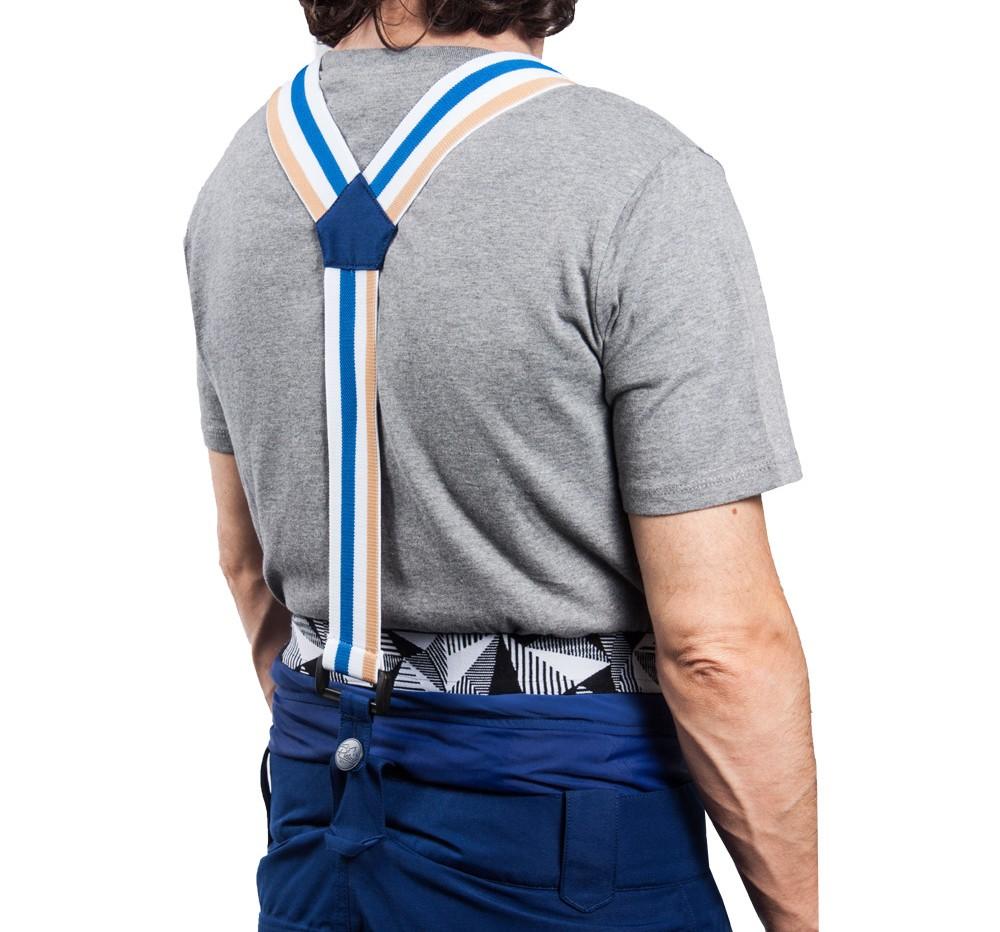 - Ski pants suspenders:
Suspenders look a bit old-school but they're super convenient which is why they're still around. With suspenders on, your pants stay where they are even after a park run or a session on moguls. You can also go for pants with removable suspenders. They'll allow you to ski with or without them. It's your call!