Ski boots Salomon Qst Access 60 W White Anthracite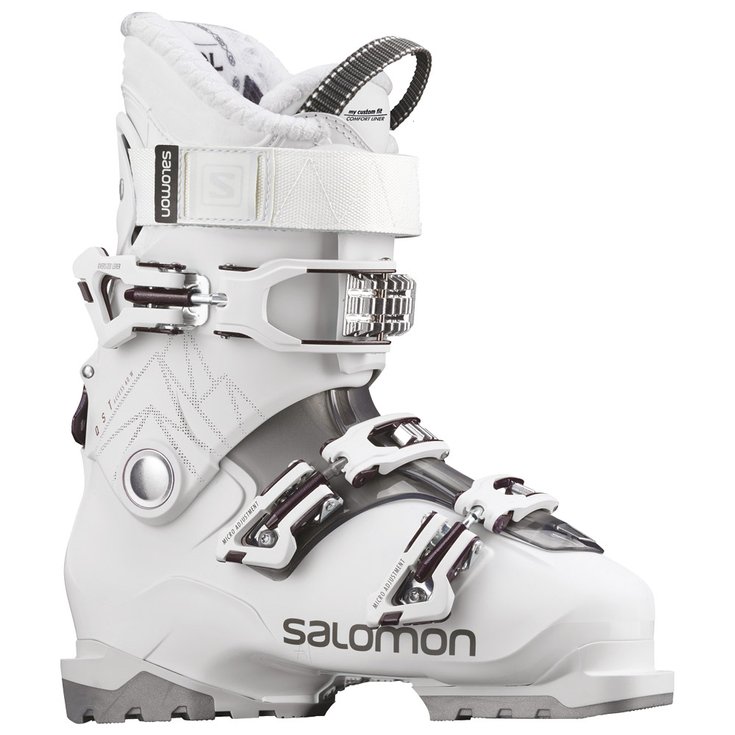 Women
Winter 2022
Beginner - Intermediate
Please select the specs needed.
Description
Baptiste
Ski expert
"From groomers to powder, i'll help you find the gear you need. The only thing that's left for you is, have fun on the slopes! Call me on 020 3129 3301."
User-friendly and very comfortable, the QST Access 60 W lets you begin your practice smoothly and learn while having fun. Even better, you don't have to walk like a robot in the resort, the Ride & Hike lock makes it easy to move around.    
What's on the agenda for the Salomon QST Access 60 W White Anthracite ski boot?
The QST Access 60 W is a real treat! Very forgiving with its flex of 60, it won't burn your legs after two descents and you can keep them on all day long without hurting your feet. The inner liner is ultra comfy and specially designed to suit the female anatomy. In addition, it is padded with a warm and comfy synthetic fur, isn't that nice? And with the 104mm boot last, you've got all the room you need to express yourself! The three hooks and 35mm velcro strap hold your feet well so no worries security-wise, you will enjoy a perfect control and be able to avoid other skiers at the last moment. In short, the perfect boot to start your practice and progress quickly.      
Who is the Salomon QST Access 60 W White Anthracite ski boot for?  
This boot will please beginners looking for a comfortable and practical model with a ski/walk mode to walk around the resort.
What are the main assets of the Salomon QST Access 60 W White Anthracite?
Comfortable  
Ski/walk mode
Forgiving
Specifications
Technical data Ski boots Qst Access 60 W White Anthracite
Year

Winter 2022

Gender

Women

Level

Beginner - Intermediate

Boot category

Recreational

Flex

60

Thermo-moldable

Yes

Last

104 mm

Foot Width

Wide feet

Sole norm

Weight of the pair in grams

Features

Ski / Walk System

Reference nr

H20SALOCHA001

Season

Winter 2022