Atomic ski sets
Why buy your Atomic ski pack at glisshop?
Because with over 200 references available for sale, you are sure to find the perfect ski pack, thanks to the expertise of our teams who select the best Atomic equipment for you. An Atomic ski pack is also the guarantee of the best price on the ski, bindings and assembly. Above all, it means time savings and increased safety, thanks to the assembly and adjustment of your bindings carried out with the utmost care by a skiman. Discover the new collection of Atomic women's and men's ski packs as well as the Atomic junior ski range!
Read more
Show less
Since its creation in 1955, Atomic has been developing and strengthening its reputation as a manufacturer of high-end skis, and attacking on all fronts. From racing to touring to all-mountain skiing or freeride, Atomic offers us new bombshells every year for all levels and all terrains. Three main ranges stand out in particular:
Atomic Redster ski series:
The fastest skis ever designed by the brand, designed for groomed slopes and hard snow, for expert skiers hurtling down the slopes at high speed. Pairs of slats with straight innovations from the World Cup. Servotech technology acts as power steering for the ski thanks to a rod placed on the spatula and an elastomer under the binding which, once placed under stress, relaxes when turning and makes the ski lighter and faster. The goal of Atomic with its Redster range: a ski full of power and precision, to be deployed on the packed snow of the Giant slaloms.
Atomic Vantage ski series:
A dedicated all-mountain serie that was very successful a few years ago, characterized by rocker skis, wood cores, and great model versatility. With such a wide range, you will inevitably find a Vantage ski at your feet. For the beginner skier who wants to have fun in the resort or the expert skier who wants to stuff it as much on the black slopes as off-piste. The Vantage Atomic range is renowned for its versatility and its ability to perform in all types of snow. These legendary skis incorporate Prolite technology and the Energy Backbone system for even greater performance. The wider models are even designed to freeride with!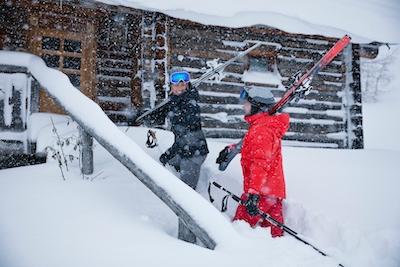 Atomic Bent Chetler ski series:
A freeski range developed in collaboration with Chris Benchetler, a professional freerider, to transform the mountain into a real playground. Models wide enough in skate with a double rocker for excellent flotation and exceptional maneuverability. Backcountry skis capable of slaloming down through the fir trees, jumping over rocky bars and riding deep into the big snow. A super fun range for thrill seekers!
At Glisshop, you will also have the opportunity to get seriously into freestyle skiing with the Punx range, over-vitamined skis capable of performing prowess in the snowpark.