Freeride skis
Are you looking for a freeride ski to fill up on powder this winter?
Then quickly discover our selection of freeride skis, wide skis designed for powder and off-piste. At Glisshop our ski specialist has selected for you a whole range of freeride skis for men as well as a complete collection of freeride skis for women without forgetting the junior freeride skis for the little hotheads. Of course you will find leading brands such as Black Crows, Rossignol, Salomon or Volkl, Atomic and Dynastar as well as the new freeride skis of the year. So switch on your ARVA and have fun making the first tracks on your favorite spot. And if you're looking for a powder ski that can cope with your freestyle needs, you should check out our selection of freestyle specific skis! Ride on!
Read more
Show less
Your freeride ski buying guide for big powder days.
You must have noticed when skiing off piste, it's easy to sink in and maneuvering can get complicated. To counter this problem, there is an easy solution: adopt a wider ski with a larger contact surface. You won't sink as much and turning will get way more fun.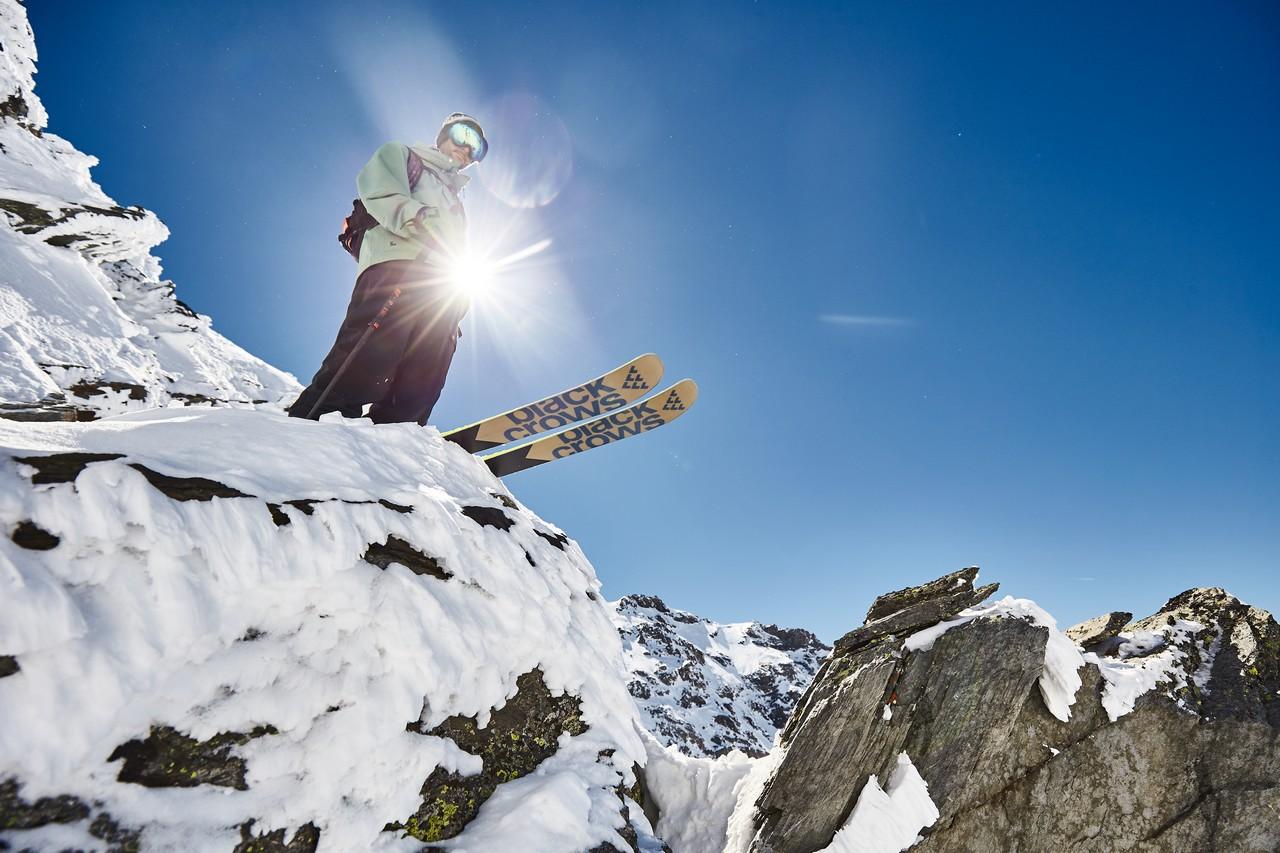 What width should I choose for my freeride ski?
To answer this question, first you need to identify your style of skiing. Are you looking for a versatile freeride ski to go off-piste whilst still being able to enjoy the groomed snow on the slopes or do you wish to invest in a ski specifically designed for powder snow that you will store in a closet until the big snowfalls come?
The versatile freeride ski as your everyday ski:
This is without a doubt the most economic choice as you will be able to ski on all terrains with the same pair of skis. However, to be effective both on powder and on the slopes, your skis must keep a reasonable width as no one wants to be negotiating high-speed GS-like turns on the hardpack with fat skis.
Men's freeride all-mountain skis usually have a waist width between 90 and 105 mm. This ski width offers decent support on powder snow, floatation feels natural and instinctive but the real surfy feel is not quite there yet. However, they are accessible and effective on the slopes with relatively-fast edge-to-edge transfers and a reasonable maneuverability.
Women's freeride all-mountain skis are a bit narrower, with a waist width between 86 mm and 100 mm.
The wide freeride ski suited for deep powder.
If you are looking a ski made exclusively for powder snow, do not hesitate and go for an extra-wide ski with a waist superior to 105mm for men and superior to 100mm for women. It will make you feel like you are flying through powder soaring over the mountain without ever touching the ground. These impressive skis combine specific geometry, oversized rockers and reverse underfoot camber to give you optimal handling in deep snow. However, back on the slopes it's another story. Try riding a 120mm-wide ski on a black slope and your legs will catch fire after the first turn. Okay, we may be exaggerating a little here, but groomers definitely are not their fav playground. Discover the new 2022 freeride ski collection as well as the 2021 and 2020 discount freeride skis.