Movement ski sets
Which Movement ski to choose for your alpine ski pack?
Movement skis have not been on the market for long. However, since the first Movement skis left the factory in 2002, the brand has been able to win the loyalty of its customers with 6,000 pairs of skis sold today. Initially focused on a mainly freeskiing practice, Movement skis have been able to diversify and meet the expectations of many skiers. Freestyle skiing, alpine skiing, telemark skiing, hiking, freeride, everyone will find a ski at his or her feet.
Read more
Show less
Movement Revo ski series
Like a Swiss army knife, Revo skis are able to cope with all snow conditions and leave beautiful tracks behind. They are part of an all-mountain/piste program with a wide range from 82 to 91 mm wide skates. The wider the width, the more effective the ski is in powder snow, while a thinner ski is more lively on the piste. The Movement Revo skis are all equipped with a wood/glass/carbon construction reinforced by two titanium plates to provide great power and responsiveness. A type of construction perfectly suited to enjoy the whole resort. The Revo even have their women's version with the same technologies as the men's models, so no jealousy, just the design that changes.
Ski series Movement Fly Two
Like Laurent de Martin and Thibault Magnin, make the powder speak with oriented skis for a freestyle/backcountry practice. With raging mad performance, the Fly Two range allows the most experienced riders to blow up everything in their path. Inside these little cars, there is a wood core coated with fiberglass and carbon fabrics with the main objective of increasing ski holding on hard snow while keeping an excellent sliding comfort. Equipped with a double rocker, turn triggers are instantaneous and very intuitive. The thinnest model with a skate offers great versatility, you can start with a few tricks in the park, go out on the piste and then dive into the powder as soon as the opportunity arises. While the Fly Two with its 115 mm skate is designed for backcountry riding. It's up to you to jump over rocky bars, slalom between fir trees and big fresh pillows.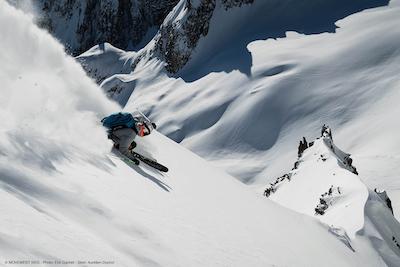 Movement Icon ski series
The most versatile range of the brand capable of shining as much on the track as in the powder snow. Available in men's or women's versions, in 89 or 95 mm on the skate, the Movement Icon skis are equipped with a rocker in the tip and heel for easy and fast turn initiation. The men's models even feature two titanium plates wrapped all around a wood core for added stability and power. Great everyday skis to take out in any situation!