Volkl ski sets
The first Völkl skis were made in 1923 and came out from Straubing factories (Germany). The brand made its way to success, and in 2004 the group K2 bought it and allowed Völkl to enter the North American market. A masterstroke for K2 and Völkl which now sells a fifth of its production in this continent, making it one of the biggest brand there. Völkl skis are renowned for their quality build throughout the range. From freeride skis and powder skis to ski touring through all-mountain skis and more traditional alpine skis, Volkl skis are the insurance of the highest performance. You'll find here on Glisshop some of their best hits like the Volkl RTM of the Volkl Revolt series, but you'll also find newer and less popular models like the new 2019 Secret or the new Mantra named M5 Mantra. Check out our selection of Völkl men's skis, Völkl women's skis and Völkl kids skis categories.
Read more
Show less
Volkl Mantra skis
The Mantra skis from Volkl are real freeride weapons. Their titanium reinforcements combined with carbon tips offer incredible stability and shock absorption. Available in 102 mm version with the Mantra 102 and in 96 mm for the M5 Mantra, these skis offer enough lift and floatation to have fun in the big snow. They remain very maneuverable especially thanks to their double rocker which makes pivoting much easier. Pure wonders for off-piste enthusiasts.
Volkl Racetiger skis
True World Cup references, the Racetigers meet the requirements of the best skiers on the planet. To make them accessible to the common man, Volkl has declined its track/performance range for the general public. Models such as the Racetiger GS Pro and the Racetiger SL Pro remain monsters of power reserved for the best skiers. With titanium reinforcements and a Speedwall sandwich wood core, they quickly take turns with dazzling throws. For advanced skiers looking for a pair of slats that are comfortable to ski with good liveliness, then turn to the Racetiger SC model.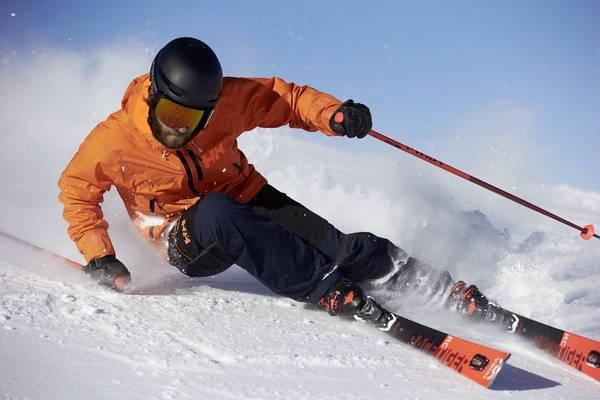 Volkl Flair skis for women
Developed especially for female skiers, the Flair skis are ideal for a sportive day out thanks to their comprehensive range. From the Flair 72 for beginners to the Flair Sc Carbon for expert skiers, you will find a ski that suits your level. The first one is very easy to ski and safe thanks to a generous rocker at the front that allows you to better control the turn inputs. While the SC Carbon model is clearly performance oriented with carbon reinforcements for a perfect handling.