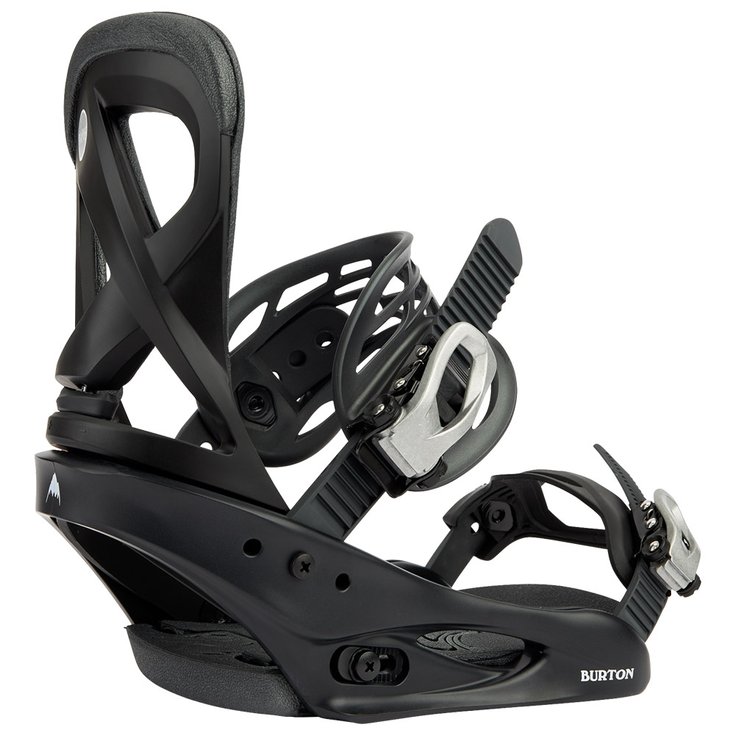 Women
Winter 2022
Intermediate - Advanced
Please select the specs needed.
Description
The Burton Scribe is a well-balanced snowboard binding that is very pleasant to ride. It has a slanted Living Hinge spoiler that boosts your performance while maintaining flex, very comfortable straps for an effective support without any pressure point, as well as a very qualitative cushioning thanks to the sole.  
What is the program of the Burton Scribe snowboard binding?  
The Burton Scribe has a lightweight yet sturdy polycarbonate frame, on which a spoiler is mounted that offers support and responsiveness thanks to its slightly inclined position, while retaining some ability to deform in torsion. So, it's comfortable and allows you to freestyle, but you have all the control you need to get into turns. In addition, the excellent support of the foot, well at the bottom of the fix, provides a great level of precision, keystone of a good control in the descents. Finally, the sole helps you absorb shock and vibrations. So, it's a great snowboard binding for progress and fun on all terrains regardless of your riding style.  
Who is the Burton Scribe snowboard binding for?  
We recommend this model to intermediate and advanced snowboarders who like to vary the terrain and the pleasures, and who are looking for a binding that is both versatile, responsive and comfortable.  
What are the main qualities of the Burton Scribe snowboard binding?  
Comfort  
Support  
Responsiveness  
Specifications
Specifications Scribe Black
Year

Winter 2022

Entry System

Classic

Level

Intermediate - Advanced

Category

FS All mountain

Compatibility Burton ICS

Yes

Compatibility Insert 4X4

Yes

Compatible insert 4x2

Yes

Reference nr

H22BURTBIN1193707

Gender

Women

Comfort

4

Reactivity

4

Baseplate stiffness

2

Highback Stiffness

2

Straps Stiffness

2

Sturdiness

3