How to put on snowboard boots?
If you have never tried a snowboard boot before, the first time you do you may not know if the size is right. Between the length, the width, the liner closure, the boot closure or the lateral reinforcements, there are many things that can affect your fit and your feel.

Listen to Arnaud's tips on how to put on snowboard boots. He's telling you everything you need to know to make sure you pick something that suits you. Do not neglect them, they are an important part of your snowboard setup. They ensure comfort, precision and performance. A wrong boot or a boot that's not properly locked can truly ruin your day.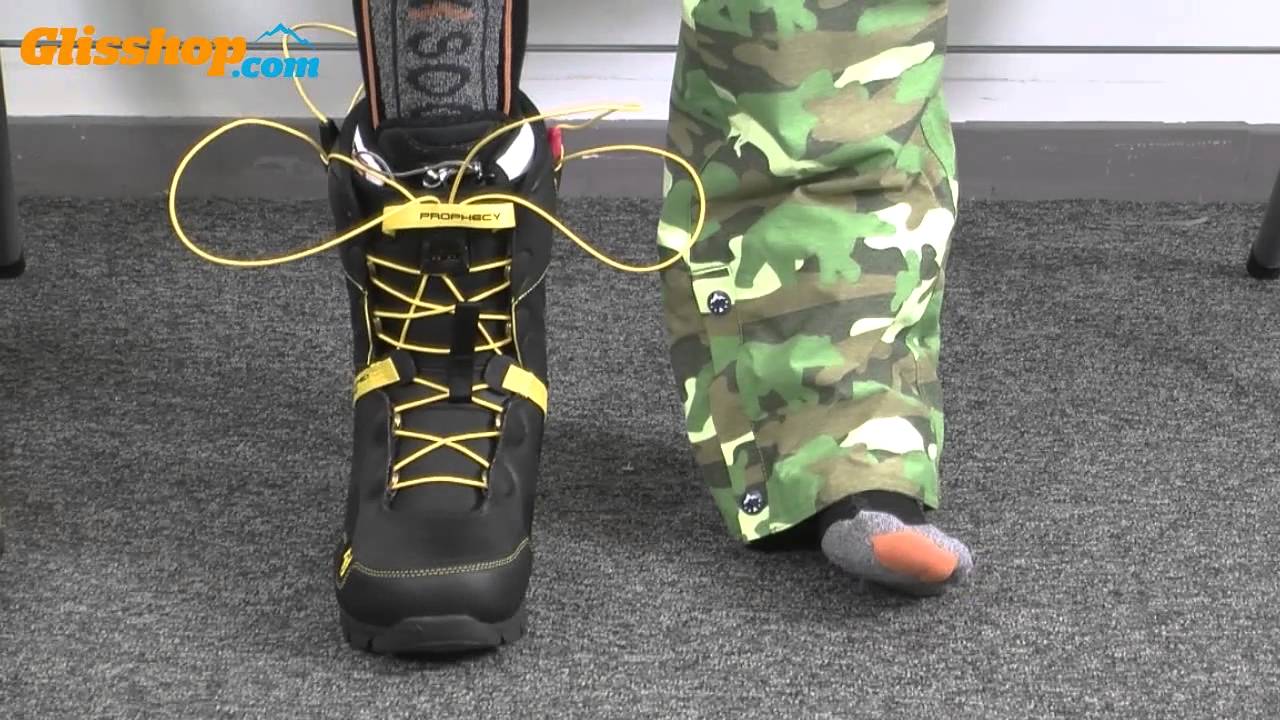 1st step: know your size in Mondo Point

The first thing you need to know is your size in Mondo Point. This scale is available on every box of boots, sneakers, shoes, etc. It is your foot size in centimeters.
2nd step: try the liner's insole

Now that you know your Mondo Point size, you can pick a pair of snowboard boots matching it. Before you put them on, you can try to take out the insole and place your foot on. This will give you a first clue on how close you are to the right size. If your foot covers the sole entirely, you probably picked the correct size. 
You can put the sole back into the liner, the liner back into the boot, and go to the next step, put on the boot!
3rd step: try the boots on

For this step, it is recommended to try the boots with your snowboard socks on. The idea is to be in a similar situation as when you are riding. Wearing good socks is actually very important and often forgotten. It will reduce friction and increase comfort. 
When you're inside the boots, stand up for a more natural position, this will make the closure more efficient.
Do not trust your feel of fit when the boots are not closed. It's only when you've cranked up the whole closure system that your foot will position correctly. It will slide backwards, the heel will come in its right position and only then you can feel if the boot fits or not.
Let's see how to close boot now. Every of the following steps must be done while standing.
4th step: closing the liner

Before you close the boot, you need to take care of the liner. No need to overtighten it, you won't get a better hold and worse, if it's too tight you may create pressure points. The idea is to tighten it just enough to feel held and comfortable.
5th step: closing the boot

Once you have the liner securely fastened, you can switch to the outer shell. This time, make it tight! Whether your boot features a Boa, Speed Laces or traditional laces, pull it to the max as if you were going to ride. You should feel your foot sliding backwards with the heel settling into the heel pocket.
6th step: check if the size is right

Ideally, your should feel your toes gently touching the end of the liner. When you flex forward, your foot will slide backwards to give extra room to your toes. Make sure that your heel remains locked in. It shouldn't lift when you flex. If it does, you probably got the wrong size. Your foot is not held enough and that will cause friction when you're riding. Get one size down. 
If your toes are still touching the end of the liner when you're flexing forward, but it doesn't feel uncomfortable or painful, if there's no pressure point and if you can still move your toes when your foot sits flat, then it shouldn't be a problem. Keep in mind that liner's foams pack out after some riding. In general, you get an extra 1/2 size. That's why it's always better to have a boot that feels slightly too tight (when it's new) than slightly too big.
Keep the boots on for like 10 or 15 minutes if you can. This will allow you to feel how they truly fit. The foam will have the time to adapt to your shapes and it'll give you a good idea of how you're going to feel in them. 
- Find out your size in Mondo Point.
- Take the insole out and check if your foot fits.
- Put on the boots and stand up.
- Tighten the liner just enough to feel held and snug.
- Tighten the boot as strong as you can, as if you were riding. Your foot gets into its final position.
- Stand straight, your toes should be slightly touching the end of the liner.
If that's the case, flex forward. Your toes should set back and not touch the liner anymore (or just a tiny bit). Your heel should remain locked in.
Remember that a liner packs up after wear. Better pick a boot that's too tight than too loose.
So, ready to find out how comfortable a good snowboard boot feels?

On Glisshop, we have a wide range of snowboard boots we selected through the best manufacturers on the market. Traditional closure, Speed lacing, zonal lacing, Boa, stiff freeride boots or soft freestyle ones, we have snowboard boot you need on our shelves!