Elan ski sets
How to choose your Elan Alpine Ski Pack
From the very first model that came out of the workshops in 1945, on the initiative of Rudi Finžgar, a passionate ski jumper, Elan has worked hard to combine product quality and performance. It was no surprise that Elan skis were soon to be used by World Cup specialists such as Ingemar Stenmark. At the forefront of innovation, Elan skis are above all geared towards classic skiing: piste, racing and competition. For a few years now, you can even find Elan snows on the shelves. The Elan snows know how to take advantage of the accumulated experience and know-how of the brand to conquer an ever wider audience. Discover also the Elan women's ski packs, handy skis that offer unique sliding sensations!
Read more
Show less
Always surpass yourself, that is the motto of the brand! Elan never stops innovating year after year to improve your skiing experience whatever your level. Over the years, it has always put forward ever more efficient constructions, designs and production methods. It is thanks to this value that today Elan offers you ultra sophisticated skis to enjoy the best moments on snow in all occasions.
Elan Amphibio Series
All-mountain model flagship of the brand, this ski stands out with its asymmetrical Amphibio profile that integrates different rocker profiles. It features an innovative concept of left and right ski. The advantage of having such a process? The Amphibio ski gains in grip and stability during your carving phases and in precision when changing supports. Super fun to drive, the turns are easily linked with smooth transitions. And it's not over yet! It also benefits from Amphibio 4D technology, which gives a convex front and concave rear shape for ultra-precise corner entry and fast exits. A real ball of energy at ease on all terrains and in all snow conditions.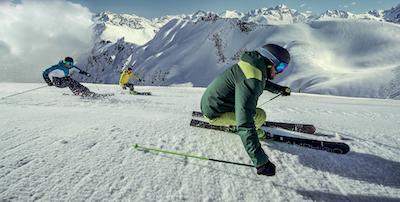 Elan Ripstick Series
Having a ski that is both light and offers uncompromising lift is possible with the Ripstick! A pair of ultimate freeride slats, it gives you unforgettable experiences on unpacked snow. With skid widths from 88 to 116 mm, there's something for everyone! The wider the width, the more the ski is designed for powder snow, while on the contrary, a slim model gains versatility on all terrains, whether on or off-piste. To gain in gliding comfort, the tip and the heel are reinforced with Vaportip inserts to absorb the vibrations of the terrain and stability in general. Now it's up to you!