Ride snowboard sets
Check out the latest Ride snowboards!
Ride has been dedicated to making great snowboards for decades. The brand says, it's not about being the biggest, it's about being the best. They've been expanding with this saying in mind and remain up to this day one of the rare brands that continues to make boards 'for the people'. With their industry-leading technologies like Pop Rods, Slimewalls, Cleave Edge and much more, Ride stands as an innovation-seeking brand and a snowboard industry leader. You can narrow our selection down to find the right board for you. Here are our Ride men's, women's and kids snowboards.

Do you want a snowboard Ride in a pack with bindings? Ride Snowboards has nearly 30 years of experience, but the brand is still young in spirit, as evidenced by its modern and high performance snowboards, as well as its graphic identity well licked with a lot of black and sobriety. If you like snowboards with minimalist but tasteful graphics, then you should find your happiness at Ride Snowboards. Beyond the aesthetic aspect, Ride snowboards will also convince you by their performance, with highly sought-after constructions that often multiply materials and reinforcements, sometimes to gain cushioning on the landing, sometimes to be more stable on the edges, sometimes to maximize the pop in ollie. In the end, these are really qualitative boards, very well finished, with which you can have fun whatever the program.
Read more
Show less
Why choose a snowboard Ride pack with bindings?
Ride Snowboards cultivates a rock'n'roll image
Few brands of snowboards have a graphic paw as signed as Ride Snowboards. With a predominance of black on 90% of the brand's snowboards, inscriptions in graffiti style or gothic lettering, Ride snowboards are recognizable among a thousand! We like or dislike them, but in any case it's a very good choice to have a board a little different from your neighbour... For the women's range, it also allows you to get out of the too-principled decorations that some brands tend to offer.
MTNPIG, WARPIG, TWINPIG and SUPERPIG: snowboards with sharp corners.
The Pig Family is 4 Ride snowboards developed for different terrains but which share the same identity. The story started with the Warpig, an "All-Terrain Trashing Mashing", designed to send tricks on all terrains. Then came the other three boards, which retain the angular design of the Warpig's spatulas while offering more specific programs: carving and hurtling down the slopes with the MTNPIG, riding hard on the track and sending into the park with the SUPERPIG, or jibing and riding cool with the TWINPIG.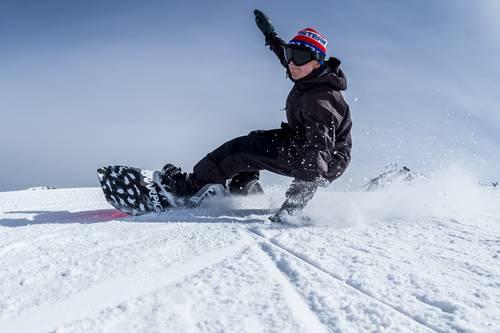 A well spread out range, with snowboards for all snowboarders and all programs
Already, with the Pig Family we are talking about above, you already enjoy a nice range of possibilities, in terms of ride aggressiveness and terrain varieties. With the entire range, the range of possibilities is even wider. The freeride snowboard Ride Berzerker to draw beautiful lines at full speed, the Ride Helix and its asymmetrical shape for an optimal grip in the park and on the slopes, the Ride Agenda and Heartbreaker for a smooth start, or the Machete JR for the seeds of champions: everyone can find a Ride board adapted to their needs!