How to choose skis? What are the options?
Piste skis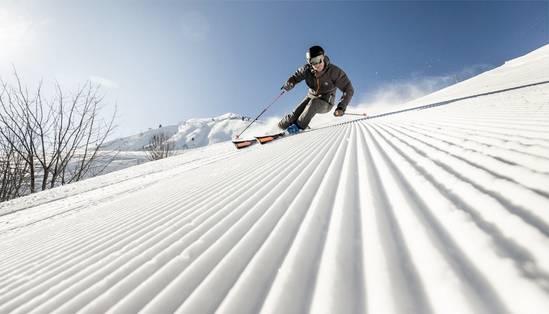 This is probably the most traditional way of skiing. Long and clean turns or shorter arcs down groomers make the essence of alpine skiing. Whether you skid your turns or carve them, you ride down groomed snow and pistes all day, having fun varying the length of your turns and your style. Piste skiing is the most accessible form of skiing, suited for the entire family, you'll have to go through it before jumping on other terrains. Skiing on piste will teach you how to balance and how to turn.
In order to link long turns at high speed on hard snow, piste skis featuring a traditional camber and a waist sizing below 86mm are best. They deliver quicker edge to edge transitions and offer more grip as well as precise edge control.

The best piste skiers will probably end up doing competitions like slalom, giant slalom or Super G, which you can see in the Olympics or in World Cups. Who's never heard of champions like Luc Alphand, Hermann Meier, Lindsey Vonn, Alexis Pinturault or Tessa Worley?

Mini skis or short skis
Way shorter than a traditional alpine ski, mini skis (originally known as snowblades) were designed to provide inexperienced skiers with immediate fun on gentle slopes. Due to their shorter length, these skis are a lot easier to manage and more playful than regular skis. It is an option of choice for skiers who want to skip progression and get straight to action.  

Be careful though, despite how fun they can be, short skis are less stable and less grippy than longer skis. They are very good if you want something fun and easy to control but they are designed to ride at low to moderate speeds, no more. Also, a few years (or decades) ago, short skis were not very popular as they were causing a lot of knee injuries due to the binding system used. Fortunately, this belongs to the past and every mini ski now comes with a proper ski binding that automatically releases in case of a fall.

As the name suggests, an all-mountain ski is a ski that can perform on all kinds of terrains and all kinds of snow that you can possibly find on the mountain. Groomed, crud, crust, corn, moguls or fresh powder, all-mountain skis will take you from one to another without shaking. If you like to ride both on and off piste, this is what you need. 
These versatile skis are primarily intended for riders who want to make the most of the resort without checking conditions every morning. 
In order to adapt well, all-mountain skis are a little wider that traditional piste skis and they generally come with rockered tips. A rocker is a progressive rise of the tip, which brings the contact points further towards the binding. This technology enhances floatation on soft snow and makes turns easier to initiate. Skis with rockers are known to be more playful than other skis.



The ski sidecuts will directly affect its performance. Generally speaking, a wide ski will provide more floatation and more support on softer snow but it will be more difficult to manage on hard snow or on piste. To the opposite, a narrow ski will offer more grip and more precision on the hardpack but it will tend to sink on deep powder. Therefore, you need to make a choice depending on your favourite terrains and conditions.
In order to help, we have split our all-mountain category into two sub-categories:
Comment choisir la taille de ses skis de piste ?
1 - All-mountain skis - 70% piste / 30% off piste
These skis look like traditional piste skis in terms of width (waist width between 80mm and 93mm) but they often feature a rocker and a construction adapted to varying terrains. They are ideally suited for discovering the joys of skiing off piste, by the sides of the pistes on shallow powder and they remain extremely efficient on piste.
2 - All-mountain skis - 50% piste / 50% off piste
Wider than the previous ones (waist width between 87 and 100mm), these skis offer the best of both worlds and perform great on hard and soft snow. With a ski like this on your feet, you can start exploring the backcountry and lay your own tracks on the untouched without sacrificing your on-piste fun. Indeed, even if these skis are a little less responsive on the hardpack, they remain grippy, stable and efficient. 

As a conclusion, all-mountain skis aim for skiers who like practicing their carving technique in the morning and explore the ungroomed realm in the afternoon. They are the jack-of-all-trades of skiing, they are perfect if you want to make the most of your day with one pair of skis.
The first clue is in the name. Free-ride. Freeride skis are designed for those who want to ride freely through the entire mountain. If you like it when the adrenalin rushes, if you like suprises and adventures, freeride skiing is for you. However, this type of skiing is one of the most difficult and dangerous ones. We recommend it to advanced or expert skiers who know the mountain well and who are trained with safety rules. On Glisshop, you can find two categories of freeride skis:

1 - Freeride skis - 60% powder
These skis feature bigger sidecuts than any other of the previous skis and provide a wider platform for your feet. Designed with powder snow in mind, they often (if not always) come with a long rockered tip, sometimes a rockered tail, and they potentially feature a reverse camber or a flat one to enhance off-piste manoeuverability.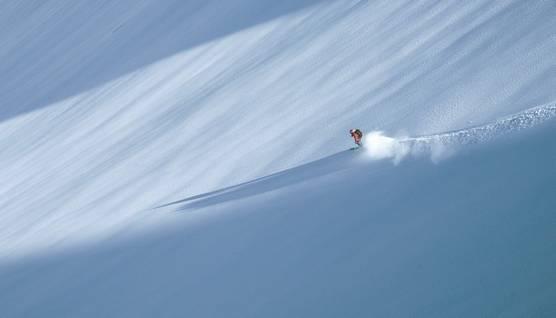 These skis are often stiff and powerful, 60% powder freeride skis can cope with on-piste conditions if there's no powder around. Expert skiers can use them as their go-to ski for every-day conditions.

2 - Freeride skis - 80% powder
These are the widest skis available on the market. Their waist often sizes above 115mm and they are often called fat skis due to their impressive look. These skis are very specific and were designed to ride powder only. Their profile and construction deliver an effortless pivot in deep snow and the wide underfoot platform makes floatation natural and effortless. If you want to watch these skis in action, take a look at the Freeride World Tour. It is the main freeride competition which gathers athletes like Aurélien Ducroz, JP Auclair, Tanner Hall or Mike Douglas just to name a few.
Freestyle skis
They are for the reckless riders who picked the terrain park as their second home.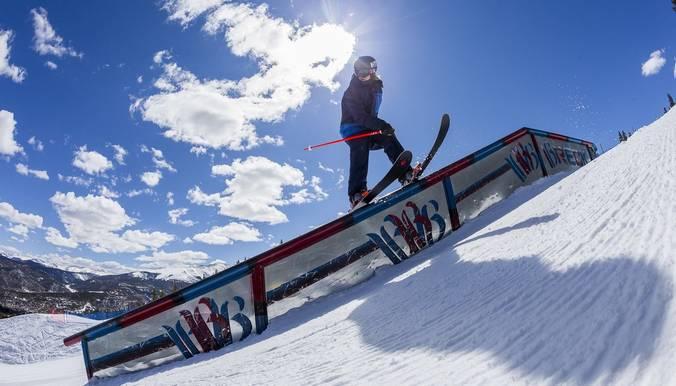 How to choose the length of freestyle and freeride skis?
Freestyle skiing is about performing tricks and jumps off handmade or natural kickers. Most of the time, you can practice freestyle skiing in terrain parks, also called snowparks. A snowpark is a specific area in the resort where you can find various features such as rails, boxes, kickers, walls, obstacles or half-pipes. Skiing or sliding on rails and boxes is also called jib skiing or jibbing. You will often find jibbers in the streets, using urban materials like benches or handrails for their playground. Jib skiing or street skiing is widely inspired from skateboarding. Another tweak of freestyle skiing is called freestyle backcountry skiing. FS backcountry skiers use natural features (leaps, cliffs, trees) to perform on and they mainly ride on deep powder. 

Freestyle skiing requires twin-tipped skis. They allow for switch skiing (skiing backwards). Park and street skis are generally narrow and backcountry freestyle skis are wide in order to float on pow.

Freestyle skis featuring a tip to tail camber offer a strong grip on hard snow. They are the ones you want to ride in half pipes as you'll need control and precision on these icy walls. On the other end, freestyle skis with a tip and tail rocker are way more agile. They are great for practicing your freestyle skills, they pivot easily and feel playful.
Touring skis
They are the favourite toys of sporty explorers.
Comment choisir la taille de ses skis de randonnée ?
Derived from traditional alpine skis, touring skis come with a specific articulated binding that lets the heel move up and down in tour mode. These skis also require climbing skins or touring skins for getting up the hill. The skins will refrain you from sliding backwards as you go up. Once you reached the top (or your goal), you can remove the skins and switch your bindings back into ski mode. They'll deliver similar performance to traditional alpine bindings.

Just like most skis, touring skis come in various widths, choose them according to your needs.
1 - Light touring skis:
They're narrow skis with an ultra light construction. These skis are designed to deliver high performance on the uphill bits of your tour. They are for fast climbers and racers.
2 - Versatile touring skis:
These skis are light enough to be used both on and off piste. They are ideally suited for exploring nature and discover beautiful spots hidden away from the crowds.
3 - Freetouring skis:
Wide and powerful skis mainly designed for skiing downhill on deep powder. They will maintain your adrenalin rushing!
So, what kind of skiing are you more of?