On Glisshop.co.uk, we're offering one of the widest selections of snowboard you can find on the internet. You may feel a bit lost among such a variety and have questions arising. How can I make sure to pick the right snowboard length? The right camber? Should I go for a swallowtail? A twin board? What are carbon stringers? What is pop? There is plenty of information available and for many riders, most of it doesn't make sense. That's why we created this snowboard buyer's guide. It is easy to use and will help you find out what you really need until your list gets down to a few boards. First things first, you need to determine the following:
- Your ability level
- Your style
- Your snowboard length
- Your snowboard width
Your ability level

Because we want to make things easier for you, we ranked our boards into three ability-categories. Beginner-Intermediate, Intermediate-Advanced and Advanced-Expert. You're probably wondering: "What if I am an intermediate? Am I in the first or the second category?". Well, you need to know that snowboards are not designed for a single ability level. They're designed to help you progress and make it up to the next level. If you're a solid intermediate rider and you want to improve, you should probably go for the Intermediate-Advanced category. If you just passed the beginner level and you want a board that's very easy and effortless, then a beginner-intermediate board should make you happy. It really is a matter of feeling. 

Beginner-Intermediate

The boards in this category are designed for beginners and occasional riders. They are generally more flexible and forgiving than boards from the upper end. They will suit you if you don't feel very comfortable on a board yet. If you catch an edge every now and then, if you mostly ride on piste but still hesitate when you're at the top of a black one, you can consider yourself a beginner-intermediate rider.

Intermediate-Advanced

You ride on a regular basis, one or two weeks a year. You have a basic technique and feel comfortable on and off piste. You rarely catch an edge and you're not afraid of speed. You know you can still improve your skills but you want a board that is still a bit forgiving to avoid breaking your legs. Then you are in the intermediate-advanced category.
Advanced-Expert

You know the mountain like the back of your hand. Edge-catches belong to the past and you go on every terrain without the slightest hesitation. You are used to riding on-piste, on pow and crud and you don't pause before park features or tree runs. You need a precise and responsive board that holds well at high speeds. You're an expert rider.
Attention: it's often difficult to call oneself a "beginner". Try to be objective when assessing your ability level. Riding the right board not only makes your sessions more enjoyable, but also enables you to improve your skills faster. It's not unusual to see advanced snowboarders riding beginner boards because they are very playful and allow for fun runs. But the other way round doesn't work. An advanced board is less forgiving and would probably slow you down, or even worse, put you off the pleasure of riding!

Your riding style

This is the terrain on which your board is the most efficient. You will find four major categories (five if you take splitboards into account but we'll come to that later on as they are very specific). They are:
- Freestyle snowboards
- Powder snowboards
- Freeride snowboards
- All-mountain or versatile snowboards
Within the last category, you find two more subcategories: freestyle-oriented boards (FS all-mountain) and freeride-oriented boards (FR all-mountain). Of course you can ride any board on any terrain: buying a freestyle board doesn't mean you are stuck in the park forever and a freeride board doesn't prevent you from accessing the pistes. This is only a matter of performance. The construction, shape, camber and materials used make the board more efficient in specific conditions.
All-mountain or Versatile

All-mountain boards are the most versatile ones, they can jump from a terrain to another without any problem. You can ride them on groomed snow, crud, powder, icy terrains and even in the park for fun sessions with your friends. 
They offer the perfect mix of grip, manoeuvrability and buoyancy to deliver great performance all over the mountain. All-mountain snowboards are a riders' favourite thanks to their versatility. 
If you're buying your first board and you don't really know what type of rider you are yet, an all-mountain stick is a great choice. You will be able to train on pistes, hone your freestyle skills and go freeriding when conditions allow it.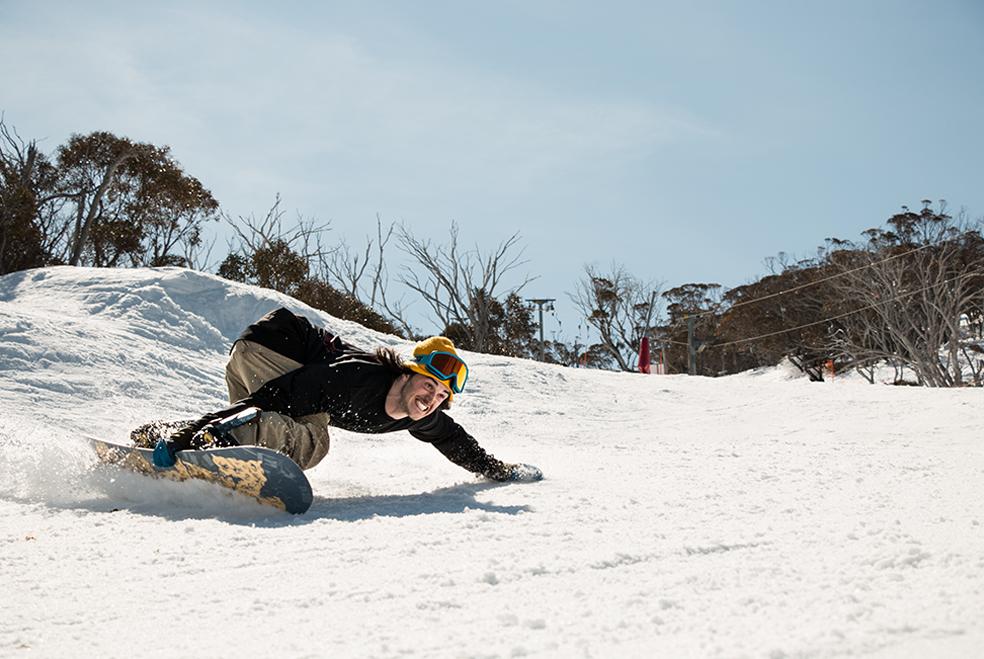 Freeride

Freeride boards are designed for those who love riding off the beaten tracks. They are stiffer and longer than standard boards to offer enhanced stability and power on technical terrains.

They often feature a directional shape and a rocker to deliver added floatation on powder with a smoother and more intuitive steering. Stiffer constructions also maximise grip on the hardpack. 

Even though freeride snowboards are often associated with off-piste riding, they are perfectly suitable for carving on groomers. They allow for precise turns and deliver powerful energy returns. Freeride decks are generally high-end performers designed for those who charge hard and fast down the steeps.

100% Powder

These boards are quite new to the snowboard game and yet they are the roots of snowboarding. Back in the day, snowboarding meant surfing on snow. No groomers, no lifts, no rockers…riders wanted to surf the pow as they were surfing Californian waves.
Nowadays, designers brought those boards back to life and upgraded them thanks to the latest tech innovations. Powder boards are easy to recognise with their directional shape. They are generally shorter and wider than other boards and often feature a tapered shape with an wide nose, oversized rocker and narrower tail. They sometimes come with a swallow tail that enhances manoeuvrability on deep powder. 

Such boards are agile and really fun to move around but be careful, they don't like the hardpack! If you want to buy a powder board, we strongly advise you to have an other gun for harder conditions. You can use your board when snow is dumping but it remains a second choice, a bonus board, it is not designed for a everyday use (unless you live in Alaska).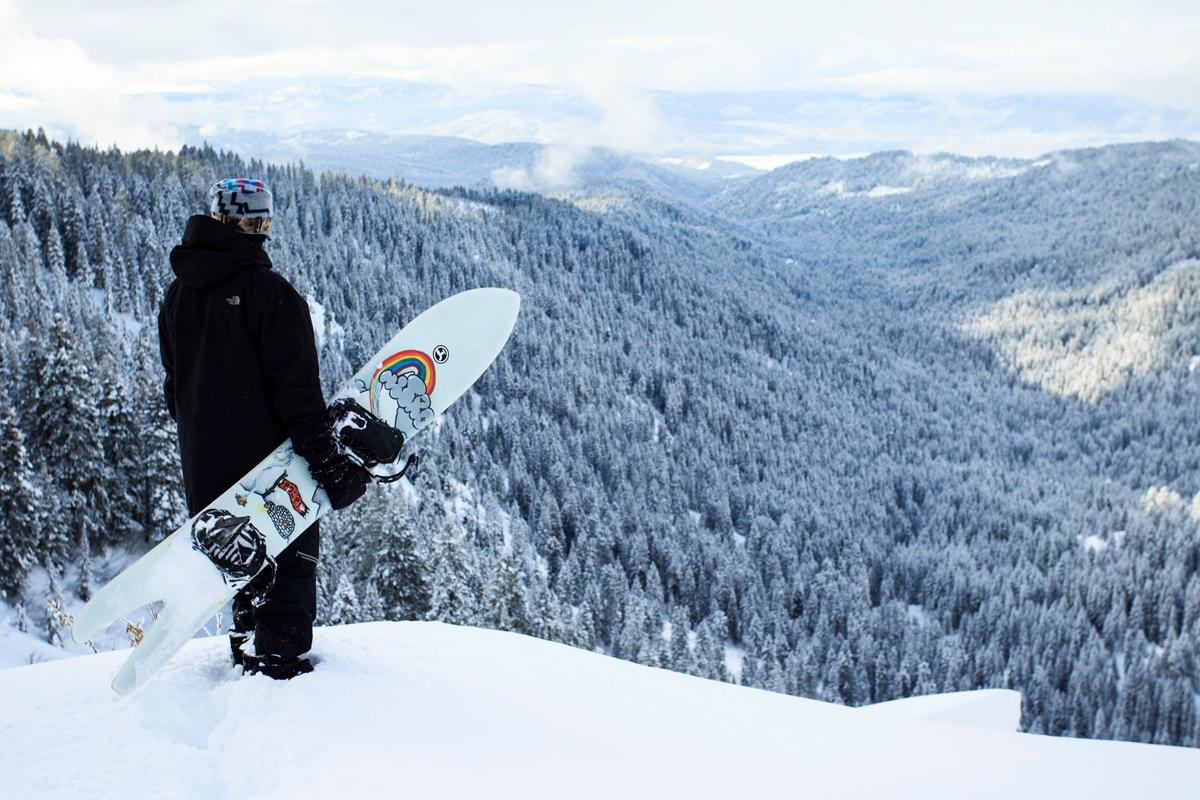 Freestyle Park
Freestyle snowboards are generally twin tipped, in other words they are symmetrical and enable you to ride in both directions (regular or switch). They are perfectly balanced which is useful on rails, boxes or ledges (what riders call jib or jibbing). Freestyle boards are shorter than other boards. That makes them more manoeuverable and more playful. This is really of importance since agility will allow you to link features quickly and with precision.

Generally speaking, a freestyle snowboard is playful and responsive, just like a skateboard. Jib boards tend to be softer and more flexible, that's what you need to nosepress perfectly. Half-pipe or big air boards are way stiffer and more powerful, but they are less playful and more demanding. They are designed to deliver maximum grip on the icy walls of the pipe and tons of pop off kickers.

If you are interested in freestyle and you want a less exclusive board, you can pick an all-mountain freestyle model. This is a good compromise between the playfulness of a pure freestyle board and the versatility of an all-mountain one.
Splitboard
Last but not least, splitboards. They are quite new in the industry and they are really specific. Designed for riders who love nature and wide-open spaces. Splitboards feature a freeride construction and shape but they have a very spacial feature: they split into two parts to become genuine touring skis. You can find different systems: two or four-part splits, Voilé kit or Karakoram bindings…the splitboarding world is pretty complex. The most important to remember is that a splitboard enables you to climb with skis and skins like a tourer and to ride down the hill with a regular snowboard. Have a read on our
splitboard buyer's guide
if you want to know more about them.
Your snowboard length

Yes, size matters. Choosing the right size is really important. If your board is too long, it will be more difficult to steer. If the board is too short, it will lack stability and won't be as versatile as it should be. You have to find the right compromise, depending not only on your height but also on your weight, ability level and style. You have probably heard that if the top of the board hits your chin, you've got the perfect size. That's not entirely true. Snowboarding has changed a lot, board shapes as well, and you should be careful with such recommendations.

If you want a jib board and you are lightweight, you need a pretty short snowboard to pivot and link park features with ease. If you love powder and freeriding and you are strong or heavy, you need a longer board for more buoyancy and support on soft snow. In order to help you find the matching length, we created this calculator.
Keep in mind that the result is only an indication, don't stick to it. You should also take your own preferences into account, snowboarding is a matter of feeling. Some riders prefer boards that are shorter than the recommended length and vice versa.

Your snowboard width

Riders pay a lot of attention to the board length, but they often forget about the width!
If the board is too narrow, your boots (heels or toes) will extend too far over the edges. In any case, when you'll tilt the board on its edge you'll experience what we call toe drag or heel drag. Your boot will hit the snow and in the best-case scenario this will slow you down and make you lose balance, in the worst-case scenario you will fall or injure yourself.
If the board is too wide, your heels and/or your toes won't be able to apply enough leverage on your edges and turning will be difficult. You won't be able to hold onto the edge to lay the perfect turn. It's really important to choose a board that suits your boot size.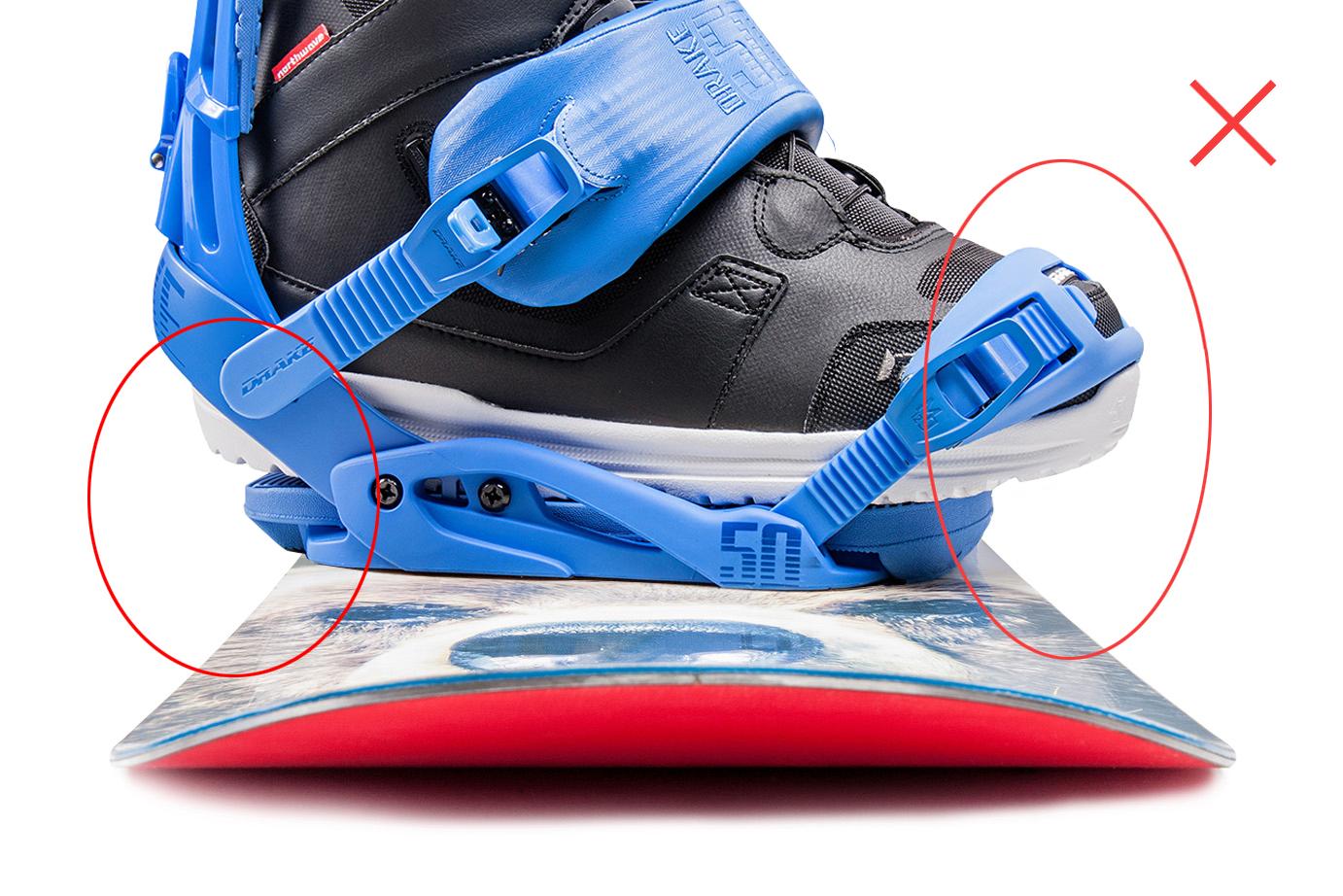 Generally speaking, boards are divided into 4 width-categories:
- Less than 25cm: Narrow boards for small feet. Their waist is less than 25cm wide.
- 25 to 25.5cm: Standard boards. These boards suit most riders and are adapted to boot sizes ranging from 7 to 9.5
- 25,5 to 26cm: Mid-wide boards for 10 and 10.5 boot sizes.
- 26cm +: Wide boards for riders with large feet (10.5 and more).
These values are only indicative, they may vary depending on the manufacturer

| Board width in cm | < 25 | 25 > 25,5 | 25,5 > 26 | > 26 |
| --- | --- | --- | --- | --- |
| FR / EU boot size | < 41 | 41 < 43,5 | 44 < 45 | > 45 |
| UK boot size | < 7,5 | 7,5 < 9 | 9,5 < 10 | > 10 |
| US boot size | < 8 | 8 < 9,5 | 10,5 < 11 | > 11 |
Keep in mind that these widths are indicative, each board and each brand has its own size equivalence. A board that is said "wide" for a brand may be considered as "mid-wide" for another.
The other criteria for choosing a snowboard

Once you have picked your board length and width in accordance with your ability level and style, you have done the most important part of the selection process. You should be able to shortlist a few boards. But you still have some more features to define, such as the board camber, shape, flex… We have written the following guides for you. They will help you to refine your choice and buy the ultimate board.