How to choose a splitboard?
If you are addicted to snowboarding and you are interested about splitboarding to discover secret spots in the mountain and ride further in the wild, then you're in the right place. This is Glisshop buyer's guide for splitboards. Here, you can learn everything you need to know about these very special snowboards and you'll have a glance at what's available on the market. If you've always wanted to tour like skiers but with your snowboard, this is your chance.
First things first, what is a splitboard?

Like ski touring, splitboarding allows riders to explore the wild and untamed parts of the mountain. A splitboard will help you reach spots that have never been ridden before. But how? A splitboard, as its name suggests, splits into several parts to turn into a pair of touring skis.
Manufacturers are being very innovative and keep releasing new technologies. Nitro, Jones or Rossignol offer splitboards that split in two while Salomon stands out with a board that splits in 4 parts. The central part can be stored in your backpack.
What gear do you need for splitboarding?

Basically, a splitboard is a board that splits into two ski-like parts that can be used as touring skis. Some splitboards can split into more than 2 halves, in this case, you'll have 2 "skis" and the extra bits are meant to be stored in your backpack. You will use this split mode for ascending, using climbing skins and ski poles. For the downhill, you'll reassemble your skis to make a regular freeride snowboard. To make sure you can splitboard safely, here is what you need:
- A split board
- Assembling clips
- Climbing skins trimmed to fit the 'skis'
- Crampons
- Splitboard bindings or a compatible interface
- Poles for skinning uphill

Glisshop splitboard selection:
Splitboard Sickstick by Salomon

The Salomon Sickstick is a multitasking splitboard released in 2 lengths: The 157 is the lighter brother suited for easy ascents. The 162 is downhill-oriented and offers more floatation. In both cases, the splitboard boasts a Ghost Green Core with an unbeatable weight to performance ratio.

Technical specifications for a splitboard in 157cm:
Waist width: 252 mm
Rock Out Camber
Directional twin shape 
Technical specifications for a splitboard in 162cm:

 RRP: €799.90 (£719)
FT Flight Attendant Splitboard by Burton

The FT Flight Attendant is a high-end splitboard designed by Burton Snowboards. Derived from the notorious freeride board with the same name, this splitboard comes with a unique carbon-reinforced fibreglass core making the board extra light and very responsive. 

Technical specifications for a splitboard in 163cm:
Waist width: 256 mm
Traditional camber with rocker
Directional shape
FSC SuperFly II core, weighs only 700g.
RRP: €979.90 (£879)
Speedway splitboard by Salomon

The Speedway is Salomon's high-end splitboard. Its Ghost Green Core is ultra light and makes ascents effortless.

Technical specifications for a splitboard in 160cm :
Waist width: 249 mm
Traditional camber under the rear foot, flat camber under the front foot and rockered nose
Directional Shape
RRP: €899.90 (£810)

Hovercraft splitboard by Jones Snowboards

The Hovercraft brings the entire mountain within reach for the best freeride sessions ever. It carries Jones quality built and finish at a great value for money. 
Waist width: 260mm for a 156cm board.
On Glisshop, you can pick the Hovercraft splitboard or the Hovercraft splitboard set with the bindings Plum Carbon. 
RRP for splitboard + skins: €1049.90 (£945) 
RRP for splitboard + skins + Plum bindings: €1704.80 (£1535)
Salomon Premiere Splitboard:

The Premiere by Salomon is a 4-piece splitboard with a very innovative design. The central part divides in two smaller pieces which can be easily stored in your backpack. The Premiere makes ascents a lot easier than traditional splitboards. The narrower "skis" feel nimbler and fit in actual ski tracks.
Waist width: 255 mm for a board in 159cm.
RRP: €1499.90 (£1350)

Jones Solution Splitboard

Stiff and powerful splitboard with a traditional camber and a tip and tail rocker. The Jones Solution floats pow like a dream and feels super responsive and snappy.
Waist width: 252mm for a 161cm splitboard.
On Glisshop, you can choose between the Solution splitboard or the Solution splitboard set with the bindings Plum Carbon. 
RRP for splitboard + skins: €1099.90 (£990) 
RRP for splitboard + skins + Plum bindings: €1749.80 (£1575)
The XV splitboard by Rossignol is the signature model of pro rider Xavier De Le Rue. Guaranteeing the highest performance ever, this thing will take you up the highest summits and down the steepest slopes with power and style.

Technical specifications for a board in 159cm:
Waist width: 253 mm
Traditional camber with rocker
Directional shape
THC2 CBF2 core with basalt stringers along the edges for unparalleled traction.
RRP: €1039.90 (£935)
Let's go through the accessories you need to practice splitboarding:

Splitboard assembly clips

Before you hit the slopes you will need to reassemble your splitboard with specific clippers: assembly clips. Once they are locked, you get a stiff board offering a nice freeride feel.
The
assembly clips
are always provided with the splitboard.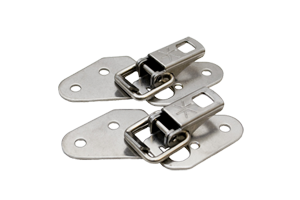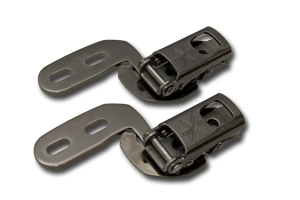 Splitboard climbing skins

In order to face the slope and stop sliding backwards when you climb, you need to use climbing skins. They are similar to regular skins used for ski touring.
Climbing skins or touring skins are either made of 100% mohair or fully or partly made of synthetic materials. Mohair wool delivers greater glide performance but it is more fragile and wears out faster. In order to improve durability, manufacturers often mix mohair wool with synthetic materials like nylon in order to get the best of both worlds.

The skins are attached on the tips of the split skis with the hooks provided or any other system provided with your skins. The skins stick to the base of your 'ski' thanks to glue or alternative technologies like silicon.
In order to make your life easier, when you order a splitboard on Glisshop, you get the skins trimmed to fit with it.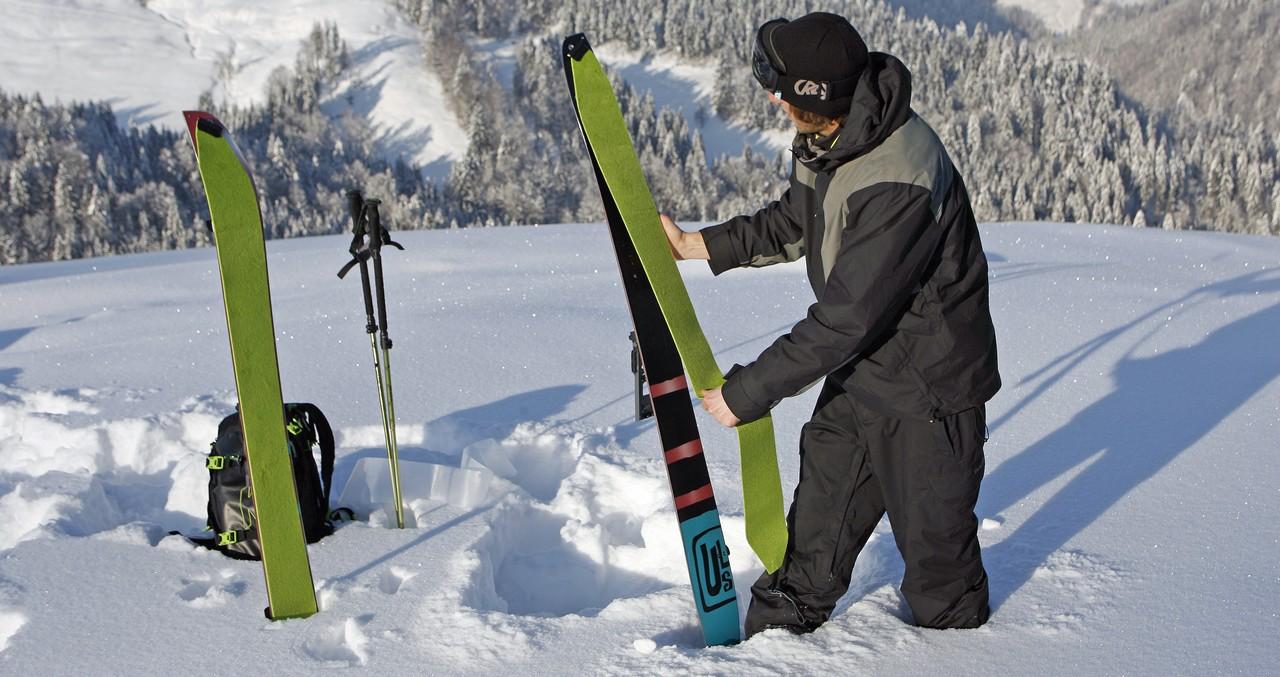 Another accessory you may need is: touring crampons. 

They come right under the binding and allow you to get a rock-solid grip on hard and icy snow. They will keep you on the slope and will prevent from critical slides during ascents.

Karakoram crampons can be easily installed during the tour.
Karakoram Split-30 crampon on binding:
They are the industry-leading bindings, specifically designed for splitboarding. 
These bindings were made as light as possible in order to make ascents easier, but more importantly, they are extremely convenient and easy to use. 
With a Karakoram binding, you can switch from tour to snowboard mode in a jiffy and that's pretty cool when you're freezing on the top of a mountain!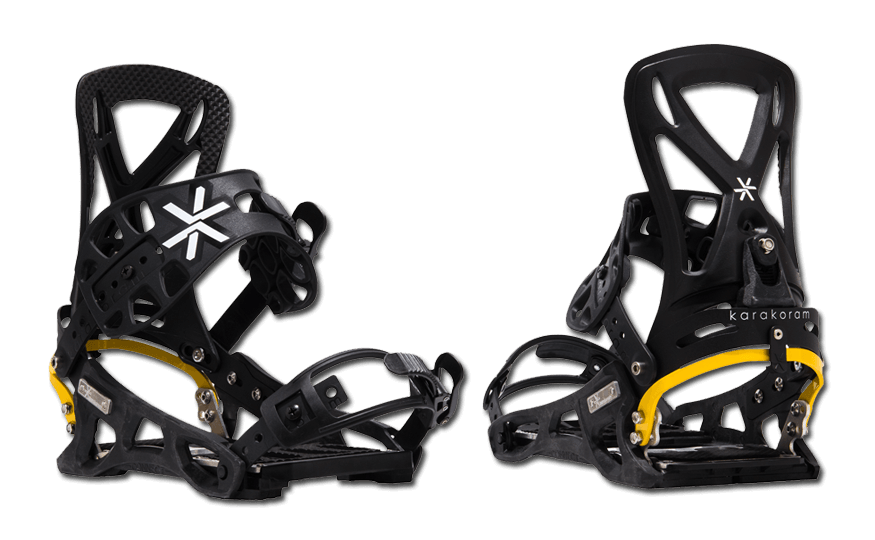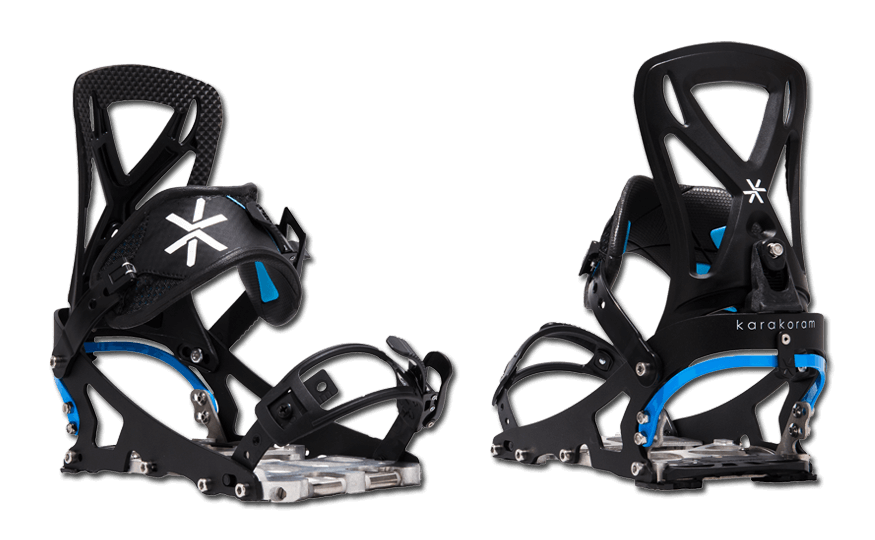 Zoom sur les fixations Karakoram :
Touring mode:

We may state the obvious but it is important: once you have split your board you need to swap the skis around. The right side of the board becomes your left ski and the left side of the board becomes your right ski. This will avoid the tips to get in the way of each other.

Feel free to use the
heel-lifts
as well. They help compensate the slope, allowing you to stand in a more natural position. This will help you save efforts. These risers can be easily put on or removed with your pole. Oh, we didn't mention the poles yet did we? If you want to climb, you are going to have to use ski poles! They really help. Have a look at our
telescopic poles
, they are pretty handy as you can fold them in your backpack when it's time to snowboard down the hill!
Downhill mode:

In order to ride downhill as you would normally do with a snowboard, you have to switch your bindings into ride mode. You'll be able to set them up (stance, position, etc) like a regular snowboard binding.


The binding allows a natural walk motion when set in tour mode. Your heel lifts up and lets you climb the slope effortlessly.