Martin shows you how to use and fit your ski boots to make sure you stand in the right position. A good position ensures greater comfort, added control and more fun on the slopes!
What clothes should you wear for trying on a ski boot?

Better favour wide
ski pants
in order to reduce the tourniquet effect. Something too slim may affect your blood flow and create foot pain that would be unrelated to the ski boot.
Make sure you try the boot with a ski sock on. These specific socks are thinner in the forefoot area for enhanced feel and they are reinforced in stressed area like around the ankle or the heel. 
Avoid wearing thick wool socks, even if they sound like a good idea, they are not. Their thickness reduces the contact feel with the boot and the precision of your moves. This thickness may also bring pain in specific areas and affect your blood flow causing unpleasant cold feel. 
Moreover, if you are used to wearing anatomical insoles when you practice sports, we strongly recommend to replace the soles of your ski boots with your own insoles. You will gain comfort and precision.
How to lock your ski boots properly?

First, open all buckles of your ski boot and flip them upside down so they won't get in the way and catch the hooks when you don't want them to. 
Try your boot standing. Open it as wide as possible and slide your foot in. Your toes should be touching the end of the boot. Don't worry, they won't anymore once you have your knees bent.
Then start closing the power strap at the top of the boot and lock the buckles, one after the other, starting with the bottom one. Do not apply too much strength. When you're done, bend your knees a few times in order to help your foot settle properly. Do another round on your buckles to tighten them a little more. If your boot features micrometric buckles, feel free to fine tune your settings. Micrometric settings consist of screwing the buckle to make precise adjustments. When you're done, the buckles must stay in locked position but they shouldn't be compressing your foot. 
Readjust the strap if necessary.
This is how you get a proper fit in a ski boot.
Things you need to consider when closing your ski boot

On a new ski boot, if you want to keep an optimal fit over time, make sure no buckle is cranked up to the last notch. As you use the boot, the liner will pack up, the foam is going to shape around your foot and eventually, you will need to tighten the buckles again. If you're already on the last notch, you won't be able to. Keep room for later adjustments.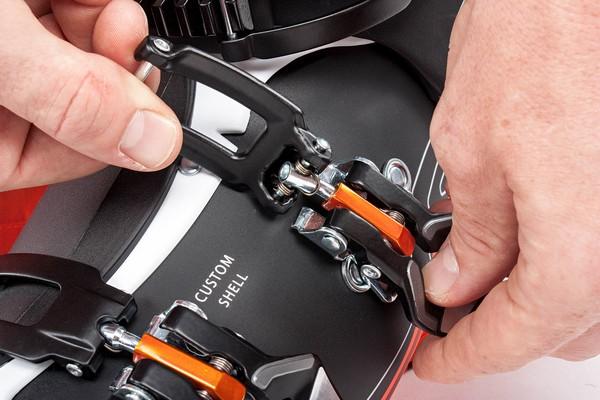 How to choose the right size for a ski boot?

Like previously said, when you are standing straight on your legs, your toes should be slightly touching the tip of the boot. This is normal, your heel is not yet in its final position.
Bend your knees as if you were on your skis, your feet are going to slide backwards in the boots. At this time, you should feel your heel locked in the back of the boot and your toes shouldn't be touching the tip anymore. Your foot shouldn't be able to move from left to right and you shouldn't feel any pressure point on your shin, ankles, instep or toes. In other words, you should feel comfortable.


What are the benefits of a heatmoldable liner?

More and more ski boots feature heatmoldable liners, but what are they? These liners are made of a specific foam that reacts to low temperatures. Your body heat for instance, is enough to soften up this material and give it another shape. All you have to do is ski with your boots a few hours or a few days and your liner will slowly shape around your foot to offer the perfect custom fit.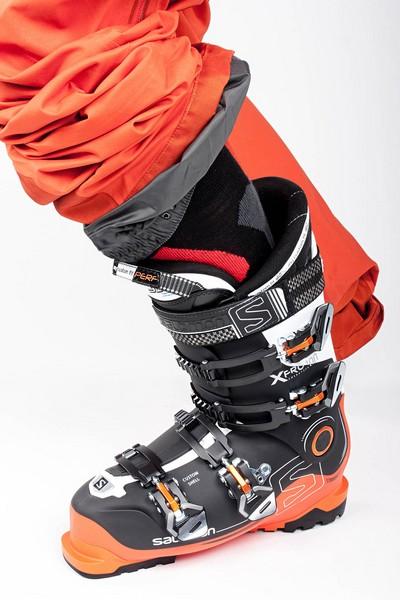 Looking for a new pair of ski boots?

On Glisshop, you can find pretty much any brand you're looking for, from the major ones to the little newcomers, all of them offering boots suited for the entire family. Men, women, kids, downhill or touring, freestyle or freeride, pick the boot you need! You can also find various accessories for your boots in our
Foot comfort
category. In includes technical ski socks, ergonomic insoles, self-heating insoles or boot-dryers.
Gear up with a reliable equipment!