Faction ski sets
Which Faction ski should I choose for my Alpine Ski Pack?
The Faction ski is the freestyle reference of the moment... And yet the brand doesn't have years of experience on its CV. It owes its genius to Tony Mac William and his friends who wanted to break away from the traditional pattern of large companies to create their own brand in 2003 in Verbiers. The result? Faction skis are of remarkable quality simply because they are designed by skiers for skiers. Faction skis are also a spirit and a production that remains artisanal. Discover now our complete range of Faction adult skis with bindings as well as the Faction junior ski series!
Read more
Show less
A brand located in the heart of the Alps, Faction skis come to life in Austria where each product is handcrafted with resistant materials. When you buy a Faction ski, you buy a ski that performs and lasts year after year. Always attentive to its fans, the brand designs skis to give you the best possible skiing experience. Also in collaboration with world-class athletes like Candide Thovex, Faction skis offer you the best as soon as you dive into the big snow.
Faction Dictator Series
Freeride skiing for all those who want to push their limits by attacking the couloirs at full speed, the Dictator bursts out on the still virgin terrain of the mountain. So turn on your DVA and you're off for some crazy sessions. With the Dictator 4.0 and its 115 mm skate, you've got all the flotation you need for high-speed runs. Coupled with titanium plates, the stability is out of the ordinary! An ultra powerful pair of battens designed for the best freeriders. If you're looking for more versatility, look to the Dictator 3.0 which, thanks to a narrower skate width, gains stability on hard snow.
Faction Prodigy series
Put some music in your ears, the Prodigy range pays tribute to the band by offering you a lot of fishing and tonicity. Designed for freestyle enthusiasts, the Prodigy bispatulated skis link all the modules in the park without batting an eyelid. Available in four models, the freestyler beginner or expert can find his account there. The further you go in the range, the wider the skating width increases. The Prodigy 1.0 is designed for freestyle practice in the park, while the Prodigy 4.0 is more dedicated to pure backcountry with its 112 mm skate width.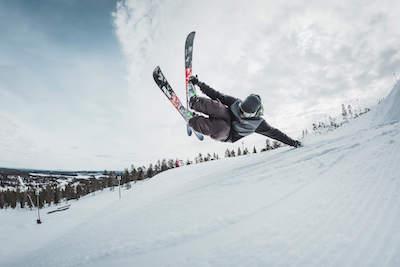 Faction Candide Series
Developed in collaboration with Candide Thovex, this range is a real reference in the world of backcountry freestyle. With a perfectly symmetrical shape, Faction Candide skis are ultra playful with a tonic flex for instant pivoting. They also benefit from a wood core that brings pop and a carbon pad in the center to better absorb shocks. Ultra high performance machines that are capable of going down the slopes of La Clusaz at mach 2 like Candide.