How do I wash my ski jacket?
When we think of having our skis or snowboard waxed at least once a year, we think much less about taking good care of our ski jackets (or ski pants). However, taking good care of your ski clothing will ensure that it remains high-performance winter after winter, particularly in terms of its resistance to water and its air-permeability. However, it is still necessary to have the right routines.
Are you a ski jacket washing expert?
Did you know that washing a ski jacket with a regular detergent, especially powder detergent, is not recommended ?

Has the thought of applying a specific treatment to re-proof your ski jacket ever crossed your mind ?
Washing my ski jacket properly guarantees its performance
Technical jackets and pants for skiing and snowboarding are equipped with a membrane, different according to the technologies used by the brands, but with the constant aim of protecting you from humidity in all its forms (rain, snow and perspiration). To do this, the membrane blocks water ingress, while allowing excess heat to escape so that perspiration does not accumulate under the garment. These membranes are therefore both waterproof and breathable. They are usually complemented by a Durable Water Repellent treatment (DWR) that allows water to escape without drenching the fabric.
So far so good. The difficulty arises when you want to wash your ski clothing. Usual detergents are not specially designed for technical clothes. If you don't have a special detergent, do not use washing powder. Use a liquid soap free detergent and do not use fabric softener or bleach, as these products will damage your gear. If you are using a conventional detergent, be sure to run your machine a second time, without detergent, to remove any chemical residues.
Some brands, such as Nikwax with whom we work, have developed
products specifically designed for washing skiwear
while reviving their performance. For example, to effectively wash your ski jacket or pants, we recommend using
the Nikwax Tech Wash detergent
.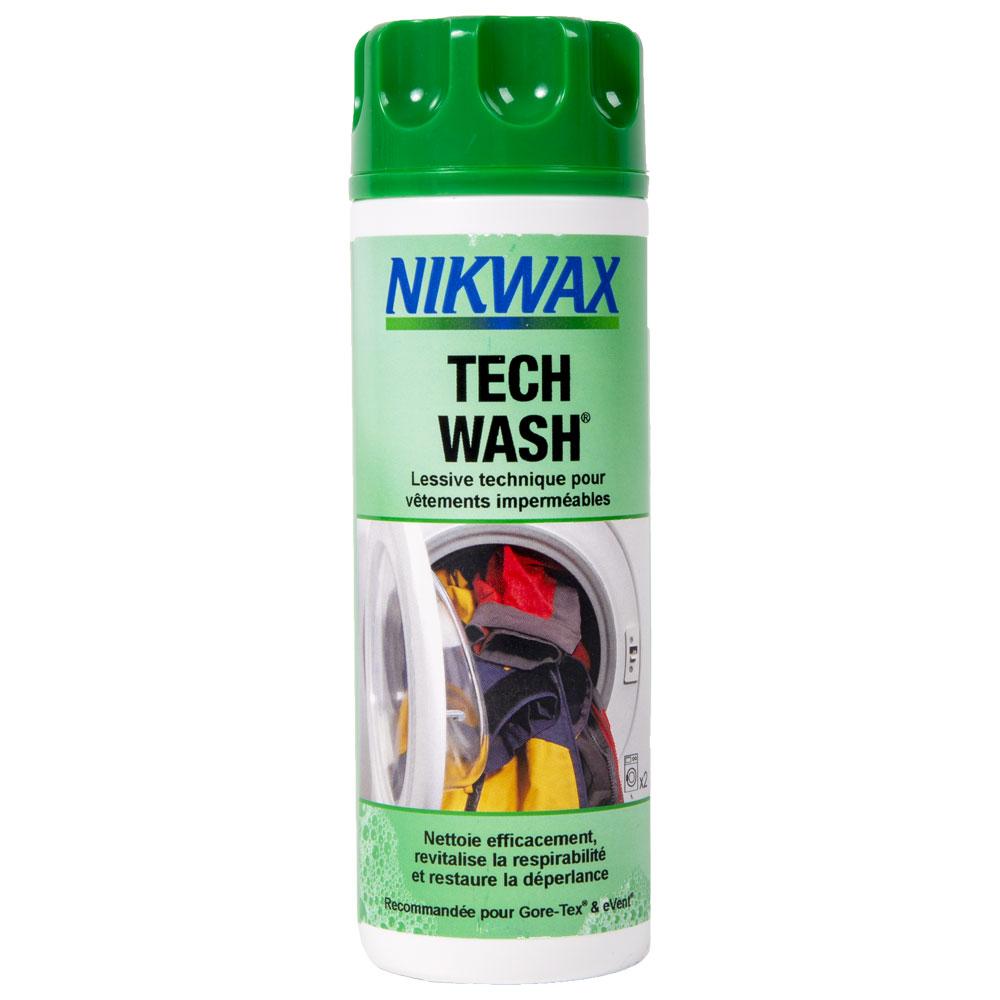 To ensure a successful wash result:
Follow the washing instructions on the label of your clothes.
Close all zips, Velcro and buttons before putting your apparel in the machine. Loosen the drawstrings.

Warning for clothes with fillings : If the washing instructions allow for machine wash, we recommend that you add tennis balls to your washing machine to prevent the fillings from forming into balls.
To remove a stubborn stain, apply damp Marseille soap to the stain before putting your garment in the machine and rub lightly with an old toothbrush or nail brush, ensuring no damage is done to the fabric.

To dry a ski suit, you can simply leave it out in the open air, on a dryer or on a hanger. But if your clothing has a breathable waterproof membrane, such as a Gore-Tex membrane, it is best to tumble-dry, iron or blow dry it. Heat reactivates the capabilities of a breathable waterproof membrane.
To ensure a successful drying process:
Never twist your ski clothing to dry it, you risk damaging its fibres.

If the maintenance instructions permit, tumble dry your clothing at a low temperature.
If you don't have a tumble dryer, air dry your clothing and then iron it at a temperature suitable for delicate fabrics, making sure to place a towel between your clothing and your iron.

Finally, if you don't have a tumble dryer or iron, you can also use a hair dryer after air drying your garment. Keep a distance of 20 centimetres between the hairdryer and the garment to avoid damage. 

Exception for clothes with fillings: after washing a garment with fillings, shake it in all directions to air out the filling and allow it to recover its shape. Dry it out flat between two towels to absorb the moisture. Avoid tumble dryers and heat sources (fireplace, radiator, etc.). 

Step 3 (optional) : Re-proofing
Over time, the qualities of the DWR treatment and the breathable waterproofing membrane may diminish. Before putting your jacket in a recycling bin and buying another one, consider extending its lifespan by re-proofing it with a suitable product. Brands such as Nikwax, which we work with, offer products designed to treat your garment making it waterproof again.
For maximum performance, Nikwax offers different
waterproofing formulas
for each material:  
In summary:
Washing: 

Follow the washing instructions on the clothing label.
Close the zips, buttons and Velcro, loosen the drawstrings.
Use a suitable detergent from Nikwax.
If the clothing has a filling, put tennis balls into the washing machine.
Drying: 
For clothes with filling: leave to air dry, never tumble dry, between two absorbent towels.
For clothes with a breathable waterproof membrane: reactivate the performance of the membrane by heating it. Either in a tumble dryer at a low temperature if the clothing maintenance instruction allows it, with a towel placed between your clothing and your iron or with a hair dryer at a distance of 20 centimetres..
Re-proofing
: Use one of Nikwax's dedicated products.